3 Jews Walk Into A Christmas Market…
As our last Christmas season in Germany was upon us, we knew we had a bucket list of Christmas markets and time was no longer on our side. With a last minute work trip to Augsburg suddenly in the schedule, we decided to try and take on as many as we could in 4 days. This turned out to be a lot of fun and included a lot of Gluwein and potato pancakes!
While we had already visited Nuremberg and Rothenburg during non-Christmas season, we decided these would be one day stops on our way in and out of Augsburg, since we heard these were the best two markets to see in all of Germany.
Our first stop, Rothenburg, a medieval walled city located about two hours from Wiesbaden. You can find my original blog about our longer visit here. The best and worst parts about the Christmas Markets all have to do with how well your child handles crowds, waiting in line for food, and fighting crowds for kid rides. Your experience will also be guided by how well your child deals with transitions and over stimulation. For years, we did not understand that our child has sensory processing issues, so while we traveled and traveled and never let meltdowns slow us down, we often had very difficult times traveling with our child around Europe.
What I remember most about this day is the absolute bitter cold and my son's inability to handle the stimulation and constant transitions of moving on from booth to booth. I recall buying him gloves because his weren't warm enough, I remember standing at one booth for a good ten minutes while he tried to decide on what to eat, I remember him laying down in my lap for another then minutes with his scarf completely covering his face because he refused to move. I remember bribing him with two rides on the merry go round. I remember that as beautiful as the Market was, I was relieved to get in the warm car and drive to Augsburg.
While every trip is filled with Facebook and instagram-ready photos, it is also filled with meltdowns, fighting and stress. I had not planned to write about the stressful parts of this day, but two years removed from it, and these are the parts of the day I am vividly recalling. These are the parts that stand out. Every family is different, every child is different, and for us, every event and trip is different. Our son can go from meltdown to happy kid fairly quickly. We can be having a wonderful day and one thing might cause an epic meltdown, but he can turn it around just as quickly. We used to be pretty bad at handling his issues, mostly because we didn't understand what was happening–and this trip was one of those moments. We didn't know he was overstimulated, we didn't know there were too many transitions for him to handle, and we didn't know how combining that with bitter cold temperatures would be setting us up for a major fail of a day.
On another note, Christmas Markets can get super crowded, but we were there fairly early in the day, and actually it should have been the perfect time to enjoy the day-hardly any crowds and bright blue skies! So here I will present to you our picture perfect day: The good, the bad and the faceless.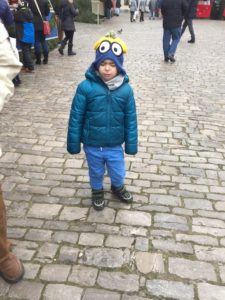 Upon arriving in Augsburg, we were very excited to be staying at a gorgeous hotel that was walking distance to the Market and the rest of the city center. Staying at the hotel Steigenberger Drei Mohren, we had a beautiful room with modern amenities and a full breakfast included. I highly recommend this hotel.
We were a little hesitant to go out for dinner in the Market after our morning experience, but it was literally (no, really, literally), night and day. In my experience, Christmas Markets come alive after the sun goes down. The lights come on, the gluwein is steaming, the trees are all lit up and everything is festive. Even the biggest Scrooge's heart would melt at the sights and smells of these markets. Augsburg is a 500 year old Market, so they know what they are doing at this point! All the booths are located in front of the St. Moritz Church looming overhead. If you would like a little history on the second oldest city in Germany, you can find it here.
The Augsburg Market is famous for its giant Weihnachtspyramide, or Christmas Pyramid. These pyramids are sold in miniature form at every Christmas Market in Germany. According to Wikipedia, these pyramids date back to the Middle Ages and used to be hung from the ceilings of German's homes. I absolutely loved the giant pyramid as the centerpiece for this Market. It honestly made this Market stand out and I can safely say this was my second favorite market (sorry but nothing beats Colmar, see that blog here.)
This market stands out because it was unique in its offerings, felt small enough that I wasn't overwhelmed but not so small that I felt cheated, and of course the Pyramid was stunning. The food we tasted was outstanding! We had potato pancakes, some kind of sauerkraut pasta dish (I loved it, but Dan hates sauerkraut), and a Chimney Cake (Baumkuchen), which was my absolute favorite treat on this trip. Actually, I have had them in various places but this one took the literal cake. It was super fresh, covered in cinnamon and sugar and fell apart in my mouth. I have had some that are hard and dry by the time you eat them, but this was dreamy.  I could have eaten twelve.
The next night we also ate at the Market and tried goulash in a bread bowl, more gluwein and schneeballen (a very dry pastry, even when we bought the one covered in chocolate). The strangest thing we tried was the Germknodel. It is a german pudding that is covered in poppyseeds. It looks bizarre and we needed to see what is was all about because the line for these treats was pretty intense. I can safely say it was as weird as it looked. I have texture issues with my food and this leapt to the top of my list of things to never eat again based on jiggly texture. Somehow I do not have a photo of this dessert, but I will insert a photo I found from google so you can see for yourself.
Germknodel: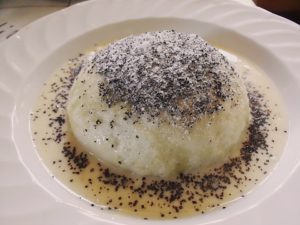 Overall, if you are looking for a list of must-see Christmas Markets, add this to the top of your list. Additionally, the city of Augsburg was beautiful. While my husband worked, my son and I spent the day exploring the city center. Here are some photos of our day:
Our final Christmas Market of the trip happens to be the biggest and most famous Market in Germany: Nuremburg. I will be honest here. I was nervous about the crowds and my kid. He was pretty much over wandering along various booths and trying food. To be honest, he was getting bored with the Markets. Nuremburg is the most famous for a reason–it's huge and has entertainment!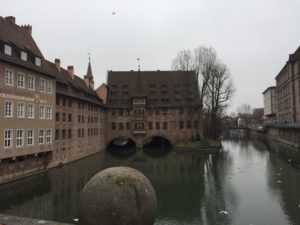 Our first order of business for Nathan was the rides. We promised this kid some rides and we delivered! The beauty of this Market, all the rides are in one place, as opposed to Colmar, where they are all spread out. (Augsburg had no rides). Sometimes no rides is a bonus for me, because I don't have to shell out endless money on rides that seem like they may not pass OSHA safety standards. But we had promised Nathan rides since he was getting a little bored. It was another cold day, so I was trying to get the rides over with as quickly as possible so we could move on to hot drinks and hot food.
Nuremberg is famous for its sausages, three little sausages on a roll with mustard. They are delicious!! (*If you go to a McDonald's anywhere in this region they sell them there too, and they are just as delicious*). I also had a hot chocolate with alcohol, which actually I didn't like, but at least it kept me warm!
Just as we were starting to get overwhelmed by the crowds, the size and to cold, we noticed a stage and show was beginning. A woman known as the Nuremberg Christkind appeared on the stage. The only way to describe her is as an angel with a crown. The story goes, the Christkind (Christ Child), brings gifts to all the children at Christmas and over the years she has taken on the female form. According to Nuremberg's official website on this, Martin Luther told children that the "Holy Christ" brought presents to them. Through the years, the Christmas Angel became the gift-giver, and she was female and then she evolved into the Nuremberg Christkind.
As the show began, we realized we had no idea what was happening or who the Queen Angel was–but guess what? Our Jewish American boy who attended a german-catholic school not only knew who she was but knew all the words in german to the songs she was singing! It warmed my heart that he was so invested in german culture and he didn't even know it-it was so easy for him. (Don't worry, we fed him lots of potato pancakes and sang lots of Chanukah songs too!!).
A quick glance at Nuremberg's website for the Christmas Market and you can see there are actually a lot of events for children, and not just rides. They have booths for crafting and they even offer an english program for kids. Since we were just stopping on our way home, we didn't invest any time in researching these events. Sometimes it takes us a long time to do just a couple of things, because Nathan has trouble transitioning, with age he is getting better, but he was 6 when we went here and he was struggling a lot then. So we chose a few things and then we left and the stage show was a perfect surprise way to end our day! The Christmas Market stems all the back to the 1500's and is located in the Hauptmarkt, where the Frauenkirsche Church is the centerpiece. This is a fantastic Christmas Market and is famous for a reason, even if it can be huge and overwhelming! I still recommend making a special visit to see it. In fact, I would probably do an overnight stay to enjoy it once the sun goes down, as that is when all the magic happens in every single Christmas Market.
Thanks for joining me on my trip down memory lane, as I continue to write about my last seven months in Germany, one year after we moved back to America. I love reliving these trips and I want to write it all down before I forget. Nathan was so young for our five years, that I have really kept this as a way for him to relive events he most likely won't remember.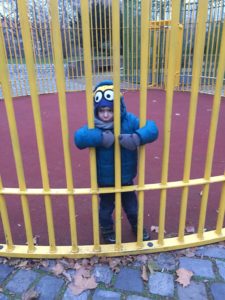 I am off to go microwave some red wine and throw some cinnamon in there and pretend I am having gluwein! (Just kidding that sounds disgusting).
-Becca