Back to the Magic-Finale!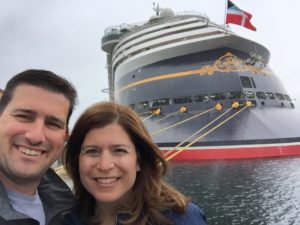 I can't believe how long I waited to finish this blog but life sometimes gets in the way. (Also, sometimes, laziness and procrastination). I absolutely loved this cruise-12 nights on the Disney Magic, getting to see new sights and have Mickey Mouse at your finger tips!
So the day after Akureyri was another sea day, followed by two ports of call in Norway, Bergen and Stavanger and a final day at sea. We had been to both ports the year before, so basically, we had nothing "new" left on the cruise.
Our sea day was pretty relaxing, and very calm (the way I like it!). We did have a scare though-we lost Nathan on the ship. So, Disney is very well prepared for this and while we were panicking, Disney was not. The crew was so reassuring (while I was certain he had gone overboard), and it turned into a magical moment with Mickey.
We had taken Nathan into the toy store but in true 5 year old fashion, he refused to leave.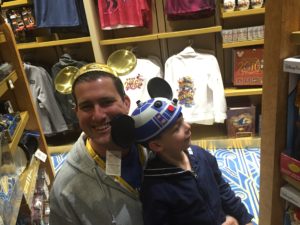 (cuteness in the shop)
So I gave him the old threat of "fine, i am leaving without you." *I am not a terrible parent, this usually works and he runs after me* So I walked out of the store and waited at the entrance (where he couldn't see me). I forgot about the back entrance to the store. He took me seriously, thought I left him and he walked out the back and up the stairs to Deck 5 while I was waiting for Dan to come back from the bathroom. I never left the front entrance. I went back into the store because my "trick" had not worked and he was gone. Panic ensued.
After calling his name up and down the small store, I grabbed a castmember and told them he was missing. I had a picture from an hour before that I showed them and they put out a call to all Castmembers to bring him to the kids club if they found him. A couple we had met during the week happened to be standing there and helped us search. I ran up the back stairs to the kids club and Dan searched other areas of the ship. After what felt like a million years, but was probably 15 minutes, I went back to the kids club and Nathan was standing there with his little friend he had been playing with all week, and his friends' parents.
Nathan took my threat seriously and thought I had left him, wandered to the 5th Deck, ran into his friend and the parents, and the parents noted we were not with him after a few minutes of chatting, so Nathan told them that I was in the stateroom waiting for him. So his parents decided to walk him there, but they realized this was odd and turned back to take him to the kids club at some point, to wait for us.
At the point where I found him, the head of the kids club came around as well (had never met her before and I am pretty sure she just comes out for lost kids!), but I didn't know where Dan was and he didn't know we found Nathan. So after a minute or so of my tears and comfort from the cast members, we decided we better go find Dan…and that's when Mickey Mouse showed up!
Mickey saw Nathan and he must have been told what had happened because he made a BIG deal about hugging him and there was gestures about searching for him and happiness all around (and photos). Mickey left and we then started to look for Dan. Somehow, Mickey had found him first and recognized Dan, grabbed him, ran him over to us and reunited us all! It was magical!!!! And then I needed a stiff drink.
Prior to all the drama, we saw the newest musical on the ship, Tangled. It is very well done, and sadly, no photos or video allowed. I hope they bring this one to Broadway! They also set up the Irish pub into the Snuggly Duckling (the pub from Tangled) and after dinner had a Bingo-type show for the kids with the characters from Tangled. It was crowded in there, but still a lot of fun. (Kind of a small pub for half the ship to participate in an event).
That night, the kids club had the grand finale to the Avengers and since I was vomiting the first night, I was very excited to participate and "save the day" with Captain America! Nathan also, got to meet a few characters again for more magical moments.
The next morning, we weren't arriving to Bergen until around 11, so we met Princesses in our pajamas (how else do you greet them?!) and hung out until we arrived.
Last year, Nathan developed strep throat on our Bergen day, so Dan and I took turns seeing the town, and Dan never got to see the amazing views from the top of the town. We decided to leave Nathan at the kids club so we could see the view together, while we waited for our afternoon excursion to a farm nearby. Since we had both been to Bergen, we chose this excursion for Nathan, since it was kid friendly.
The farm was pretty fun, Nathan got to ride a horse and feed goats and pet chickens. A great little snack was provided for by the family (including some amazing Norwegian porridge). The family dressed in their formal Norwegian clothes and gave us a history about it (which sadly I can't recall as it's been nine months…)
That night was Lobster night on the ship-always a favorite-and we finally stood in line to take some formal family photos that I had been trying to get all week-they turned out great!
The Fab 5 were all dressed in their best formal wear, so we also got some fun pictures with them.
Our last day and last port was Stavanger. The year before, this was our first port and we did a three hour cruise on the Lysafjord with stunning views. I would highly recommend this for any first timers. But since we had done that, we were looking for something different. We chose a Disney excursion called "Stavanger and Surroundings."
The first stop, about an hour away was at Byrkjedalstunet, a bizarre hotel where they serve you pancakes in a cave and give you about 30 minutes to shop in their candle shop. It was a long drive for some unimpressive pancakes and we weren't really sure what the point of the place was-it was just a hotel on the side of a pretty road with a gift shop. I think this excursion needs some work, to be honest.
After that, we headed to largest field of boulders in Norway—Gloppedalsuren—for a brief photo stop. These immense rocks were created after the last ice age, redirecting rivers and creating an enormous natural barrier at the valley.* (Taken directly from Disney's web page)
The rock formations are incredible, but also in the middle of a road, so we had to share the space with another tour bus. We didn't take Nathan on this tour and I am glad. He honestly would have sat on the bus on his ipad for the whole thing-he had way more fun in the kids club. I am glad we didn't pay too much for this, but I would not choose this as my excursion-sad way to end an amazing trip!
Luckily, it was not a full day excursion, so we could hang out on the ship for the rest of the day! However, when we got back on board, we found out that the King and Queen of Norway were on a 25th Anniversary Jubilee tour of Norway and they had a celebration planned next to our ship that day! So Disney decided to extend our time by a few hours so anyone could join the party!
We left Nathan on board again after seeing him for a little while, and headed out to the party. We were practically standing in the receiving line for the Royal Family! It was pretty amazing. They had a performance by some Norwegian celebrities as well, and we stayed for part of it (I am pretty certain a winner of Norwegian Idol was on stage), and then we headed back to the ship for dinner.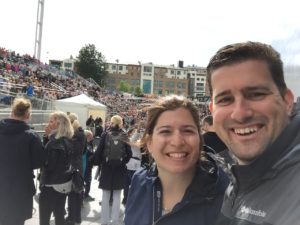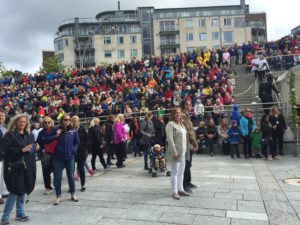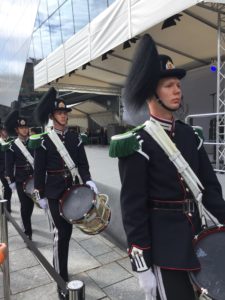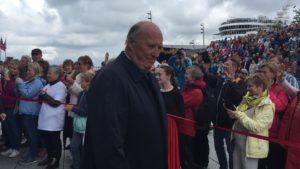 (The King)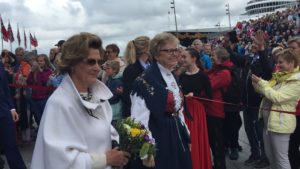 (The Queen)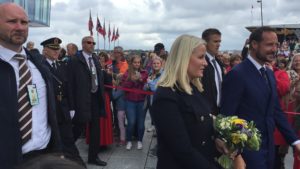 (The Royal Family)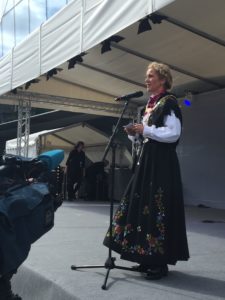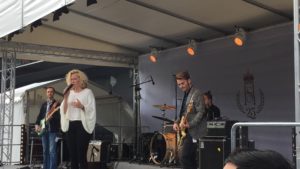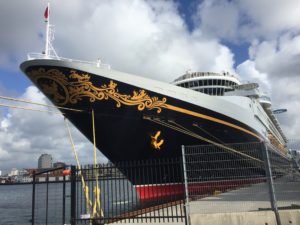 That night all kinds of fun was in store for us-including the Frozen Deck party and the final show at Animator's Palette! Last year, I had high expectations for the Frozen deck party. I wanted it to be everything the Pirates party is in the Caribbean, but sadly, it's nothing close to it. There are some logistical issues, they can't do fireworks because it doesn't get dark out (at all) in Norway in the summer (Maybe at 2AM?), but they could do a buffet and still have an actual party on the deck. Instead, its a 30 minute dance party where Anna, Elsa and Kristoff are singing and dancing to pop music and Let It Go. (Elsa only comes out for the finale) and Olaf and Sven are just on video. (If you can meet Olaf on the ship, he should be out for the party). The party was just as disappointing this year, the difference for me was that I knew what to expect. Nathan loved it and some family brought a bag full of homemade snowballs and we got to keep one, so that was exciting for Nathan.
The next day, our last day at sea, I noticed something really odd on the Navigator for the day. Listed was an hour long session in the main theatre for a talk with the creators of Frozen-Kristen and Robert Lopez-the husband and wife team. We thought, maybe it's just a video presentation of them because surely, if these superstars were on board for a special event, we would know before the last day?
We found out, they were on board for the whole cruise, on vacation with their family, and getting inspiration for Frozen 2, and the new Broadway musical, and they decided to give a presentation as a surprise to everyone one board!!! I am a huge fan, so this was so exciting! We weren't allowed to take pictures or video, and they showed us some exclusive footage of musical numbers that didn't make the film and they gave us the whole backstory of how they wrote the movie (Elsa was originally the villain!!). This was such a great surprise for our last day of the cruise.
(Snuck in this one photo)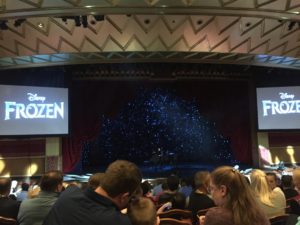 It was also somewhat warm outside so Nathan finally got a pool day! We were outside for most of the morning with him until we sent him to the kids club so we could watch the Lopez family perform!
That afternoon, the kids club had their final performance on the big stage in the theater called "Friends Rock." Same as last year, kids get on stage, dance with Mickey and they show a video and photo montage of all the stuff your kid has done all week in the club (since you can't go in and watch).
That night we had our final dinner and said goodbye to Leo-our favorite waiter-and then said goodbye to our friends (you know, Goofy, Mickey, Belle, etc.).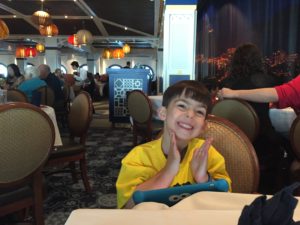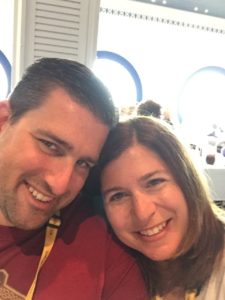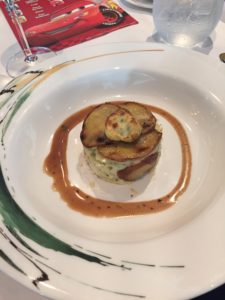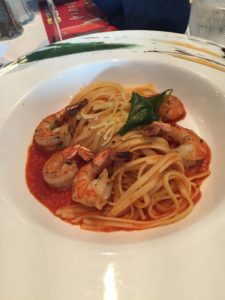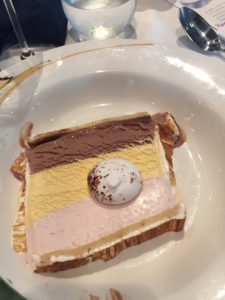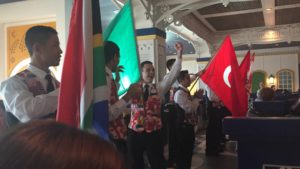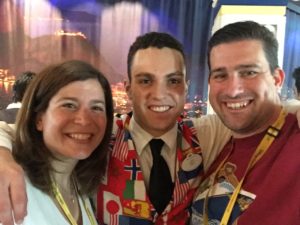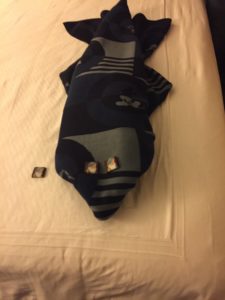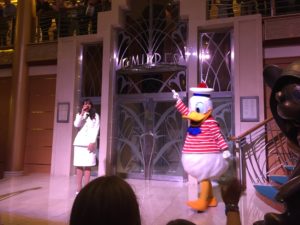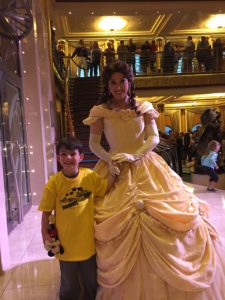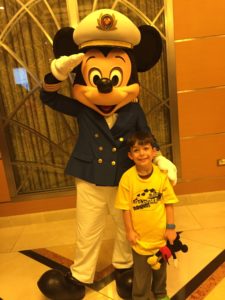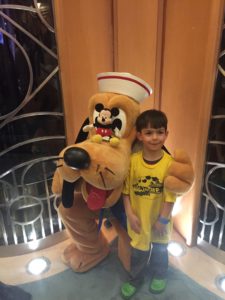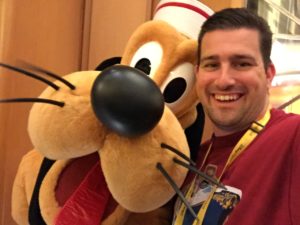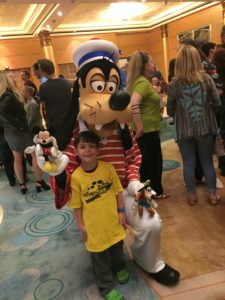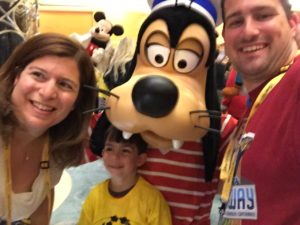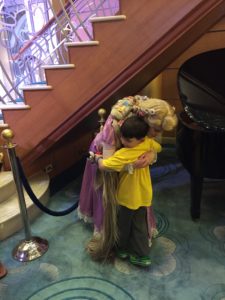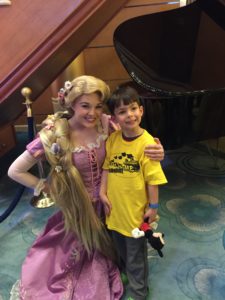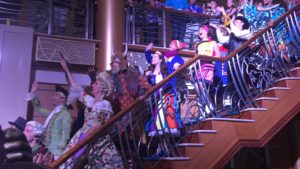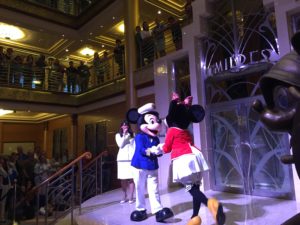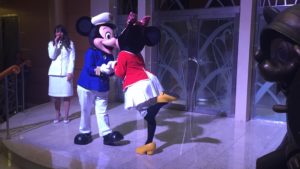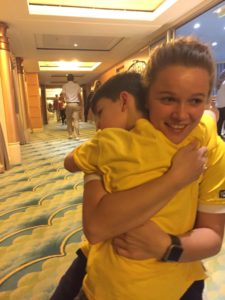 (Nathan was so sad to say goodbye to his counselors)
At the end of 12 nights, I can honestly say I was not ready to leave!! There is so much to do on the ship and an intense amount of magic, that I kind of never want it to end! Disney cruises are probably my favorite vacations. I know we see a lot of Europe and we go to Disney parks all the time-but the cruise ships seem to be the most magical to me. Maybe it's because you are on a floating hotel-so the places come to you. The ease of sightseeing and having Disney at the end of each day appeals to my travel lust and Disney fandom. I loved spending the day with a Roman historian at the beginning of the cruise and then getting back on the ship and eating a Mickey bar, it's the best of both worlds!
*My bad timing for the bathroom at the end of the cruise was amplified by the fact that I somehow missed the entire Lopez family in the same bathroom as me, but while I was in there, Dan managed to get a selfie with the family!!! And I was only in there long enough to pee!!* Sigh…I guess I will have to Let It Go….See what I did there?
Luckily for us, we weren't going directly home, so we didn't have to be too depressed. It was 4th of July weekend, so we decided to spend the weekend on a small island in Denmark called Aero. We had to take a bus, a train and a ferry to get there-but we made it!
There isn't much to do on this island, and we were staying at a very interesting B&B, very eclectic. The breakfasts there were amazing and they rent bikes, so we could bike the island. We are not bike riders, and so we rented one where Nathan could sit in the wagon attached to the bike. It was hilly, so we walked some of it and actually, Nathan and I took the bus part of the way back due to exhaustion!!
We also took the bus to another part of town to see the Maritime museum and they were hosting a grand opening of a new part of the museum. Somehow, we were in there getting free beer and salami sandwiches with the locals-another cultural experience!
We also did a Night Watchman tour one night, which was great to get a little history of the island. There was a nearby beach that had amazing sunsets as well and little colorful huts that make for great photos.
The houses on the island look like they are out of a quaint village, but are so well kept, you think it's a movie set. Every door is different and beautiful.
We also went to a couple small museums (an old house, the guy who invented putting tiny boats in bottles and a bizarre old hospital).
Overall, just a lovely way to cap off a great trip. We relaxed from all that Disney stimulation on a beautiful little island where everyone goes to get married, it's the wedding capital of Europe I think, and their main source of income on the island.
I can't wait for our next cruise-whenever and wherever it may be!!!