Where the Wine Breathes (Bordeaux & Burgundy)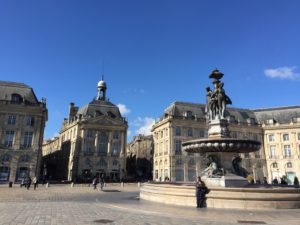 Bordeaux was sandwiched in the middle of our vacation between the Dordogne (see previous blog) and Burgundy because my husband had to work, so Nathan and I had basically two days to wander Bordeaux by ourselves.  We decided to lay low by walking the city center, eating lots of crepes, experiencing a local children's fair, visiting an archeological museum and of course, shop at toy stores.
This city had a ton of shopping, a beautiful church in the center, an historical archaeology museum and a lot of sweets and treats! To be honest, I liked Bordeaux but if you only have a limited amount of travel time, I would recommend skipping it and heading straight to the Dordogne or Burgundy regions. In my opinion, there is just so much to see in those regions and both are beautiful and filled with history. Bordeaux is lovely and I am glad we had the opportunity to visit it for a few days but it doesn't exactly reach my top 10 places to visit in France.
The most historically interesting place we went was the Musee D'Aquitaine. This archeological museum is a heritage museum that focuses on Bordeaux's relationship with the rest of the world through its history. Housing both mummies and pirate ships, it's exhibits range the gamut of pre-historic Roman times up to its more recent 20th century trading ventures. This museum is a worthwhile stop as I think it presents  a fascinating insight into the history if this region.
Here are some pictures of the local fair, coffee shop and crepes we picked up along the way:
We may or may not have indulged in some french pastries…
Once the work portion of the trip concluded, we headed back towards Germany  with a weekend stop in the Burgundy region where we stayed in a quiet village and wine hopped our way through the region.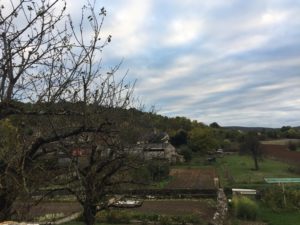 Burgundy is quite simply stunning. It's exactly how you are imagining it-vineyards filling your vision as far as the eye can see, mixed in with castles and small quaint villages where you can find expensive food and even more expensive wine. Even buying in bulk, the wine is twice the price of its Italian counterpart. But we came to collect, so off to the vineyards we headed!!
Our home that weekend was listed on AirBnB here.   The apartment was in a small village called Saint Aubin, about 20 minutes away from the largest city of Beaune. Our host, Nathalie was so lovely and she lived next door. She even left us homemade cookies and fruit upon our arrival. The apartment was truly lovingly decorated and in pristine shape. I remember getting such a warm feeling about staying in this apartment. The bedroom was a loft above the main area and a small mattress on the floor was provided for Nathan, which was perfect because what more does a 6 year old need?
As we were visiting this region in mid-October, the fall season was in prime form and we had the most extraordinary golden vineyards and crisp sunsets you could imagine. Our main goal other than adding to our wine collection was to visit the city of Beaune. Beaune is infamous for its farmer's market on the weekends and its historic hospital museum.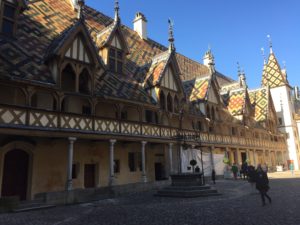 We didn't buy much at the market, except for some amazing truffle oil for future spaghetti or bread dipping, but walking around and taking in the sights gave us a glimpse into this culture. Fresh produce and fruit lined the streets along with specialty items like truffle oils, stinky delicious cheese, dried fruits and various squash. Additionally, there was an antique market filled with treasures you can only imagine.
The real treasure was the hospital, the Hotel Dieu. A medieval charity hospital built in 1443 as a post-plague refuge for the people of Beaune. The plague took more than just life in Beaune, it also left its people poor and desperate. This hospital gave free medical care to its citizens to help during a time of great sadness and ran until 1971!
We took the tour that included an audio guide, a must to get a better understanding of the various rooms you can visit. The hospital has recreated the rooms for how it would have looked in the 1440s, including it's great kitchen, chapel, the sick ward, the maternity ward, the surgery room and the pharmacy. All giving a fascinating insight into how the hospital was run.
Here is a look into some of the rooms of the hospital:
We decided to drive the wine region and use our Rick Steves guidebook as a way to hit the most beautiful scenery and grab the best wines. Our first stop, Auxey Duresses, became our only stop of the day because we came upon a wonderful event! Every year since 1996, the vitners host an event  on the last weekend in October called the Coup de Coeur. You pay five euros for an empty wine glass and you can walk around 20 different winemakers and wine taste all day!!
To be honest, our six year old wasn't digging this event as much as we were, and the scenic areas we wanted to still see were not all next to each other, so someone had to stay sober to drive the region post-event. My husband drew the short straw (as he often does when it comes to driving) and I was the main drinker/wine tester that day.
It was fun to check out all the winemaker's caves and try wine, but even more fun was the cultural aspect to this event. Living in the wine region of Germany, our events are always about wine, so it was oddly familiar but with a french twist! We were surrounded by both locals and french tourists and of course, amazing scenery.  It was such a lovely afternoon and while we didn't get to see too many villages after the event, we did end up at a wonderful restaurant for dinner that evening. As was our experience this entire weekend, the dinners were far too fancy for a six year old and far too expensive. We definitely had a difficult time feeding our child but we tried our best! He was a little trooper! The meals are also long and sophisticated so we gave him an ipad with headphones so as not to disturb other diners. At this particular place we ordered a bowl of plain noodles, it seems all french places will at least have noodles on hand, even if not listed on the menu!! So it never hurts to ask!
More scenery after the wine event:
On a different night from that trip we ended up at a place that seemed like a 5 star place, only about ten tables, all white tablecloth and people dressed for a Friday night out (which in France is about as formal as it gets), and they had nothing for Nathan that resembled anything he would eat, so we ended up ordering him a half order of lamb…and then his iPad died mid-meal. Let's just say not much was eaten that night and the other diners didn't have the quietest most serene dining experience. (Sorry!!) Sometimes when traveling with your kid and there is nowhere to eat but the fanciest place in town, you just have to go with it. We usually travel with snacks and I am certain when we got back to the apartment snacks were gobbled down quickly.
Here are pictures from that night:
Pictures from all the food over this weekend…so many amazing places!!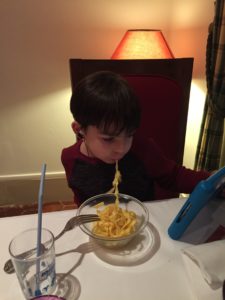 Our last stop before the long drive back home was a stop at the Chateau de la Rochepot. This castle was pretty much in the middle of nowhere but not far from Beaune. Upon arrival it was so quiet and abandoned that we weren't even certain it was open! In order to enter the Castle you must cross a drawbridge and basically find a person who works there to let you in. It was a little odd, but we figured it out and started our own self-guided tour.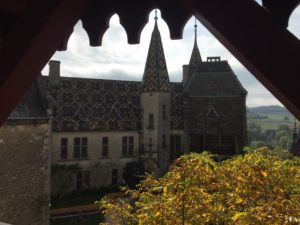 This castle is described as both a defensive structure and a luxurious home as it was built between two time periods (Middle Ages and Renaissance). The rooms were beautiful and large and my favorite, as always, is the kitchen. Nothing gives more insight as to how people lived than looking in their kitchen (You will find mine filled with slow cookers and various gadgets that make instant cooking as simple as possible). I love visiting castles so living in Europe is really convenient for that particular obsession. (You really won't find too many Castles in the desert of Arizona).
Of course we made one last wine tasting stop before we really headed home…and I think we found a new connoisseur!!
We made it home with a great haul of wine to add to our burgeoning collection and I anticipate we will have more wine and adventures to come!!
Stay tuned for the next blog and the Family Traveler's next big adventure!!
-Becca