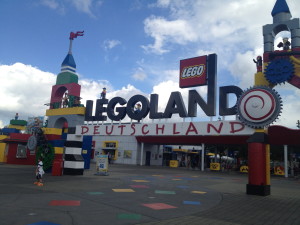 Labor Day weekend we decided we wanted to do a trip that was partially for us and partially for Nathan. We decided on Legoland and Rothenburg.
Since we are Disney fanatics, it wasn't a great sacrifice to spend a few days at a theme park. We have never been to Legoland in the US so we weren't sure what to expect but we have high standards when it comes to theme parks, you can call us Disney snobs, we don't mind.
Our only experience with a German theme park was Taunus Wonderland and to say it was underwhelming is an understatement (no employees in sight; just hit the button to start the ride on your own!). But this is Legoland and we love the Lego Movie and Nathan loves Legos so we were hopeful.
We decided to stay off property because it was a lot cheaper. We found a hotel about 15 minutes from the park called the Autenrieder Braureigasthof. This hotel has a brewery, a large outdoor picnic area and a playground, need I say more? The rooms have been recently updated and are very modern. This is the last trip where Nathan was still able to sleep in the larger European pack and plays, so we only needed a double room. They have an indoor pool which we did utilize and it was perfect for Nathan because it had a large ledge in the water that Nathan could play on. We also ate outside while Nathan played on the swings and the beer conveyer belt was a big hit!
Breakfast was included and had a nice german spread, pastries, bread, nutella, yogurt, fruit, meats and cheese. We also had dinner there both nights. Where the dinner was lacking in flavor, they made up for it in their amazing homemade brews. I can definitely recommend staying here-we were in a little german town and it felt nice and quaint and it was an easy quick drive to Legoland.
We spent two days at Legoland-one day was a perfect sunny day and the second day was a pouring mess. The park is a manageable size that can easily be done in one full day. My favorite section of the park is the miniature cities they create. The details are amazing. They built Frankfurt, Venice, Berlin, Neuschwanstein Castle, Holland and a couple of Star Wars scenes. It was pretty spectacular.
Nathan was actually not tall enough for every ride, which surprised me, so we definitely had a few disappointments but there is so much stimulation that redirecting him wasn't usually an issue. We rode a silly Egyptian themed ride (shoot the bad guys!), went into a submarine, a lego factory, a car ride and more. The best part of Legoland is all the rides look like Legos with Lego characters. They definitely have not taken advantage of the Lego movie success yet because I wanted more Emmett and Spaceship guy. They were showing the movie once a day and had some toys. Honestly, I think they should have been blasting Everything Is Awesome in the entrance of the park!
I made Dan take Nathan on the disgusting pirate ship ride that was sure to make me vomit in its movements, but my payback for that was a soak fest! We went on a boat with water guns and the people across from you are shooting water guns at you-and the people off the ride can shoot at you too! So all these teenage boys were intensely firing at us! I underestimated the power of those water guns and Nathan and I ended up soaked from head to toe. They had human dryers to stand inside (for a cool euro) and we definitely took advantage!! Of course, on the day it was pouring, we chose not to ride that ride again….
Speaking of the day it poured, we did our best and we rallied. The park was empty and we rode everything we could. A couple of rides we were literally sitting in puddles of water but Nathan mostly didn't care. Since it was so empty, we had some magical moments. The horse ride Nathan was able to ride endlessly until we decided he had had enough (we took turns riding a dragon roller coaster while Nathan stayed on that horse). We didn't make it the whole day, even with a stop in the theater to watch a german version of a 3D Lego cartoon.
Overall, I would definitely visit again and now that Nathan's a little taller he may even be able to ride more rides. In fact, I would say at Legoland, Everything is Awesome (See what I did there??).
We left Legoland and headed to Rothenburg, a walled medieval city that encompasses everything you think of when you hear the words quaint german village. We spent two nights at the Hotel Kloster Stuble-in the center of the old town, inside the wall. The room had a lot of character with wood beams in interesting locations that gave us a bit of a separation from Nathan. Breakfast was extra but it was delicious, we also had an outstanding dinner there. The hotel really fit the town well-quaint and loaded with character.
Rothenburg is the best preserved walled town in all of Germany and it doesn't disappoint. We felt immediately immersed in 14th century Germany. We started with the Night Watchman Tour on the night of our arrival. The same guy has been doing this tour for 25 years. He is both funny and informing. He dresses in the uniform of the night watchmen from what I assume is the 14th century. It's been awhile since the tour so it's now difficult for me to recall any details, but it was about an hour, and he does both English and German tours, even Nathan was engrossed for the whole tour. It's a must-see.
We spent the next day exploring the old town-starting with the Christmas Museum and shop. This isn't just any Christmas store-the store is three times the size of the museum!! The museum is an interesting timeline of the history of Christmas in Germany-showing various styles of Christmas tress over the years. The store was a dazzling spectacle of ornaments, trees and homemade wooden everything.
On the complete opposite side of the spectrum, we went to the Medieval Crime and Punishment Museum. A fascinating look at how people were punished in the middle ages. They had instruments on display that were used for torture. My favorite was the metal masks for the women who were found to be nosy or gossip too much!! We also gave Nathan a little taste of his future punishments if he doesn't behave!!!
We also spent some time just walking the wall. It was a little narrow and high, so we didn't walk too far but just enough to get a taste.
We also visited St. Jakob's church to see the stunning wooden carved altar piece.
As we spent time roaming the beautiful gardens of the town we also came across a memorial for Jews-but not for WWII. This memorial was for the 450 Jews that were slain to death (burned as they were trapped in the Imperial Castle) in 1298 for refusing to take the Holy Communion. They basically murdered the town's entire Jewish population. Another bleak reminder of our history in Europe-I can't recount the number of times we have come across random memorials in every single country and small towns in Europe with a similar story (outside of the Holocaust), it's truly unbelievable.
This town can get extremely congested with tourists, and it's nice to spend the night because it becomes more of a ghost town after the sun sets (except for the Night Watchmen tour-easily 200 people walking with us). I really enjoyed spending time with my family in this quaint walled city filled with such beauty.
Up Next: Christmas Markets in France