Christmas Markets of Colmar & Strasbourg
This trip could easily be called the trip of cheap amusement park rides-and I say that lovingly! Christmas markets are filled with lots of trinkets to buy, good food to eat, and loads of funny little rides (some better than others). Once Nathan discovered that every Christmas Market had one, we were on a mission to ride them all-multiple times!
A funny thing happened on the way to Colmar-a little over two hour drive, just on the border in France, from our house. In my penchant for "Safety First," I chose to buckle Nathan in to his carseat for a long car ride without a heavy winter coat on, so as we were pulling into town I realized his winter coat was hanging nicely where I left it-in Germany. So we kind of spent the whole first afternoon looking for a coat that wasn't ridiculously expensive. If you've ever been to France, you know they take fashion seriously. This quaint town has no Target like store-all boutique shops with beautiful clothes. After three shops (who knew finding Nathan's size would be the problem?!), we found a coat that would fit him for next winter as well-and didn't break the bank. Whew. We then got back to our regularly scheduled program.
Arriving into town we came across…the Statue of Liberty. Yep, you read that right. The sculptor of America's Lady Liberty was born and raised in Colmar, so they have a Mini Statue when you enter town.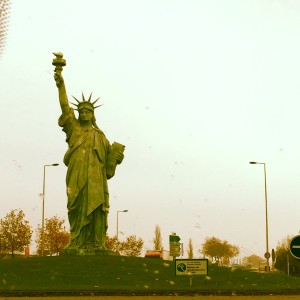 The program for the weekend: eat crepes and other confectionary delights, drink Vin Chaud (hot mulled wine), ride amusement park rides and "window shop." The Colmar Christmas Market was far less crowded on a Thursday evening then the weekend, so we had a nice quiet introduction to the town and market.
Colmar is everything you are imagining when you think of an old world quaint European city-cobble stone streets, Elizabethan houses and gorgeous scenery with a river running through town. The markets were in various parts of the town and we made our way to all of them.
The market is spread across the center of town but on the other side they have a kid zone-complete with an actual roller coaster ride, an ice skating rink, a carousel and a for the adults-a carousel bar-yes it turns! The carousel is there year round and looks straight out of the early 20th Century. We took Nathan on all the rides and he attempted ice skating-he needs a lot of practice if hockey is in his future!!
We had dinner at a pub next to the main market and while Dan had success with the region's famous tarte flambee-which is similar to a  german flamkuchen-which is similar to a flatbread pizza without red sauce. I had a dish that can only be described as cheesy potato goodness. It was like a lasagna but the layers were creamy white cheese, specks of bacon and potatoes. It was amazing. Nathan ignored his speatzle and just drank milk (typical).
When we left dinner, we learned that sleepy Colmar closes down its Christmas Market at 7 on weekdays-so there was nothing left to do but head back to the hotel.
Our hotel, Hotel Le Rapp, was about five minute walk from the center of town, on a nice quiet street a block from the pedestrian zone. The room was a fairly good size for a European hotel- what they call a "junior suite" but not what an American would imagine a junior suite to be, in that it was a larger room-not two separate rooms. We enjoyed this hotel and really the only knock was that breakfast was not included and we didn't want to spend the exorbitant fee (almost 13 Euros per person, per day). (Surprisingly, not a lot of french patisseries in Colmar to grab a croissant for breakfast).
This trip happened over Thanksgiving weekend, and while Black Friday was happening in America, the city of Strasbourg was opening its doors for their Christmas Season.  We decided it would be fun to train into the city for the first day of the Christmas Market. According to Strasbourg's tourist website, its the oldest Christmas Market in France (started in 1570)-and the biggest.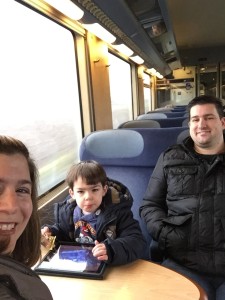 After a near miss, we literally jumped onto the train almost as the doors were closing (didn't want to wait another hour!), we easily trained into Strasbourg from Colmar in 30 minutes. The train station is a about a 10 minute walk into central Strasbourg. The first thing we noted was how much bigger the city is compared to Colmar. The city was bustling with activity as they were preparing a big stage for the grand opening.
Strasbourg had three main sites we wanted to see: The Cathedral, a boat ride on the river and the Christmas Market. Due to the timing of the boat ride and the daily closing of the cathedral from, 11:15-12:45, we were left to wander the markets. The markets were spread out over a few areas so we checked out a few-but most weren't open yet since the official opening hadn't happened yet. It was bitter cold and while an hour doesn't seem long to wait, we were dealing with an impatient 4 year old who didn't want to wander the streets confined to a stroller.
However, we made it and brought snacks onto our 75 minute boat ride. Thankfully, the boat is enclosed in glass-a reprieve from the cold! We passed through two locks and circled the town, seeing the European Parliament building, La Petite France (think canals and half-timbered homes), and other beautiful sites. The cruise included an audio guide-and a special channel for kids to listen to as well. Not sure what Nathan was listening to but it definitely had dragons and knights-he was mostly pretty engrossed in his audio tour.
After the boat tour we made our way to the cathedral. There is a Christmas market circling this huge, grand cathedral-making for a highly crowded area. The gothic cathedral took 253 years to complete!! (Started building in 1176 and finished in 1429). A small tidbit I learned from Rick Steves guidebook-this cathedral was protestant for 100 years after the wars of religion but it returned to catholicism in 1621.
By the time we finished, we were famished but it was almost 2:00PM and we learned a harsh lesson. In France, most places close between 2-6:30PM. We had planned on eating dinner at the stands of the market, because dinner tends to take a long time in France and we still had a train ride back to Colmar. We have no problem putting Nathan to bed late while on holiday, but we pay for it the next day if he doesn't get to sleep in, so we try to be reasonable. We were also freezing and wanted a break from the cold and a nice long lunch sounded perfect. After a wild goose chase for any restaurant that WASN'T a tourist trap along the cathedral, we admitted defeat and picked a tourist trap. Super high prices and semi-decent food. I had a pretty good onion tart-which is exactly like a quiche. It was an appetizer so it wasn't too filling but it was pretty tasty. I can't remember Dan's meal but I know it was a german-franco mix. Being on the border, the culture is a varied mix of French and German-food, language, people. Nathan had onion soup-which was delicious. Surprise-the french don't call it french onion soup! (This lead me to think Germans have dogs they just call "Shepherds").
We spent the next few hours delving into the markets and trying to entertain a four year old who just wanted to find the rides. We dangled those rides like a carrot and when we came to a market without a ride, he was immediately impatient to leave and find the next one. It was quite the balancing act. Sometimes I feel like we are traveling with a ticking time bomb, ready to meltdown at any moment.
The big stage in Strasbourg was set and we wanted to see what it was all about so we waited for the big party to begin. Dan took Nathan to the big department store's toy section next to the stage, so they could be inside and entertain him while we waited for the show to start. I am still dealing with the aftermath of my busted food *I was in a lovely boot for six weeks* so I just wanted to sit and rest. Once the show started, we had no idea what was happening. It was Strasbourg's version of Ryan Seacrest on a stage with some famous french people, and a children's choir and lots of christmas dancing-all leading up to the big countdown where they turned on the Christmas Lights throughout town. I'll admit I was getting impatient. I was freezing, my foot hurt and I couldn't understand anything in this show (and I was hangry). So after almost an hour of waiting for the countdown, I made us leave…and of course as we were leaving-the lighting happened. We were able to still see it but we left immediately after that. A small market is set up outside the train station so we had a nice Chanukah meal of potato pancakes and made our way to the train back to Colmar. I liked the energy of Strasbourg and experiencing opening night, but I prefer sleepy, quaint Colmar. I was happy to get back.
The next day we decided to dig deep into Colmar, to see as much as Nathan would allow before he exploded (sort of kidding). We did manage to hit one museum, the Dominican Church-which was hosting major pieces from the Unterlinden museum because it was under construction. The Isenheim Altarpiece was the main attraction. We had an audio guide and basically took turns looking at the stunning artwork, while one of us played cars on a church bench with Nathan-he was pretty pleased to be doing that.
The altarpiece dates from 1515 and was designed to provide peace to people that were enduring horrible illnesses. (Medieval painkillers I guess). The suffering of Jesus is intended to help patients understand that Jesus is feeling your pain and understands your suffering.
Colmar highlights:
After more markets and rides, we made sure to have lunch at the right time and headed back to this incredibly quaint place we had found the day before. Both Dan and I had the incredible cheesy potato lasagna-esque dish that seems to be served all over Colmar but more impressive was dessert. The lemon merengue tart was the epitome of a french patissiere and I am drooling just thinking about it again. It was light, airy and delicious.
We decided to take a break in the hotel after lunch so Nathan could play with his toys and we could take turns going to the Bartholdi Museum. Bartholdi is the sculptor of the Statue of Liberty and the museum is in his childhood home. Unfortunately, Bartholdi was never able to come back to Colmar and lived most of his life in Paris, because the Prussians had control of this region (the Alsace).
One floor recreates his Paris flat, and shows how he was very high society.
Another floor shows his tools and some of his famous works-his most famous is actually the Lion of Belfort and not the Statue of Liberty.
A floor dedicated to his most famous work to American, the Statue of Liberty, show the building of it and a giant ear of Lady Liberty. (I learned that while Lady Liberty was a gift to the US, the US had to pay for the pedestal on which she stands).
Did you know that Lady Liberty's face is based on Bartholdi's mother?
Finally, there was a room with a special exhibit about Judaism. With no english explanations, I have absolutely no idea why these pieces were being showcased, although I suspect WWII was a factor based on the years of some of the pieces.
We headed back out for our final evening in Colmar, to hit up the Christmas Markets for dinner and more sweet treats. We took Nathan on more rides and ate freshly made churros dipped in nutella, and chocolate covered marshmellows. Overall, Colmar is a little piece of Christmas Paradise for this Jew. I enjoyed the culture, the rides, the food and the beauty of Colmar.
The next day, we stopped on our drive home to see a few more markets on the Route Du Vin (Wine Road). We stopped for pictures, vin chaud, roasted chestnuts, freshly made quiche and hot chocolate. Here are a few pictures of some of the small towns we hit:
Overall, this was a great weekend in Europe. It's easy to get into the Christmas season here and really indulge in some fantastic food and scenery. Looking forward to next year already!