Back to the Magic! (Part 2)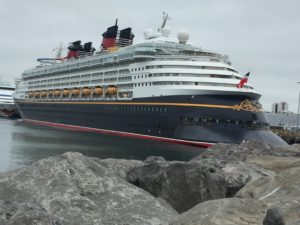 Last year we spent a week in the Highlands, so we were excited to get back to Scotland and see more historical sights. Kirkwall is an easy quick bus ride from the cruise port (free transport provided by Disney), so we knew we would see this small town after our tour of Skara Brae and some standing stones. We chose a Disney tour, with had both it's pros and cons.
First, we absolutely could not find a car rental for our one day in Orkney. Neither one of us know how to drive stick shift, so the limited automatic cars were gone pretty fast. Also, by the time we booked our cruise, all the private tours were gone as well-we tried everyone! So we were sort of stuck with Disney. We chose a half day tour that would bring us to Skara Brae (A neolithic site with stone houses buried in the ground from about 2500BC. On the site, there is also a mansion (Skaill House), built in 1620 and you can walk through what it looked like from the 1950s. The tour also brought us to the Standing stones of Stenness-a neolithic  stone henge site.
So the bus had heating problems (this turned out to be a theme on our buses for this trip), and it was crazy hot on the bus, to the point where one of the passengers made us pull over so his daughter to get out for fresh air (he was melodramatic and not very friendly about this).
Anyway, we made our first stop at the standing stones, and while they were amazing, I have been to StoneHenge so many times that sometimes I am underwhelmed by old rocks. Also, there were a lot of people there and Nathan was refusing to leave the bus, so we left him and of course the poor tour guide had to bring him to us once he decided he didn't want to be abandoned.
After the stones, we headed to the main event, about 40 minutes away, Skara Brae. This was unbelievably cool. There are nine dwellings with massive stone furniture and fire pits inside. You can see the inside of some of them, but most are still covered by moss. They have a model you can enter to see what it would have looked like back in 2500BC, based on their findings.
This site was found after a massive storm uncovered it in the 1860s. These dwellings are located off the beach and it's kind of amazing that they survived all this time. The site wasn't secured until 1927 and so a number of artifacts were gone by then. According to Wikipedia "inhabitants did not practice agriculture, but excavations in 1972 unearthed seed grains from a midden suggesting that barley was cultivated. Fish bones and shells are common in the middens indicating that dwellers ate seafood." Additionally, there are two theories about what happened to the people at Skara Brae, according to Wikipedia:
As was the case at Pompeii, the inhabitants seem to have been taken by surprise and fled in haste, for many of their prized possessions, such as necklaces made from animal teeth and bone, or pins of walrus ivory, were left behind. The remains of choice meat joints were discovered in some of the beds, presumably forming part of the villagers' last supper. One woman was in such haste that her necklace broke as she squeezed through the narrow doorway of her home, scattering a stream of beads along the passageway outside as she fled the encroaching sand.
A popular myth would have the village abandoned during a massive storm that threatened to bury it in sand instantly, but the truth is that its burial was gradual and that it had already been abandoned – for what reason, no one can tell.
So, it is not known what happened, but they did leave behind a plethora of artifacts and information about what life was like. Inside the Skaill House, many artifacts are on display as well as seeing what life was like in the 1950s.
After our tour, we dropped Nathan off at the kids club on the ship and headed into Kirkwall for lunch. Fish and chips and a really good sundae! The food was delicious! The town reminded me of most small towns in the UK with a church and a high street and some cobblestones to make it adorable-y European.
The church, Saint Magnus Cathedral, was closed to the public, due to a funeral, for the entire duration of our visit, so we did not get to see it. But the outside was stunning. We did check out the Orkney Archaeological Museum, a small museum across from the church that had loads of artifacts from BC to modern day. A  great little museum for a quick visit.
Once we were back on board the ship, the people of Kirkwall performed on the dock for all the guests. It was a great cultural performance with local dancers and local bands.
So, at this point on the cruise, we would be spending the next day at sea and arriving in Iceland two days later in the morning. Around 5PM, when we were getting ready to depart, the Captain made the type of announcement I absolutely dread. Rough seas ahead. He stated that the rough seas would begin around dinner time and calm around noon the next day, they were expecting 18 foot swells if I recall.
Dinner that night was in Lumiere's, which is the center of the ship, so I actually felt fine and was able to eat dinner, it hardly felt like we were moving. I also stood in line to meet Goofy in his kilt, and while I could feel the ship, I didn't feel sick. We also hung out with some Marvel characters. I did take a german form of dramamime that is aptly named "VomEx."  *I am extremely sensitive to motion sickness*
So our room was on the fifth deck, but towards the back of the ship, not quite as centered as I would like, which meant it was rocking pretty good and creaking a whole lot. Nathan was happily playing in the kids club which is fifth deck and 100% in the center of the ship, so he felt nothing. We stayed in the room and watched a movie.
That night, the kids club was having an Avengers themed event for parents and kids, so I sent Dan with Nathan as I was starting to feel the drugs and the ship and I just wanted to sleep until basically noon the next day. Dan and Nathan had a blast though-here are some pictures from their fun night:
I mostly slept through the ship, but a couple times I woke up and we were really rocking. The 18 foot swells happened at 3AM, so that was supposed to be the worst of it. Sadly, it was not the worst for me. A combination of the VomEx and some other medications I was on that make me dizzy every morning, had the added effect of making me actually Vomit.
I spent the entire sea day in bed or puking, it was actually a pretty horrible way to spend a vacation day and all I wanted was to be on dry land. Yes, the ship slowed down after noon, but our room was still moving enough where I could not stop feeling sick.
We had a character breakfast that morning, and in spectacular fashion, I made it to breakfast, took one photo, took one look at the food and RAN to the nearest bathroom to puke. (It was kind of funny because the toilet seat hit me on the head and because I was racing my body's digestive tract, I did not have time to lock the door and some poor woman opened it while I was losing it.) After that, I did NOT leave the room again.
We had special invitation to see a backstage special effects show for Twice Charmed, for being Gold members, so Dan took Nathan. Since the theatre is at the front of the ship, it made Nathan seasick and he puked after the show too. But he was totally fine after this.
Sadly, this was also the show night for Animator's Palette, so I missed the show, but Dan and Nathan enjoyed seeing Mickey dance. Dan also got to see the newly enhanced Twice Charmed that night, and I was super sad to have missed one of my favorite shows. Nathan didn't want to attempt the front of the ship again, so he skipped the show and went to the kids club. I slept and prayed for dry land again.
The next morning we were arriving in Reykjavic, Iceland and we had a 12 hour tour day planned that I would not be missing. I woke up the next day, the ship was docked and all I felt was dehydrated and hungry. I had never been happier to be on dry land.
We booked a private tour through a company called Extreme Iceland for the Golden Circle tour. Here is a link to our tour. We found three families who wanted to join our tour through a Facebook group from our cruise, making the price very reasonable for an all day tour that included a ride to and from the Blue Lagoon (but not entry). For our family of three, we paid about $230 for the whole day (Disney charges about that per person). Iceland is very expensive, and most tours were offering about $400 for all day tours, so we were very happy to get this rate.
The families that joined us were so much fun and there were lots of kids of all ages, including sisters that were 4 and 7 and Nathan's new best friends for the day. Iceland was very warm-in fact it was the warmest stop of all the places we went, almost 70 degrees! (Thanks climate change!). But the bus thought it was cold out as it had massive radiators by our feet that were blasting hot air and the driver couldn't figure out how to turn off. So I am dehydrated and hot but not puking, so it was an improvement!!
Our first stop on the tour was about an hour away, at the Gullfoss Water falls. These falls were amazing and I will let the scenery speak for itself:
Our next stop was the Geysir, situated in the Haukadalur valley, and known as the oldest geysir, and spouts off every 8 minutes or so. There was a place to have a quick bite and then we headed to the geysir. (Food in Iceland is super pricey and we spent about $60 on burgers and fries for lunch). The geysir was pretty cool and a little stinky from sulfur, but we all loved it!
We then headed to Thingvellir National Park, a place where you can literally see the tectonic plates of Europe and America separating, an awe inspiring sight. According to Extreme Iceland's website "The faults and fissures of the area make evident the rifting of the earth´s crust. Thingvellir was declared a national park in 1930. A law was passed designating Thingvellir as "a protected national shrine for all Icelanders, the perpetual property of the Icelandic nation under the preservation of parliament, never to be sold or mortgaged."
Driving through Iceland, felt like we were going from Montana to Mars with all the lava rocks and geysirs. We ended our day at the Blue Lagoon, a famous hot springs, that you can spend hours just relaxing in the warm water. The mud facials were included in the cost, and they have little bars set up to get the mud and rub it all over your face, along with a drink bar for your one free drink. The day we were there was the day of the semi final soccer tournament that Iceland was playing in as an underdog-and they won the game while we were in the lagoon. The locals started cheering and screaming as soon as it happened, which was so much fun to be a part of!
We got back pretty late to the ship, let Nathan play in the kids club for a bit before bed while we grabbed pizza from the ship. We were set to leave the next morning at 11:45AM, and really wanted to see Reykjavik but Nathan had different plans. His late nights in the club were finally catching up to him, along with a 12 hour day of touring. He slept the next morning until almost 1030AM and I didn't have the heart to wake him up. Dan ended up going alone to check out Reykjavik and here are some photos:
The rest of the day on the ship was basically a sea day (nice and calm again) and we had an adult dinner date at Palo! I was very excited for this, it's not as good as the brunch at Palo, but it's a very close second. We also had some fun with Ironman in the kids club with Nathan before leaving him there for our adult night on the town!
Dan turned 40 in 2016 and we literally did nothing in February for him, so this was his 40th birthday celebration, 4 months late, and we got to celebrate at Palo that night with chocolate souffle's.
More food found here:
After dinner that night we grabbed Nathan for some awesome pictures with characters, and my favorite picture of the whole trip: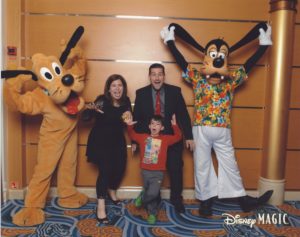 Nathan also had a fun interaction with Stitch, where they laid on the floor together and Nathan discovered a new favorite character. The personal interactions on a 12 night ship where all the characters get to know the kids, makes it worth its weight in gold. Every time we saw Minnie, she recognized Nathan and got really excited to see him. Additionally, Mickey played a role in helping us find Nathan when we lost him (another day, another story), and recognized Dan to show him we had found Nathan. A scary moment turned into a super magical moment that day.
The next day was my favorite day of the whole cruise. We arrived in Akureyri, Iceland around 9AM and we had booked a tour with The Traveling Viking. This tour was a special Game of Thrones Tour (Because we are super fans), but also included all the major sights to see in the area. Here is a link to the tour we went on.
Our tour guide's name was Becca, making it easy to remember! She is a GoT super fan, her husband is a native  of Akureyri and she is a native of Iceland, with tons and tons of knowledge. Our Extreme Iceland tour guide got us from point A to point B, he didn't provide a lot of useful information. He was not a native of Iceland, I think he was from Spain, and just didn't give us a whole lot (we were ok with it until we had this tour and Becca went above and beyond with all the information she gave us).
As described on their website, the tour has the following itinerary "As well as visiting the location sites from "Game of Thrones" this tour also stops at many places of interest, such as Dimmuborgir (dark castles), Grjotagja (underground caves), Hverir (bubbling mud pits and steam vents), ending the tour at The Myvatn Nature Baths."
The tour included people from the ship that we did know and a couple we picked up from a nearby hotel on the way to our first stop. We originally were going to stop at the waterfall first, but our guide thought the whole ship would be there, so we headed straight for the first Game of Thrones stop.
Season 3 was filmed here, as Jon Snow headed North of the Wall. Since we are here in the summer, some of the sites look a bit different without snow! Becca showed us parts of the show on her ipad before heading to the region. (She skipped the love scenes due to Nathan being on the tour! ha!).
We started in the Myvatn region, where they filmed a couple of scenes from Season 3 (in a place whose name now escapes me but it was a small hike through a forest and then these beautiful lava formations). Absolutely stunning place with all kinds of magical rock formations:
GOT Scene: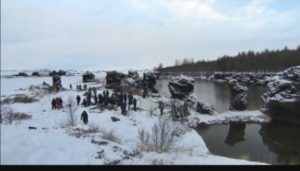 Second, we hit the Dimmuborgir, which is famous outside of Game of Thrones. It's a well known lava formation park, where the rocks look like trolls. According to Wikipedia, The Dimmuborgir area consist of a massive, collapsed lava tube formed by a lava lake flowing in from a large eruption in the Þrengslaborgir and Lúdentsborgir crater row to the East, about 2300 years ago. The lava pooled over a small lake and as the lava flowed across the wet sod, the water of the marsh started to boil, the vapor rising through the lava forming lava pillars from drainpipe size up to several meters in diameter. As the lava continued flowing towards lower ground in the Mývatn area, the top crust collapsed, but the hollow pillars of solidified lava remained.
GoT Scenes:
During Christmas season, the Yule Lads, who spend the summer sleeping at Dimmuborgir, are unleashed in Iceland to punish or reward good or bad children for Christmas, they are the 13 Santa Claus trolls that live in Icelandic myth. Game of Thrones was also filmed here.
We had lunch at the cafe here, lovely soup and brown sticky bread! After that, we headed to the love cave where Jon Snow and Ygritte first fall in love, an actual hot springs cave where the water will burn you it's so scalding hot!! It's very daek in this cave, but I climbed in to feel the water and get a quick glimpse. This was basically the last Game of Thrones stop, but we still had three more stops to make!
GoT Scene: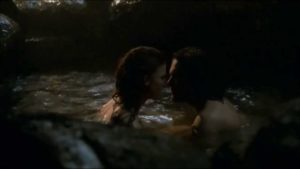 After that, we headed out of Iceland and off to Mars! Seriously, our next stop looked like we had landed on Mars. This is the Hverir Mud pits, that really look like we are on the movie set of Star Wars. It was super stinky but very cool.
After that, we had an hour to spend at the Mytvan lagoon, a vastly different experience than the Blue Lagoon. It had much more of a local feel and less touristy. The views from the hot springs were amazing, and there was a cold side and hot side. We had a good relaxing 45 minutes to soak and enjoy the view.
Finally, our last stop was the water fall we meant to go to in the beginning, the Goðafoss Waterfall. It was stunning and lacked people at that point in the day, and Nathan was sound asleep in the van, so we took turns checking out the falls and taking some fun pictures (and then Nathan woke up and joined the party). After that we headed back to the ship and got there just in time! It was a long day and while I know she got us back right on time, I would be lying if I said I wasn't a little stressed about the time! But there were a ton of people getting back when we did, so it turned out perfect!
Our evening was jam packed back on the ship with dinner and the kids club had part 2 of the Avengers night, so i got to join in the fun this time, as I wasn't praying to the porcelain gods anymore! We also took lots of character pictures!
I will save Norway for the last blog, as this is getting to be long! Please stay tuned for part 3 and thanks for traveling along!