Back to the Magic! (Part 1)
I am slightly behind on my travel blog-it's been about 5 months since we went on our last Disney Cruise-which took us to Norway, Iceland, Scotland & England. We had great weather, mostly calm seas (except for that one day where I prayed to the porcelain gods all day), & visited the most gorgeous scenery!
But to begin, our cruise left from the port of Dover, England. Having already lived in London for 3 years, we decided to change it up, stay in Dover prior to the cruise and sightsee in the quaint college town of Canterbury prior to sailing.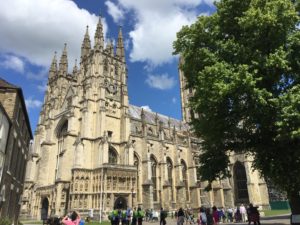 Our hotel was at the port, with a great view of the Disney Magic! We stayed at a budget hotel-the Premiere Inn, a local chain that is always clean, spacious, very purple and has a great breakfast. The beds are always comfortable and we've never stayed at a Premiere Inn that was bad-we paid about 90 pounds a night. Dover is quite a drive from Heathrow, so we hired a driver-and the drive was literally longer than our flight from Germany!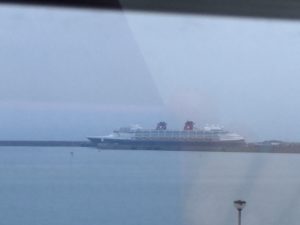 We spent one full day and two nights in Dover-and chose to spend the full day touring Canterbury and its amazing cathedral. We also had really large food goals for our 36 hours in England. The reputation that the UK has bad food is unfair, in my opinion, and I was really looking forward to my favorites (fish and chips, scones, indian food & a banana cake from Pret a Manger). Priorities people, priorities!!
We took the train from Dover to Canterbury and our first stop was lunch (because that's how we roll) at an amazing little fish and chip place in the center of town called The City Fish Bar.
After checking off one food item on the list, we headed to the cathedral-stopping along the way to shop at all the fun knick knack shops and to get dessert-banana cake!!! (Seriously, it's all about the food).
The cathedral is most known for the 1170 murder of its Archbishop Thomas Beckett. Ironically, Henry II, the King who had him murdered but was also his good friend, felt so much guilt for this that he had the Cathedral built. He wanted it built for forgiveness and in order for the people to remember him for building the Cathedral and not for having his friend murdered. However, Henry II and the Cathedral are almost only known for the murder of poor Thomas Beckett, and there is a shrine to him inside the Cathedral. The Cathedral is absolutely stunning, inside and out.
We roamed the town after spending a couple hours inside the Cathedral and then found an amazing bakery for Tea and Scones. (More food checked off the list!)
After walking around a bit more, we took the train back to Dover for pub grub for dinner and a pint (Check!) Also, the night before we had indian food (check!). We pretty much stuffed our faces for 36 hours and got it all in before getting on an American ship to stuff our faces some more! (This is a theme. Listen, we had been dieting since January and we were starving, it was well deserved.)
The next morning, we woke up with this view: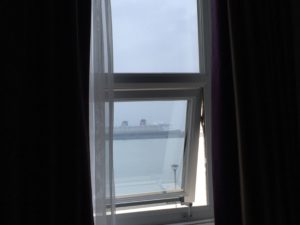 The Magic has arrived!!!! We were like kids in a candy store, up by 7AM, just waiting around to get on the ship! We thought we wouldn't be allowed inside the waiting area until 10:30, so we had the hotel get us a cab for 10:15 (it's a five minute, 6 pound drive). We found out later, people were there as early as 9:30, and we should have gone earlier, because we were trying for an upgrade. Actually, we got the very last Navigator's Verandah upgrade (from an inside stateroom). Navigator's means the view is cut off, so it's not a typical glassed in verandah-it's a metal verandah with a giant circle-but it keeps out the cold-perfect for Iceland and Norway!
We waited in the lobby and took pictures with characters and signed up Nathan for the kids club-where a Cast member remembered him from last year!!
Once we boarded, Nathan wanted to go directly to the kids club (because it's all he talked about all day). On boarding day, the kids club is an Open House until dinner, so we couldn't drop him off. We could go in and be there with him while he played. This gives everyone on the ship a chance to check out all the kids/teens clubs that normally we aren't allowed to enter.
After dragging Nathan out, we hit the buffet. This is our thing. We have been on 7 Disney cruises and 2 non-Disney cruises, and the first thing we do when we get onboard is eat at the buffet!
We did all the exciting first day stuff, checked out our room, unpacked, went to the Muster Drill and then the Sail Away party. Sadly for us, it started to rain, which means the Sail Away party was in the main lobby. This is definitely not as fun as being outside and we were watching the action from the fifth floor. But, we were still excited that our vacation had begun!!
Just a warning-there will be lots of pictures of food, because cruising is half about touring cool places and half about eating all the food.
Day Two was a Day at Sea and we booked the adult only buffet at Palo. This is one of my favorite things to do on any Disney ship. The brunch buffet at Palo has the best food. We made our reservation for 11, so we could have breakfast and lunch. There is a seafood bar, bread and cheese bar, dessert bar and food you can order fresh off the menu. We had a little of everything. I absolutely love the Eggs florentine and the cold strawberry soup (let's call that what it really is: a strawberry milkshake you eat with a spoon).
We didn't do anything noteworthy but relax and eat that day, and kit was formal night-with our dining rotation starting at Animator's Palette. There was no show on the first night, since this is a 12 night cruise, they saved it for later on in the cruise. We met our server, Leo, who turned out to be the best server we've ever had on a Disney ship. We also took some formal photos and some not so formal photos with characters.
The next day we would be arriving in Newcastle, and we had chosen to hire a private guide for a tour of Hadrian's Wall.
Our guide was recommended in Rick Steves' book, and his name is Peter Carney, a former history teacher. You can find him at http://www.hadrianswall-walk.com
He was absolutely the highlight of our entire cruise. Sure, we saw amazing sights in Iceland and Norway, but Peter Carney brought Roman history to life in his all day tour, where he kept a 5 year old engaged at numerous ruins and a museum (well, all except for this moment: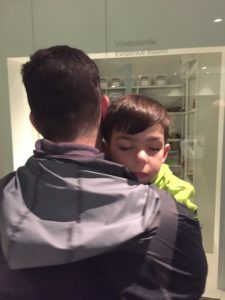 (Hey, we even made it on his website-although now I am officially Becky.)
Peter picked us up on a Sunday morning, Father's Day, as soon as we docked and took us out for the entire day for under 200 Euros (far less than any Disney excursion, and far more personal). We started off taking the hour long drive to a section of the wall near the Roman Army Museum, so we could get perspective on the size of the wall.
We then made it to the museum, watched a quick movie and then Peter gave us a tour of the museum-including interesting facts about what the soldiers ate, how much stuff they carried around with them-and a demonstration of some of the weaponry.
We then drove to another part of the wall, to show us where the gates were, and one of the sections the soldiers lived at while they were guarding it. For a bit of history, the Emperor Hadrian built this wall in 122 AD, and it stretched for 73 miles, and was about 15-20 feet. The purpose of the wall is still under debate-it may have been to keep northern tribes out (North of the Wall for all you Game of Thrones fans) or it may have been to keep the British in, since the Romans were ruling over them. It also may have been to collect taxes from anyone entering. It may have even been built in order to give a bored Army something to do.
We then headed to Vindolanda, a large Roman fort that is huge and in ruins. These ruins were spectacular, and that's mostly in part to Peter's descriptions and stories. Archeologists spend 6 days a week here (sadly not on Sundays), so most visitors can talk to them and watch them actually excavating. The fort was built nine different times over 400 years, all on top of each other, so they have nine layers of history to dig in for treasures. The fort is a little barren, but inside the museum, all the artifacts are on display, including coins, french pottery, shoes of the Emperor's wife, and combs and tools. Peter gave us interesting history about the barracks-including the time the archeologists found the skeleton of a child buried in the barracks and they had to open a murder investigation. Additionally, they found the skull of a man with a spike through it but no body!
Skull & Child's Body:
More artifacts:
The most fascinating artifacts are the writing tablets they keep finding. Letters written on tiny thin pieces of wood, sometimes it's budgetary items or birthday invitations-all giving the best insight to life in the Fort and the town.
After lunch and the museum, we made two more quick stops-one to see the famous Sycamore Tree, used in the 1991 movie Robin Hood: Prince of Thieves, and the last stop to show us where the Romans desperately tried to move some boulders but could not. (As seen by the markings on the boulders).
We made it back to the ship with about 45 minutes to spare, and we all felt a little more cultured and educated on Roman history. I have never met someone with so much knowledge about Roman history. I would highly recommend him for tours in this region.
Since Disney ships are a novelty in Europe and some ports have never seen one, they bring out the locals to stand and watch us leave port. So Disney brings out the characters to the fourth Deck to wave to all the people as we sail away. It's a great spot to see some characters and take some pictures, because not very many people know about it.
As we sailed away, got ready for another great dinner, saw another show and Nathan played away in the kids club, we got ready for our next port of call-Kirkwall Scotland. I will start another blog for Kirkwall and Iceland and Norway, as there is just too much to write for one blog.
Thanks for following along!!