Welcome To King's Landing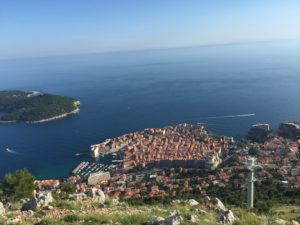 I'll be honest, I was super excited to totally nerd out on this Game of Thrones tour in Dubrovnik. I was nervous that my 5 year old, my brother-in-law and father-in-law who do not watch the show would be totally lost and bored. We really lucked out when my brother-in-law offered to watch my son for the entire duration of the tour. Turns out they didn't really want to go on the tour after all-since they don't watch the show.
Our GoT tour wasn't until our 4th and final day in Dubrovnik, so we had pretty much seen everything already, which actually was nice because we were already familiar with our surroundings. Our local guide was the BEST. He is basically a Dubrovnik Townie. Dubrovnik is a small town where everyone know everyone. (A fact later confirmed when we saw him out and and about with the local jazz singer from the local bar). He can trace his family history back over 500 years!!! (A family of butchers!) He is 33 and lives with his parents because, Dubrovnik means small town but still touristy and super expensive to live there.
We booked our tour through Dubrovnik Day Tours, their Facebook page can be found here. Our guide's name was Anton, he was funny, smart & a GoT super fan! He spent years working in local government in Dubrovnik & was born and raised there-as he said "he knows every stone in Dubrovnik" It was a pleasure to spend the morning with him as he gave us inside information on filming mixed in with local Dubrovnik history & culture.
The tours are small groups-no more than 8 people, which makes it feel intimate in a crowded city.
Anton told us some interesting facts-for example, all the extras are locals. So none of the locals wanted to play the prostitutes in King's Landing because they didn't want their neighbors to see their bits so HBO had to to hire exotic dancers from a different town! However, the guy that goes full frontal in season 1, is a total local-and now everyone in town knows him pretty well!!
He also shared a funny anecdote about an elderly woman who has lived in Dubrovnik her whole life and refused to follow the signage about where she could and could not go during filming. (She may or may not be randomly in a scene).
Anton also accidentally snuck on set as he was trying to go to his local beach-to a private area he's been going to since childhood. Since he has his own secret way in, he didn't even realize he was on set until the Mountain was looming over him and asking him to share a beer (no alcohol on set I guess!).
Honestly, this tour was a great way to cap off our entire trip. Also, since our hotel was about a half block from the infamous scene "Shame! Shame!" (Google that if you don't know it), we were pretty excited when Anton pulled out the bell, Needle the sword and other GoT props that we were allowed to hold and take photos with. (No worries-no one got naked and walked the walk of shame!)
Sleeping in the heart of the Old City was perfect because we didn't have a car and we could walk to everything. We had also set up tours to Montenegro and Bosnia and the drivers were able to pick us up right outside the gates of the Wall.
Petar was an outstanding guide. He was 11 years old when the war in the former Yugoslavia broke out and his family was lucky in that they lived in a monestary for a year, safely. A firsthand perspective of both the war and the fallout is the best kind of history lesson. In fact, when I told him that most of my knowledge from the war came from watching Dr. Luca Kovac on the TV show ER when I was in high school and college, he was not surprised. He actually said ER helped put a face to the war in America, even if it was a fictional face-the actor Goran Visnjic, is actually a Croatian and hometown boy.
Our first stop on the tour was actually Kupari Beach, just outside Dubrovnik. This beach is an old complex that was bombed out during the war. It has five hotels, including the Grand Hotel, a 100 year old  building used by Tito (Yugoslavian ruler). The abandoned hotel bay was used by the military and their families from the 1960's through the war and now sits as if it was bombed out a week ago. It's completely Life After People. However, Marriott has bought the hotel and is supposed to build a new complex on site. It's a gorgeous spot on the beach, but looking at now, it just seems desolate and sad.
Petar drove us around the bay and we headed into Montenegro, stopping at the border, still felt like we were entering a Communist country, and we all felt a little nervous and quiet. Far afar, Montenegro looked like it should be gorgeous. The whole country is sitting on the Bay with a mountain behind it, but as you get closer you see the dreadful communist buildings. Worse than that, wealthy Russians involved in the mafia have bought up most of the buildings and they are hideous. It's all terrible until you round the corner to a gorgeous fjord and water clear as glass.
After the church, we drove to Kotor, where Petar gave us a couple hours of free time. We had lunch in the town square at an unimpressive place before deciding to hike up 500 steps to another church. The path all the way up is 1,000 steps, we decided to go halfway to a tiny church 500 steps up. "Steps" is a generous word, it was a rocky path with some slippery steps along the side and a rock wall on the side to keep you from falling off the cliff. Taking our 5 year old was nerve wracking and so were my slippery sandals. We all made it without a scrape or bone broken (my father in law skipped this hike).
 Nathan decided at the top of this hike that he really really had to pee….sorry old church, you've been Nathan'd. (I tried aiming him away but I was too slow). After that fun, we took some death defying photos and headed back down to check out the quaint town.
It was filled with cobblestones, small shops and many churches. This whole town is a world heritage site, and has churches ranging from the 12th to 19th century. We stopped in 4 different churches in a matter of 10 minutes, each one more stunning than the last.
Petar does tours of both Kotor and Bosnia, but due to scheduling conflicts, we were not able to use Petar for Bosnia the next day. We had another tour guide, who actually fought in the war as a young man and had some harrowing tales to tell us on our long drive to Mostar, Bosnia.
We looked at spending a night in Bosnia because it is almost 3 hours from Dubrovnik, and in retrospect I wish we would have done it. We didn't want to change hotels again, but in the end we only got to spend a couple hours in Bosnia and it wasn't enough time.
Our first stop on the way to Mostar was city of Pocitelj, a small medieval village about 30km from Mostar. It has a cobblestoned stairway up to the actual village and mosque. My first ten minutes were spent dealing with a tantrum screaming 5 year old (he did NOT want to climb the stairs). IN the end, we took turns seeing the town while our son pouted. It's a very picturesque village and they allowed me to borrow a scarf to wrap around my head to enter the mosque (one they were selling).
We continued on to Mostar, passing by an empty lot that is the "future site" of a synagogue, which lacks funding.
As we walked to the center of Mostar, I felt transported out of Europe and into a Bazaar in the middle east. Everything was colorful and fun and I wanted to buy every totchke I laid eyes on. At the famous Stari Bridge, a diver was standing ready to jump into the river-as soon as he collected enough tips from passers-by.
The original bridge was built in 1557 and stood for over 400 years, until 1993 when over 60 shells hit it before she fell during the war. The bridge was not rebuilt until 2001, finishing in 2004.
We had lunch in a very beautiful setting, overlooking the Stari Bridge, but the food was just mediocre. I was expecting greatness, as my husband had Bosnian food in Zagreb and said it was the best food he's ever had. But we were rushed and ate in a tourist-centric place, but the view was nice!
After lunch, Rick and I continued our Tour of Heights and climbed to the top of a Mosque for some amazing views. The climb was circular and tight and I am thankful we were the only two people up there!
We also checked out a small museum that was set up as a typical home, (from a year I can't recall). They had some costumes and we had fun dressing Nathan up as a little Bosnian. Alas, after picking up some treats, it was time to head back to the car for the three hour journey back. It was way too fast and I wanted to spend more time checking out the culture, so very different from my own.
More Mostar:
In 2008, I spent two weeks traveling around Turkey and I fell in love with everything about the country, and this very much reminded me of the small towns we visited in Turkey.
Finally, we did actually spend some time in Dubrovnik while sleeping there! We spent time walking the Old Wall, eating at fabulous restaurants, shopping at the overpriced shops and seeing many many brides!! (None local as we were told!)
Additionally, Dubrovnik has a tiny Jewish population, made tinier after WWII. But they still have a tiny synagogue and museum (no photos allowed inside), but it was about the size of my kitchen (which is small for those who have not seen). It was interesting to see the relics from the history of Judaism in Croatia, and we bought some dreidls and a mezzuzah for our door.
Also, the winner for the best bathroom ever goes to the vegetarian place we went to…
We also took a funicular up to a spot where you can see all of Dubrovnik in it's walled glory. There is a museum up there as well, dedicated to the War.
Overall, our entire Croatia trip exceeded expectations. The sights were gorgeous, the food was outstanding and the people were so nice. We had great guides, we managed ten days without a car, using ferries and hiring local guides, all successfully! This was a bucket list destination and I am so grateful I was able to enjoy this wonderful place and all its messy wonderful history.
My Aunt came to Dubrovnik over 40 year ago, and sent me this photo of herself and I decided to find the location and duplicate the same pose:
Upon further review, we realized this was the actual spot…but I wasn't having as good of a hair day…
Thanks for joining the Family Traveler on yet another outstanding trip!!
Next up-another Disney Cruise-to Iceland!!