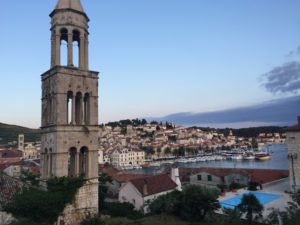 Back in the spring of 2014, we traveled to Croatia for the first time. We saw the Capital, Zagreb and the stunning Lake Plitvice National Park and Rovinj (all in Northern Croatia). Read that blog post: Here.
After that trip, we made a promise to get back and see the Dalmatian Coast as quickly as possible, we loved Croatia but felt like we missed out on the heavy hitters (you know, Dubrovnik). Fast forward two years later and we were finally able to make Croatia happen-and we were bringing along extended family!!
My husband and I are uber Game of Thrones fans and we had already been to Seville and seen where they filmed all the scenes in Dorne (The Royal Alcazar)-another great blog here. And we had a trip booked in June to travel on a Disney Cruise to Iceland (where we were taking a Game of Thrones tour to see anything Jon Snow had touched North of the Wall). (Blog coming soon!). So we wanted the trifecta of Game of Thrones tours, and Dubrovnik has the most scenes filmed outside of the studio in Belfast. Of course, we weren't traveling here just for Game of Thrones, in fact it's been high on our list since we lived in the UK. Back in 2009, we wanted our final trip before we moved back to America to be this exact trip-but we couldn't make it happen. So after 7 years of talking about the Dalmatian Coast, we finally made it a reality!!
Traveling with four adults and one rambunctious five year old can have it's challenges (to say the least). Now add in the fact that we chose to forgo a car and opted for all ferry rides, buses and trains with a 70 year old and a five year old, and we deserve a medal for just surviving. There were some moments I would rather not relive, so my only advice to anyone traveling with a  lot of people, bring a whole load of patience and be ready to go with the flow! Anxiety can run high when traveling in foreign countries, so it's important to keep your cool and make the best of all scenarios-after all this may be the only time you ever come to this part of the world so make it count! (Ok, yeah I did just quote Titanic and Leo).
We started our trip by flying into Split and taking a short cab ride to Trogir, a small medieval town that overflows with fancy yachts on the harbor in the summertime. (Never yell "is that boat called FAT MAN??" two times while passing by an actual over weight man, he might get offended unintentionally). Also, don't name your yacht Fat Man!
With five people, and the need for 4 beds, finding places to stay were actually pretty difficult, but homeaway.com and airbnb.com gave us options. Croatia is difficult because hotels are big boxy Communist era hotels, that inspire nothing. They have a lot of Sobes (which are like B&Bs) but there are so many of them that it's difficult to find reviews. We found a fantastic apartment through AirBnB, listed here.
It had three bedrooms, a huge outdoor patio, a view of the church, and all newly redone and modern. It was obvious that great care had been taken to maintain this apartment, as everything looked fresh and new-and we even had a welcome basket of cookies and wine. We were about a ten minute walk to town (uphill on the way back). Trogir is in the flight path to Split, and while it's a small airport, we did have some massive jets flying overhead (but I love plane spotting so I was ok and I never heard it from the bedroom).
The first full day we were there, we sent my brother and father in law to Plitvice National Park on a full day excursion, since we had already been there, we spent the day at the beach! Actually, our host had set us up with our own personal cab driver (he picked us up from the airport, took us to the beach and back and drove us all to Split the next day). He was a very nice guy who gave us a free ride when the beach we asked to go to was closed and we had to wait for him to come back for us and take us to a different beach. (That was an adventure).
So Croatia has two seasons, too hot and perfect. We were in the perfect season, meaning the weather was perfect temperature but the water at the beach was ice cold. Crowds descend upon Croatia in July and August when it's 90 degrees, humid and crowded. May temperatures hovered between 72-78, and there were half the tourists. If you can go in May or September, I would highly recommend avoiding the massive crowds and high heat.
So we found a spot on the pebbly beach, and Nathan immediately jumped in and right out of the water and realizing it was frigid. There were a couple of 30-something German guys who braved the cold water and Nathan decided they would be his new best friends-and they loved speaking to him in german. So our beach day was super lazy and after a few hours, Nathan was bored since he couldn't swim so we headed back to town to get Croatian pizza-phylo dough mixed with cheese and spinach-absolutely delicious. This was our vacation from our vacation day-and we were just starting! We also strolled the gorgeous promenade in Trogir and ate ice cream and checked out the church. Overall, a great start to a promising vacation.
*I don't think this is Disney approved: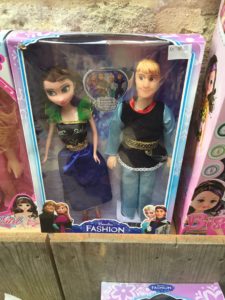 The next day, our plan was to take our cab ride to Split and drop our luggage off in a locker by the ferries, spend the day in Split and then take a prebooked ferry at 5PM to the island of Hvar. Unfortunately for us, this was the only day we had rain all day  long, our only full day without a hotel to retreat to. We made it work, but we definitely got wet!
Split is known for its Roman fortress, Diocletian's Palace. This massive Palace is now the wall to the town center and 2,000 people live or work within the old palace walls. The old town is very walkable and our only goal for the day was to tour the palace and have lunch before getting to the ferry. We used Rick Steve's guidebook to take us through the maze that is the cellar of the palace.
Actually, Rick Steves doesn't mention this, but this room was also used in filming Game of Thrones:
(Dragons were housed here)
Diocletian's palace is actually his retirement home, and took 11 years to build with 2,000 slaves. The front of the palace used to be on the water, but now there is a huge promenade filled with cafes and strollers.
The cellars cost money to visit, but the rest of the palace is the actual town, but it's worth it to pay a little to see the ruins. Nathan was particularly interested in the sewer system, still intact since 305 A.D. Or as Nathan said "really old poop"). (I find ways to keep a 5 year old interested in history-poop is a guaranteed win, always). In fact, when we were on our cruise a month later, Nathan repeated his excitement over the really old poop to the historian who gave us a private tour of Hadrian's Wall and fortress (More old poop there).
(old poop system)
After leaving the cellar, we headed to the Cathedral of St. Dominus and the giant vestibule where acapella singers take advantage of the wonderful acoustics. My brother in law and I risked life and limb by climbing the bell tower, on wet metal stairs during a thunderstorm. I don't know if this was the best idea, but the views at the top made it worth it.
We also checked out the damp mausoleum and the inside of the church itself. (This church used to only be a mausoleum but was converted into a church in the 4th century). The Church is actually named after Bishop Dominus, whome Diocletian had murdered (along with many of his christian subjects).
We spent the rest of the rainy afternoon checking out the town that lies within the walls, the giant gate entering the town and the giant statue of a 10th century priest who has a lucky toe everyone rubs.
Nathan found himself some gladiators to fight as well….
Here are some more photos of Split:
As we headed to the ferry, the rain let up and the sunshine filled the skies. The ferry itself was a hydrfoil, and the first 35 minutes of the ride I was fine. The last 35 minutes, the boat started rocking and there was absolutely no air and the employees started walking around with vomit bags (I took one). If you know me, you know I get motion sick pretty easily and this was no exception. It's sad because I love the water, I love boats and I hate that my body won't listen to my head. So I was fairly green when we departed the ferry in Hvar and I was in desperate need of a sprite and some pretzels. I was also now dreading the fact that we still had two more ferry rides to get us to Korcula and Dubrovnik over the next week. No one else in our group was sick and Nathan thought we were on Splash Mountain, he loved it (or as he will tell you-it tickles his pee pee).
We had booked two nights in Hvar, and on our day of checking out, there was only one ferry to Korcula and it didn't leave until almost 6PM. Luckily, our host did not have anyone checking in an allowed us to keep our luggage and stay the whole day in the apartment (another bonus of being there during the off season).
We had the most difficult time finding a place in Hvar. Hvar is a fancy island where all the rich people vacation. It has expensive big hotels, expensive apartments and yachts and fancy night clubs and fancy seafood dining-so bring your wallet!!! It's a gorgeous fishing village with a fortress overseeing the island.
We found our apartment through Trip Advisor's website,  (here) and we were not disappointed! Actually, the apartment itself was quite spacious with three bedrooms and three bathrooms (making morning time much faster). But the piece de resistance of this apartment was the balcony. We were high above the town overlooking the entire bay. We could see all the sailboats and islands and the horizon off in the distance. This group did not want to leave the balcony.
That night we had a fancy seafood dinner and another table ordered the lobster, so the waiter brought the live lobster for us to touch-Nathan made me touch it!! They also had this crazy glass floor inside that was an aquarium. I would like to give a shout out to the owner who spent about 30 minutes answering Nathan's questions about fish and taking him in the back to show him more seafood. Nathan begged us for the next 48 hours to go back and eat there. It was delicious but pricey and a bit upscale, I would highly recommend it but we weren't going a second night!
We did not have big plans for Hvar, we had island plans. Our apartment was located next to a big fancy hotel and we were told we had access to their pool. While the boys hiked around the island, Nathan, Grandpa and I headed for the pool. It wasn't heated. It was ice cold. But I found a big slide and Nathan didn't care if he was blue and shivering, that slide was his to be conquered!!!
Dinner was a vegetarian place that was delicious but we had to hike to get there-working off the calories! And after dinner, we put Grandpa and grandson to bed and headed out to the Hula Hula bar that sits literally on the water. it's a sunset bar and we missed the sunset by about 30 minutes, but we had a drink, took some photos and moved on!
The next day we were checking out and heading to Korcula, so we spent the morning on the balcony (seriously no one wanted to move from this gorgeous setting) and then headed to the fortress for some sightseeing. It was getting warm in Hvar and the hike up was hot but there was a lot of shade, so we made lots of stops.
The ferry ride was MUCH smoother to Korcula-no seasickness at all! We arrived around 8PM and dragged our luggage to this amazing house that was lovingly restored by the owner, Ivan. We found this house on trip advisor as well, and it was another place with three bedrooms and three bathrooms. Completely modern but also tons of character (and AC!). Nathan slept on this funky pull out chair that reminded me of something my sister and I owned in the 1980's. (he loved it).  The listing for the apartment is here.
The next day, our only day in Korcula, we spent the day exploring this gorgeous town. It feels like an island dropped in the middle of a fjord, sparkling blue water, sandstone buildings encased by an old wall with lots of quaint shops and cafes.
There was not much to do here but check out a couple of museums (they literally took 15 minutes maximum for each), and my brother in law and I climbed another tower (it wasn't in the rain but there was a section with no hand rails, so still scary!) We had two nice meals and another night where Grandpa put Nathan to sleep while the adults did some local bar hopping. (Including a bar on top of a tower where they literally have to use a dolly up the side of the tower to bring the drinks to you).
Our final destination on this trip would be Dubrovnik. We used it as a base to see Bosnia and Montenegro, and spent four nights in the Old City. My next blog will cover those 4 nights, filled with history of both the War of the 90's and loads of Game of Thrones trivia!!!
On the ferry to Dubrovnik!!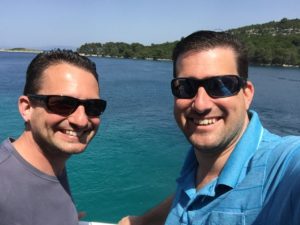 Thanks for traveling with us!