Gelato, Pizza and Wine-Oh My: A Trip to the Amalfi Coast & Naples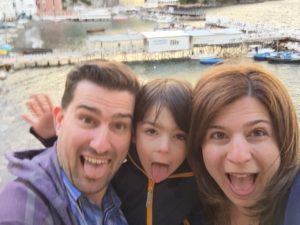 After spending two months on the 21-Day fix diet and working out 6 days a week, spending a long weekend on the Amalfi Coast was just the inspiration I needed to completely overhaul my diet to pizza and gelato (and pasta and seafood and risotto….). I was looking forward to visiting the Amalfi Coast for two reasons.
A) I could completely cheat on my diet with zero guilt. B) Amalfi Coast, duh, it's gorgeous.
We decided to base ourselves in Sorrento for the weekend until we made our way back to Naples where Dan had to work for a few days. We found a great apartment through airbnb.com. Here is the listing:
https://www.airbnb.com/rooms/2647179?checkin=04%2F28%2F2016&checkout=05%2F02%2F2016&guests=3&s=vM-xWjL-
Raffealo was a great host, the apartment was super modern and clean and located directly next to the train station (making getting back to Naples super easy). This was a one bedroom apartment with a family room with a pullout couch. We put our son to bed in our room and moved him to the couch when we were ready for bed and it worked great.
Nathan and I arrived first in Naples, and chose the 12 euro bus ride to Sorrento (it was supposed to be an hour but due to massive traffic heading into Sorrento it was 2.5 hours). It was a comfortable bus (and the bus driver only stopped once, randomly to allow a tween out to pee!). This was the bus service we used: http://www.curreriviaggi.it/eng/autolinee.html
Dinner was recommended by Raffealo, the oldest pizza joint in Sorrento, Pizzeria da Franco, and it was a great way to break the diet. The place was filled with giant picnic tables, shoved in there to fill as much of the space as possible. There were not a lot of people in there, and the owner came over and played with Nathan. I love the older Italian men-they love kids and Nathan got a lot of attention all weekend. (We went back to this pizza place later that weekend and it was jam packed with people that there was a line out the door-definitely a popular place to eat!
And gelato….
Capri was first on our list of places to visit, so we made a plan to be up early and catch the 8:30 ferry. This was an aggressive schedule, as Nathan didn't get to bed until after 10 and the walk to the ferry was about 15 minutes (Nathan is like a tiny teenager and does NOT approve of early mornings). We also had no food in the kitchen as the grocery store was closed by the time we left the pizza joint the night before-so we were apprehensive that we could get breakfast, dressed and walk to the ferry all by 8:30. But Nathan was excited to get up and see Daddy (since he arrived well after Nathan was in bed) and we found a bakery to grab some yummy italian pastries to eat while heading down the hill to the boat. Shockingly, we made the 8:30 ferry with time to spare!
Capri is the island of the rich and famous and known for its glamour and beauty. We heard that its overrun with people in August and July so we were hopeful that April would be calmer. The day started off quiet but swelled with tourists by the end of the day and we were literally being trampled to get on the ferry home.
We followed Rick Steves see-everything-in-a day plan to get the most out of our day and try to avoid the crowds, and it worked until lunchtime when the crowds were just unavoidable. The 20 minute ferry got us to Capri before 9AM and we headed directly to the boats taking you to the Blue Grotto. The Blue Grotto is an interesting little tourist spot. You basically take a boat to get to a tiny boat, you climb into this little dinghy (we were with 2 other people) and the rower takes you into this cave through a 3 foot entrance (we literally needed to lie down in the boat to get in). I got real comfortable with the adults behind me as I was practically laying in their laps. I didn't know that Nathan was panicking in Dan's lap in the front of the dinghy, but Dan quickly calmed him through the magic of Daddy.
Our rower took us around the grotto, in which the limestone on the bottom of the cave makes the water turn a perfect shade of aqua blue. The cave is small but large enough for about 7-8 of these row boats to go in a circle, in the dark, while the rowers sing local Italian tunes. The grotto is from Roman times and is believed to have been a romantic spot for the Romans.
We had our rower take us to the steps leading to the local bus, instead of back to the boat back to Capri. The bus would take us to Anacapri, the town above Capri. We planned on going to the top of the island and spending the day making our way back down to the boat back to Sorrento.
Anacapri is a small town with a chairlift that takes you 1900 feet above sea level,to the most amazing views on the whole island. We definitely had second thoughts about the chairlift. It was an open chair, fit for one person with just a single bar to hold you in place. Nathan would have to sit on my lap for the whole ride up (and not move). I would not have done this if Nathan was younger, because communication would have been more difficult and any squirming could have been dangerous! Nathan was incredible during the whole ride to the top (no photos because I wasn't letting my death grip of Nathan go for even a millisecond!)
After ascending to the top, we walked around, took photos and had a cappuccino with a view! Nathan was all about chasing the lizards.
We decided the chairlift downhill would be scarier with the lean down on the chair and holding Nathan, so we decided to take the 45 minute hike down. In retrospect, the chairlift would have been better, only because we basically spent all of Nathan's energy and he was done after the hike-making the day much harder!
The hike was nice, with sprawling views of Capri and the sea, but it was getting hot and Nathan was getting whiny and tired. (I would NOT recommend this hike if it was any warmer-it was about 75 degrees out).
By the time we made our way down back to Anicapri, it was definitely time for lunch. We found a little sandwich place on the main pedestrian walkway. The food took forever but our mozzarella/tomato paninis were worth the wait! There is nothing better than fresh Italian food. The ingredients are always ten times better than anywhere else, and hello, it's Italian food.
After lunch, we got gelato (because it's Italy) and walked around Anicapri. Nathan was kind of over walking at this point, but we still hadn't seen the town, so we tried to be as leisurely as possible. We made our way to the Villa San Michele,  a 19th century mansion, another place with outstanding views of Capri. We didn't actually go into the mansion, but walked around it for the views.
At this point, we wanted to head to Capri and check out the Rodeo Drive of the Island. This was when the island started to feel cramped. There were about 45 people waiting for one tiny bus to take us back to Capri. A cab would have cost almost 30 euros, and the bus was about 1 euro, so we took our chances. We did somehow manage to squeeze ourselves onto the second bus that came-but Nathan was literally standing in the doorway. I worried when the Italians on the bus were concerned about his safety-so I was pretty eager to be off that bus. We made it alive to Capri-but we were all hot and groggy and annoyed at that point.
The rest of the day could have gone either way, we weren't sure how we could turn it around without having to carry Nathan for the rest of the day. So we decided to walk through the Rodeo drive and we found a pretty park that had far less people in it. Nathan was able to run free for awhile and we weren't trying to drag him anywhere. It was a good break from the masses.
However, we hadn't realized we booked a ferry back that had a time on it-around 3PM, and we were definitely not making that ferry. We had asked the ticketing office if we could come back at any time and she said yes and then gave us a timed ticket-so I think we had some translation issues. We were concerned about it, but there was nothing we could do-so we just hoped we wouldn't have to pay again.
We slowly made our way out of the park, had some limoncellos and more gelato and headed to the ferry. The 5PM ferry had not shown up yet, so we were standing there with about 150 people, all crammed onto a dock. Initially, Nathan and I were sitting on the ground, until an older woman told us we better stand so we wouldn't get trampled. When the boat arrived, mostly the young Italian men started crowding the entrance to the boat. We were already standing there when more and more people just started cramming us in deeper and deeper into the crowds. We couldn't move or get out of the way, and Nathan was starting to get knocked over and trampled on-and I started yelling Bambino over and over again and pushing people away from him. I can see how quickly people can get trampled to death-it was terrifying. The aggressors were all yelling at each other, meanwhile, the ticket taker never even looked at the time of our ticket due to the chaos, so we didn't have a problem getting on the 5PM ferry with 3PM tickets. But I was super grateful once we were on the boat, to be out of the chaos.
That night, we decided to head to the Marina Grande, a part of Sorrento that feels like another village, to have dinner at Ristorante Delfino. This place was amazing. A family run place, with the nicest people on the planet, and we had a table with a sunset view. Nathan's ravioli plate was bigger than him, the portions were massive, the lobster was outstanding, the wine was divine, and we loved it so much we went back another night!
Day 2 was another early start, but we were being picked up by the driver we hired to take us around the Amalfi Coast. We hired Raffaele Monetti (Rick Steves recommended driver) http://(http://www.monettitaxi17.it )  to drive the dangerous cliffs and curves of the gorgeous Amalfi coast, so we wouldn't have to deal with it! It was an 8 hour tour and worth every penny. You can take a round trip bus tour, but we liked the idea of going at our pace, and not having to worry about dragging Nathan around at the bus pace (he can sometimes be stubborn about moving along on timed tours!). Raffeale was filled with local knowledge and was great with Nathan.
Raffeale picked us up at 830AM, to avoid the crowds and traffic that increase the later it gets  and we headed to Positano, stopping for some photos along the way.
Positano is a town that winds down a cobblestone streets all the way to the beach, with a stunning cathedral and sand filled roofs along the way. Dan and I had a morning cappuccino with a view while Nathan threw rocks into the ocean, it was a peaceful way to start the day.
We left Positano and stopped at a juice bar on the side of the road, for the freshest possible orange/lemon juice I've ever had.
We also made a quick stop at a pottery shop-I really wanted the patio table but didn't have four thousand euros to burn.
More photo stops:
The actual town of Amalfi is over run with tourists, so we ended up spending exactly 30 minutes in Amalfi. We walked to the center, took photos of the church and did a quick tour of the church and left. Nathan has started using his ipad to take photos, and it really helps in holding his interest in the things we are touring. It's fun to see photos from his perspective, and see what he finds interesting or photo worthy. His 5 year old brain can be fascinating (and frustrating as hell).
The highlight of the day was our lunch stop in Ravello. This town is situated on top of the Amalfi Coast, and we were literally eating lunch in the clouds.
Lunch was a fancier affair than we were expecting, but the dishes were interesting and delicious. The first course (which is served to everyone) was a little liquid egg on top of sugar, which you aren't supposed to touch with your hands. Trying to get Nathan to suck the egg up was, interesting.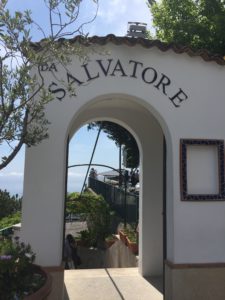 We had proscuitto, cheese, calamari pasta, poached egg, an artichoke and a lemon/marshmellow dessert. I wish I could accurately describe the food, but I didn't write it down and now I can't recall exactly what I was eating-but it was so fresh, delicious and different.
Lunch actually took up the majority of the time we were in Ravello, so we walked around the main square and then took a quick stroll along the cobblestones side streets. This town was actually my favorite. Maybe it was the lack of crowds, the stunning Duomo looming over the square with the hilltops in the background. Maybe it was lunch in the clouds or the beauty of the town itself, but something about Ravello felt magical. I would love to have a resort weekend and just stay in Ravello, and not leave for the weekend.
The legendary Amalfi drive one hears about-buses clinging cliffside, people in the middle of the road directing traffic, backed up for miles, all true. We had some hairpin turns, but it was only on the drive back, when traffic was heavier that we got stuck while a bus tried getting by on a 2 lane road with room for only 1.5 cars. Cars parked on the road don't help the congestion as everyone is trying to get through and motorcycles are swerving through traffic. Our driver was excellent, and we had a gorgeous mercedes to glide us through the mess.
Our last day in Sorrento, it rained most of the morning, so we slept in and took it easy, going out for lunch where the waiter gave Nathan the best spaghetti bib I've ever seen. All kids should always wear these, at all times.
Sorrento was celebrating something that day, so the streets were fully decked out, and the roads were turned into a pedestrian only road for the weekend. That night we went back to Delfino and got front row seats to the fireworks from our table!
Sorrento is filled with lemons, tourists, gelato, great food, lively streets filled shops and strollers and super friendly people. It really makes a great base for a weekend trip. The next morning we would travel by train to Naples and begin the second part of our trip, where Dan worked and Nathan and I toured a city I was unsure I would enjoy.
I had heard that the city was dangerous, filled with pick-pocketers and super seedy. I had set my expectations for Naples, and they weren't positive. I was especially weary about wandering the streets with my 5 year old, where I could be easily distracted and a great target for thieves.
All my fears were blown way out of proportion as I thoroughly enjoyed every aspect of my time in Naples. I never once felt fearful or felt as though the town was seedy. I've been to far seedier parts of Paris and London (with Nathan).
Naples was pretty exciting, busy, lively and fun! Nathan and I took this fabulous tour of the underground city that was used during WWII to shelter the civilians. Originally used as a massive cistern for the Romans, there is a ten minute walk you do with a candle, in a dark maze. I gave Nathan my phone light to use as a flashlight since kids aren't allowed to use the candles, and some people get claustrophobic, but Nathan and I loved it.
When the plague hit Naples in the 1800s, they determined that the water from the cistern was spreading it, so they shut it down and started filling it with trash, until WWII. They couldn't get all the trash out, so they shoved it down and built over the trash, so you are basically walking on 200 years of trash.
The tour also takes you to the excavated portion of an old roman theatre that once seated 6,000 people. The most fascinating bit, is the theatre is just built over, we walked down into the theatre and came out a back door and when you looked back, it was apartment complexes. You would never know you were on top of a roman theatre. The house that sits on top of the theatre was also used during WWII, the woman had a secret basement that her bed sat over, and the trap door was where people hid.
The two most important things we did in Naples was eat pizza and eat pizza. Pizza was invented in Naples and you've never had pizza until you've had it in Naples. The mozzarella is fresh, the sauce is sweet, the bread is doughy,  and it all melts in your mouth.
We ate at the pizza place (Antica Pizzeria) made famous by Julia Roberts' movie Eat Pray Love and we ate at Gino's (which constantly had a mob of people waiting to get in). I've never been so happy to eat pizza (and I am from Chicago!!). We also had some seriously good espresso (national drink of Italians), at a place called Mexico. It's a little stand where you pay first then go stand and wait for the espresso and they ask with or without sugar (with!!). I am not a huge espresso drinker (I prefer cappuccinos) but this was outstanding!
I also went to the Naples Archealogical Museum when Dan was done working, so I could go alone and enjoy it without Nathan (Dan has been to Naples for work numerous times and has been to the museum). They were having an interesting exhibit in pop culture, so amongst the ruins of Pompeii, there was Batman and Yoda. It was super random and kind of fascinating. There was also a section from Pompeii from all the sex shops and intricate mosaics that were discovered in Pompeii.
Another big surprise in Naples was walking around near the Antica Pizza shop, this is not a tourist area. The grocers were out on the street, the grandparents were sitting on stoops, the kids were playing in the streets, clothes hanging from windows, and everything looked like how I imagine New York from the beginning of Goodfellas. It was like being in a time warp.
Additionally, we ate really well in Naples, and not just pizza. We had flaky pastries filled with sweet ricotta cheese, frozen lattes that tasted like the best frapuccino ever made, gelato and risotto. Overall, Naples was a surprise hit for me. I went in expecting to hide out in the hotel for two days, and ended thinking we needed more time!
The last few years, I have been to Italy many times, and each time I fall more in love with the culture, scenery, people, food and wine. You can't be mad when you are stuffing your face with pizza, gelato, fresh seafood, and seeing gorgeous sunsets on a cliff with a glass of vino.
Also, I don't want to omit the best part of the trip-when we locked ourselves out of our hotel room, Nathan had a bad accident in his pants, so he sat naked in front of the room for about 20 minutes, because the front desk forgot about us! The End!