The Magic of Disney-A Frozen Norwegian Adventure-Part 1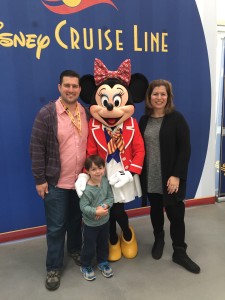 I can't believe it's taken me almost nine months to write about our adventure on the Disney Magic. It's definitely among the top 5 of my favorite trips we've been on since moving to Europe. It had absolutely everything-stunning scenery, free onboard kids club for Nathan, Disney magic everywhere-including Disney caliber shows, character experiences and more, outstanding food, and did I mention the scenery of the Norwegian fjords!? Oh, and it was the first time in a long time where we were able to unpack and stay in location for nine nights.
So let's start at the beginning-our two days in Copenhagen! Hotels in Copenhagen are expensive-especially during high season (summer), so we searched and searched until we found a decent priced hotel that looked like pretty nice and was in walking distance to all the major sights. The Ibsens Hotel (http://www.arthurhotels.dk/ibsens-hotel/) was modern, came with breakfast, and was walking distance to most sights and a quick one stop train ride to Tivoli. Our room was clean, had nice big windows, although not great coverage was was pretty light in the room-even at 11PM because well, it's Scandinavia in the summer where it's hardly ever dark out! If I recall, wifi was included and worked fine. The shower was the only negative-it was just a curtain with no stall. It was fine for two nights, but otherwise it was the only negative on a pretty good hotel.
Around the corner from the hotel was a huge food market, with tons of options for a quick lunch, snack or dinner. We had a couple of meals there-including our first one which included some excellent lemon tart. Everything there was fresh, looked mostly home made and was not that expensive.
After checking in and grabbing some food at the market, we headed to Tivoli. We had been there back in 2007, but we were excited to take Nathan. We made the mistake of buying a specific number of tickets per ride, instead of the unlimited ticket, and after two rides, realized our error and exchanged our remaining tickets for an upgrade. I don't recommend this-as it cost us more than if we had just bought three unlimited passes. Each ride cost 1-3 tickets, and once Nathan decided he wanted the bumper cars multiple times (3 tickets a ride) we knew we were in trouble. Even experienced travelers make mistakes-we just spent the extra money and moved on.
Tivoli was so much fun-lots of antique and quaint rides, you can see how Walt Disney gained inspiration for Disneyland after seeing Tivoli-especially the Hans Christian Anderson fairytale ride-a true "dark ride." The best experience was on the fake Matterhorn ride. There is a guy in the center of the rollercoaster and he is steering it the whole time. We sat behind him and he told us how his father had the same job-and this guy had been doing the job for over 25 years. It definitely made the park feel more family run. He let us stay on a few times and ride it-which Nathan loved-that kid like his adrenaline-he says it tickles his belly.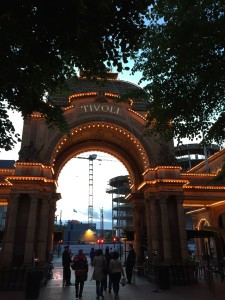 The next day, we decided to check out Rosenborg Castle and the Crown Jewels. We missed this site last time we were in Copenhagen, and we hoped it would interest Nathan. The Castle was built in the 17th century by Christian IV. Built in the Dutch Renaissance style, this castle has a stunning long coronation hallway, and intricately decorated rooms that cover three floors. Nathan pretty much ran through it while one of us chased him and we took turns taking in the sights. One day he won't just run through castles, right? Right!?
The crown jewels were in the basement of the castle in a small and somewhat crowded room, but there was stunning jewels to admire.
Afterwards, we decided to take a family photo that recreated a photo Dan and I took on the grounds of the castle 7 years earlier-and what ended up being my first Facebook profile picture back in 2007. It was fun to get Nathan on the grass and try to take a family selfie-see we were doing selfies back before it was a thing! How hip are we? (not so much really).
Original 2007: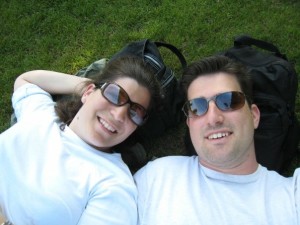 June 2015:
After the castle, we headed out to this bakery I had very fond memories of back in 2007-and it didn't disappoint. Danishes in Denmark are still the greatest pastries ever.
We headed over to dock afterwards to take a boat tour of the area, and the views were stunning-along with getting to see the Little Mermaid statue from the water. Nathan was happy on the tour because he could sit with his transformers and enjoy the view while fighting the Decepticons. As you can see from our photos, the weather was gorgeous-we actually took off our coats and enjoyed the sun.
Dinner that night was the infamous Denmark hot dogs you can grab from any street vendor. Pickles, fried onions and mustard-delicious.
Two days in Copenhagen was great for us because we have been there already so we could hit a couple of highlights, so while the trip was fast-we were definitely ready for the main event-our Disney Norwegian adventure was finally happening!!
We basically were up at the crack of dawn because we were so excited to get on the ship. (well two of us were anyway…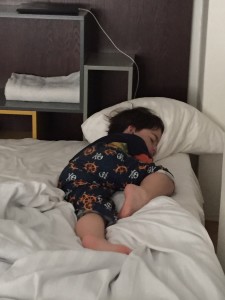 Finding the right bus was a bit of a challenge, and after getting on where the last cruisers were actually being dropped off, we ended up circling back to the pick up point-lucky for us the driver was nice enough to let us on in the wrong spot instead of making us run across the street!
Seeing the ship for the first time..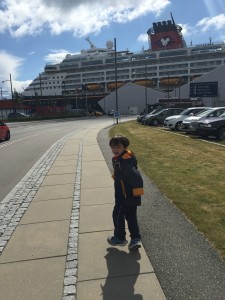 So, after checking in I casually asked if there were any upgraded cabins and they directed me to a desk specifically for upgrades. Well, this cruise was not sold out-and for the price of basically one excursion, we moved from an ocean view to a navigator's verandah! This became Dan's father's day present and it was the best money we spent-nine nights with a verandah to soak in those fjords was worth every penny-especially since it wasn't a lot of pennies!!!
Passing the time while waiting to board…
So for anyone that thinks going on a Disney cruise, where Mickey Mouse is the star and your child has round the clock access to Disney fun, means your child will be happy 100% of the time, you've never met a 4 year old (any 4 year old). They throw fits and get made for really stupid reasons (mine still gets angry if I park the car in the "wrong spot"-I haven't quite figured out the right spot yet).
So anyway, even though we checked in early, we still were in boarding group 9-meaning we had to wait for a very long time. Nathan was watching all the other families board and while we took as many happy photos with characters, something in Nathan snapped. Maybe he didn't get enough sleep, maybe he was hungry, but as soon as they called our boarding group-that's when Nathan to throw the most epic fit you've ever seen. He absolutely refused to board the ship and was on the ground screaming-if you were there, you probably remember seeing the crazy kid flopping on the floor crying for no reason.
We had no choice but to wait it out-the more we pushed him, the worse his fit got. These tantrums are more rare, the older he gets, but man are they traumatic. It was nine months ago, and I am still twitching at the thought of it-it was the first of two epic tantrums he had on this cruise.
Here is the photo we took as we were boarding-face hidden.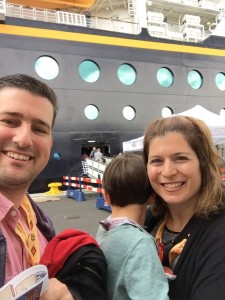 I wish we had paid for the family photo the cruise takes when you board-because Nathan refused to smile and had tears running down his cheeks-classic Nathan.
But in classic Nathan fashion, the tantrum was quickly forgotten once we boarded and he realized we were aboard a magical cruise. Within the first five minutes of boarding, we ran into Rapunzel-and Nathan immediately decided he wanted to marry her.
(what tantrum? Who had a tantrum??)
We explored the ship, ate lunch, found the kids club-which Nathan instantly fell in love with-especially Andy's room, and then headed out for the Sailing Away deck party. Nathan rocked out with his new bestie that we met on the plane ride over and I could tell this was going to be a most magical cruise.
Sail Away Party:
We had a great first dinner-and of course, I had a Mickey bar for dessert, because, why not!?
We saw the opening night show-where you are no longer allowed to take photos-which I didn't know until I got scolded by a Castmember-oops.
We also had an awesome first encounter with our favorite guy-Goofy!
Overall, it was a great beginning to what was sure to be a fantastic cruise!
More to come on the next blog….