The Magic of Disney-A Frozen Norwegian Adventure-Final Post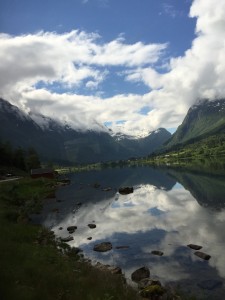 The absolute highlight of this entire trip was our stop in Olden, Norway. In fact, the entire day was my favorite day on the whole cruise. We pulled into port and I went up to have breakfast alone while Nathan slept, and I had no idea I was about to see a stunning port. This town is enchanting.
Huge mountains surrounding the ship, along crystal clear lakes and quaint little Scandinavian homes, it literally looked like a painting. Not to mention, we had clear blue skies and sunshine as far as the eye could see!! We were very excited about this day.
Our plan for the day was to take a local city bus to the Briksdal Glacier, where had reserved a "Troll Car" to take us to the top of the glacier. You can hike it, but we assumed we would bring Nathan and it would take too long with him, as our time was limited to the bus schedule.
We decided after the 9 hour excursion the day prior combined with his temper tantrum on a bus full of people, that we all needed a break. Nathan was spending the day at the kids club and the parents would have a nice adult day out on a glacier!
The bus stop is a little tricky, it's literally right off the ship but there are no signs! We saw the long line of people and just hoped it was the right place. It took a long time for a bus to get there and people were getting antsy and some downright annoyed. Luckily, two buses showed up at the same time and there was space for everyone.
The 30 minute drive to the glacier was stunning. We passed by quintessential Norwegian churches, shimmering lakes, and gushing waterfalls. The sun was still shining and everything was beautiful.
I highly recommend reserving a troll car instead of hoping to get one upon arrival. There was a line of people being told they wouldn't be able to get on a troll car for 30-45 minutes, meaning time was limited as we all had a bus to catch! Buses left once an hour if I recall, and there is nothing else to do but see the glacier, so we didn't really want to get stuck there at the gift shop for an hour.
The troll car was adorable. I kind of felt like I was in the movie Jurassic Park, getting in a mini jeep. We were with another family, and the troll car took us as high as it could, dropped us off where we could hike the rest of the way and gave us a return time to come back. I think we had a little under an hour to enjoy the sights.
After a short hike, we were at the glacier. This glacier has been receding for a hundred years and is located about 1200 feet above sea level. It sits atop a small lake, and we noticed some people had booked an excursion to white water raft down the lake.
Enjoy the view of this stunning glacier because it won't be here forever!!
After backtracking back to the ship via troll car and bus, Dan decided to walk around the town and get some more pretty pictures.
I went to get Nathan because it was the warmest day so far-I was determined to take him swimming on the ship. He had been begging to go down the slide for the whole trip, but it was really just too cold most of the time. Today, it was mid 70's and we were doing this.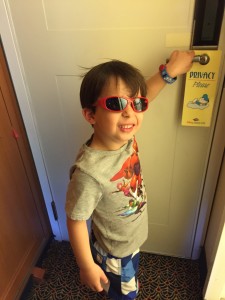 I love this picture of Nathan about to go down the slide with snow capped mountains behind him!
When Dan joined us, we took turns going down the Aqua Dunk. This is a new slide on the Disney Magic and Nathan isn't tall enough yet. Basically you stand in a glass tube and the floor drops and you plunge into darkness down a slide. It's fun and fast and hardly anyone on board was doing it on our entire trip due to wind and cold weather. Once was good for me, I will stick to the kid slide! I prefer the the Aqua Duck on the Disney Dream, it's not as fast and you don't drop down into darkness. Nathan had an absolute blast swimming and was practically blue once we finally got him out of the water.
That night, we were celebrating our 10th wedding anniversary with an adult dining reservation at Palo! Nathan was more than happy to get back to the kids club. Dinner was amazing-with a view to match! Since it stays light out until well after midnight, and our booth faced a huge window, we were able to enjoy dinner while sailing out of Olden and past gorgeous fjords and mountains.
Our food was so outstanding. Here is some food porn for your enjoyment-we topped off our meal with the amazing chocolate lava cake! I am drooling just thinking about it!
That whole day was really the highlight of our trip, but in true Braunstein fashion, once we were back in the room, Nathan puked all over the bathroom floor in the middle of the night. And so began our final day in Norway.
We weren't sure if he was sick or just ate too much popcorn. After reviewing his food for the day we realized he had pizza, popcorn and ice cream during our swimming excursion and who knows what other junk at the kids club. He was eating junk all week, he didn't have a fever and he was fine after he puked. But he woke up the next morning and was tired and didn't want to leave the room. So Dan and I decided we would take turns seeing Bergen, our final port.
Dan went into Bergen first and decided to take a local tour with a tour guide of the city. The tour included free access to the Hanseatic Museum. This museum is located in an old merchant house in the center of town and highlights how people lived  around the 17th and 18th century. There is also a funicular ride you can take to the top of Bergen for some amazing views of the city.
Dan and I really had to divide and conquer because we only had until about 4PM for both of us to separately see Bergen. It's not a big city, but splitting it between us meant we each missed something.
Dan took the tour and got a guided tour through the museum but didn't have time for the funicular for the spectacular view. So he handed me his pass for the museum, so I was able to see the museum and ride the funicular for the view. I had some spare time left to wander around the city a little and check out the farmer's market and look at the Rosenkrantz Tower. I also used Rick Steves guidebook and gave myself my own little walking tour of the city.
Here are some highlights:
Dan's Tour:
My Museum stop and view from top of Bergen:
(This is me with my arm around fake Dan and fake Nathan)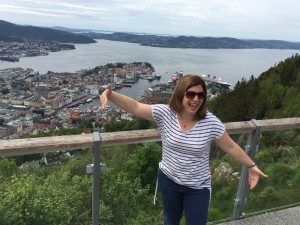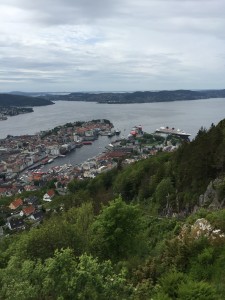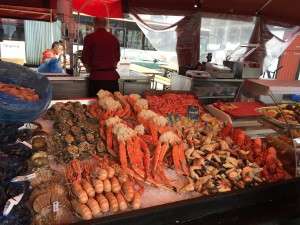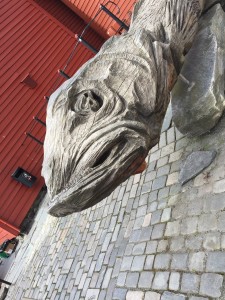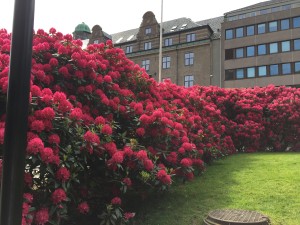 By the time the ship was leaving, Nathan was pretty happy and didn't have any kind of fever, so we were hopeful it was just a 24 hour bug. He was excited to go to Animator's Palette for dinner because it was show night! Everyone gets a pieces of paper to draw a cartoon on at the beginning of the meal. The waiters then take your drawing and at the end of the meal they play a video on the screens around the room showcasing everyone's drawing-except they are now animated to your favorite Disney music along with your favorite Disney characters! It was a lot of fun and very magical!
Additionally, tonight was Frozen night! Disney really wanted to take advantage of America's obsession with Frozen and adding a Norway cruise to the itinerary was a great idea. However, I don't think they really pulled off the connection to Anna and Elsa and Frozen. We were happy that the cruise wasn't overwhelming us with Frozen, but it did seem to underwhelm us on a Norway cruise.
The Frozen deck party replaces the Pirates in the Caribbean party on the caribbean cruises. Those cruises Mickey flies down a rope, fireworks happen, and there is a huge buffet on deck. It's an all night affair and everyone is dressed like a Pirate.
The Frozen deck party was 25 minutes long. All the adults were up front (even in the area that was cordoned off for kids only), so most people couldn't see and the kids definitely couldn't dance in their little party area. Anna came out with Kristoff and she sang and danced. Elsa didn't come out until the very end to sing Let It Go. Olaf, a character they have on board for meet and greets, was just a video projection. Once the 25 minute dance party was over, that was it. There was no Frozen buffet or anything else. It was highly disappointing and kind of anti-climactic.
Our final sea day began with Nathan sounding like he had golf balls in his throat so we started worrying he was getting tonsillitis. After a quick trip to the cruise doctor, he was given some antibiotics and we were sent on our way. He was not acting sick at all, so we went off to our Palo brunch-my favorite meal of the trip. I absolutely love this brunch. You have to reserve in advance and it costs extra-but is worth every penny.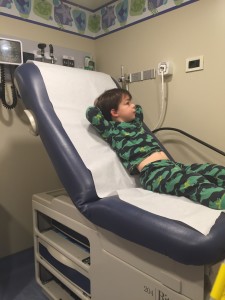 Here is more food porn for your pleasure: (Did I mention the strawberry soup tasted like a strawberry milkshake?!)
The rest of the day seemed to be filled with goodbyes all around. We had a final moment with Goofy, Nathan went to the kids club final performance in the theater to show all the parents what they had been working on all week, we had our final meal with our servers and of course the farewell of all the characters at the end of the night.
We also checked out all the professional photos we took all week to decide which ones to purchase. Unfortunately, Disney charges a fortune per photo so we only bought three. Here they are:
We also forgot to put our luggage out by 8PM and I was pretty certain our luggage was not going to be picked up (kudos to Disney for taking our luggage at some point-oops!).
The day we left Nathan had one final meltdown, just to evenly match the one had when we boarded the ship. He didn't want to take his antibiotics in the morning, or get out of bed at 7AM, or eat breakfast, or get off the ship until we rode the elevator about 6 times (the glass one so he could see out), so we were basically the last people off the ship.
After nine days and seven ports, stunning sites, delicious food, endless magical memories and three unforgettable meltdowns, our cruise was over. Of course, we booked a "dummy" cruise while on board, meaning we have a placeholder for another cruise in the next two years-hmmm I wonder where we will go next! I am dreaming of Iceland and more fjords…..I love the Disney Magic!!!