Europa Park-EuroMaus &The Bizarro Disney Park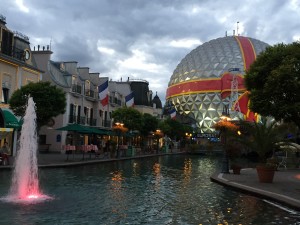 You might know that the Family Traveler loves all things Disney. We are an unapologetic Disney crazed family, and if you've followed the blog, you know we travel to Disneyland Paris, Disney World, Disneyland and Disney Cruise line. So, with Europa Park only a little over two hours away from our house in Germany, we were intrigued by their Mouse mascot and seemingly Spaceship Earth-esque ride. Looking online, it looked like a lot of their rides gained inspiration from Disney (Pirates, Haunted mansion, Universe of Energy, Matterhorn, European pavilions like Epcot-I could go on).
So it was a no-brainer to plan a two day trip where we would stay in a home away property located between Europa Park and Colmar, France. We were straddling the border of France, Germany and Bizarro Disney.
We headed straight from the airport, our jetlagged friend in tow and found our adorable little one bedroom apartment located above a house of a cute little couple. We did have to walk through what looked like the family office to get to the rental, but other than that the apartment would do the trick. The bedroom had a bunk bed a double bed that took up the whole room, and the living room had a pullout couch for our friend. The living room was also the kitchen. This place was good for two nights, but could get a little cozy if we stayed any longer. The owners were so helpful with getting us dining reservations in Colmar and bringing us homemade breakfast in the morning. They spoke almost no English, so we used our limited german and we were able to communicate mostly!
Since we arrived too late for Europa Park, we decided to go to Colmar for dinner. We had not been there since the Christmas Markets in 2014, so we were excited to see the town again. We had amazing food experiences last time, and we wanted to recreate the magic for our friend. Unfortunately, the place we chose for dinner was hardly magical. The food was bland and overpriced and we were disappointed.
So, there was nothing left to do but have Second Dinner!! We took one for the team and stuffed our faces so our friend could experience the Tarte Flambee which is an Alsatian specialty. (It's thin thin pizza with creme fraiche and bits of ham on it). We also wanted him to try the cheesy potato lasagna meal we had eaten last time, so we got one of each and shared. Poor Nathan had to sit through two dinners and our friend was jetlagged and falling asleep, but in the end, we all decided it was worth the effort!!!
The next morning we were prepared for rope drop!! We made it to the park around opening and immediately felt like we had walked into the Germany pavilion at Epcot. It was very well themed at the entrance, we were excited about what Europa Park had to offer. (Also it was peach and white stripe day-we all matched! Well, Nathan had green stripes, but it was close enough).
Our first ride was a little train ride that basically takes you through the whole park, this is helpful, because it gave us a little overview of what we should check out. We followed up the train ride with a little boat ride around a creepy clown river, followed by a little ride on a car vehicle with more creepy clowns!
At this point we left "Germany" and headed into "Italy" where we rode the Volo Da Vinci, a ride based on Leonardo DaVinci's inventions. It was an outdoor ride, in which you pedal and fly over scenery, very clever actually.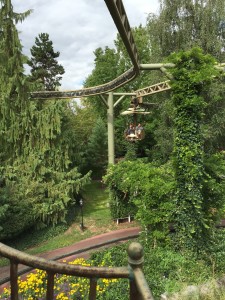 We followed this up with what was the most interesting ride of the day: The Haunted Mansion. Or as they call it, Geisterschloss (Ghost Castle). Everything about this ride was a weird rip off of the Haunted Mansion, but in a terrifying way. Poor Nathan, he was so terrified, I thought he would never ride Haunted Mansion again. It started with a  huge creature spitting water him at the entrance, followed by a room with "no windows and no doors" in which a man hangs himself from the ceiling-sounding familiar?! There were singing busts, but also a man being electrocuted, a mad scientist pulling brains out of a guy and other terrifying scenes of gore. I was laughing so hard that I was crying at the ridiculous nature of the ride, but poor Nathan was just crying. Needless to say, we did not ride it twice.
Some pictures of Italy:
Food at the park was not nearly as tasty as Disney, we had fast food cheeseburgers and donuts which were nothing exciting and moved on with our day.
We decided to ride Pirates in Batavia next. This is a fancy rip off of Pirates of the Caribbean but one I enjoyed very much. I felt it was really well done and it was so long that it felt like going on an extreme version of Pirates. (FYI the Pirates ride is located in the Netherlands-why not Spain?!) Who knew there were pirates in the Netherlands?
Additionally, while we snacked on nutella crepes and hot chocolate, Nathan found a kiddie play area with bumper cars and a giant ball pit. While he played, Dan and Lee found the big  kid roller coaster that I wasn't willing to ride-the Euro-Mir. Located in Russia-Land, it's a giant steel coaster that spins you as you go-sounded like a good way to puke up my lunch, so I passed.
Nathan and I met EuroMaus and his pal (name unknown), and we got some cute photos with them.
We then happened upon the daily parade! The parade had very cool floats-and was themed off their main attraction-Arthur.
The ride which we hadn't found yet, but is there E-ticket ride is based off a movie that flopped in 2006 called Arthur and the Invisibles. (Madonna, Jimmy Fallon, David Bowie, Robert DeNiro, Jason Bateman and Snoop Dogg all have roles). Actually, the ride was the highlight of the entire day. It was built in 2014, so it's  brand new ride and it's very high tech. I believe it's similar to Harry Potter and Spiderman, you fly through scenes and on a coaster where your feet dangle. We couldn't take photos for fear of our phones dropping-but the ride was pretty outstanding. Here are some pics from inside the area where you leave the ride:
After the parade, we met up with the boys and Nathan rode a little car ride and then we found The Jungle Cruise! This ride goes around a huge lake and there are fake animals you get to see-no narrator or jokes sadly, we had to make up our own. (No back side of water either!).
Not to be outdone by Disney in any way, they have not one but two water rides! One is a log flume boat ride, with no one singing Zip-a dee dooh dah (how boring!) and the other is a giant pirate ship that just goes down one big hill. We bought some ponchos, but Nathan was too small for the pirate ship, so we did the log flume ride a couple of times.
Nathan and I had the chance to ride something called Universe of Energy. If you think you are going to find Ellen DeGenerous narrating this, you will be disappointed. However, if you want to go through a dinosaur dark ride, this is the ride for you! It was a low-tech version of Dinosaur ride at Animal Kingdom-but the animatronics were actually pretty impressive.
While Nathan and I rode that, Lee and Dan went to a disco night club. Wait, what? No, I'm sorry, that was Spaceship Earth, AKA EuroSat. This ride is half of a geodesic sphere and is based on space travel. Apparently, space travel is very 1980's Euro disco, with laser lights and crazy music. This was another cultural experience-I rode it after the boys and it was definitely bizarro Epcot.
Dan decided to risk life and limb and ride the Silver Star hyper coaster-Europe's second highest coaster at 239 ft high. It was frightening and the rest of us took a pass, and instead ride a funny little roller coaster with Nathan called Pegasus (aptly in the Greece section of the park). Nathan loved this ride so much that he rode it about 5 times. It's a quick little roller coaster and a great introduction coaster for kids with a sense of adventure.
That pretty much wrapped up our day at Europa Park. We missed a few rides (including Fake Matterhorn) because we ran out of time, but overall we had an amazing day. It was definitely Bizarro Disney World but with it's own creative stamp. I would definitely go back! I also missed a couple of rides we did that I don't have photos for, and there was a funny Hansel and Gretyl house that Nathan was obsessed with!
The next day we decided to stop in Colmar on our way back to our house, for lunch and my favorite Lemon Tart. We walked through the town, took some great photos and had the best lemon tart in France (so far).
Stay tuned for more reviews of the rest of our trip-Salzburg, Eagle's Nest, Munich and More!