The Best of Germany Tour-Family Traveler Style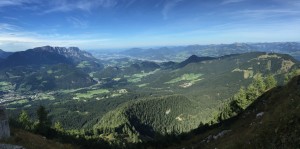 Living overseas, in a beautiful country, often means visitors, which is amazing, but it also means we might see the same site over and over again. (We have an on-going joke about the number of times we saw Stonehenge while living in the UK-after a while it's just rocks!). Ok, I am joking, I love Stonehenge-and I got into reading historical fiction because I happened upon a book at their giftshop called Sarum by Edward Rutherford. It's all about Stonehenge-if you like historical fiction-read it!
So, when guests come to stay, we want to take them on a Rhine river tour, hit a castle or two in Bavaria and see the Black Forest, but the trick is to add in a thing or two that have been high on our list as well. So when our friends came to visit in September, we decided to take them to two places we've already been (Munich and Salzburg), but also two places we had not been-Eagle's Nest (Hitler's mountaintop home), and the last of Mad King Ludwig's castles (Herren Chiemsee on Chiemsee Lake).
We needed a central location that would fit our large group so I went to Homeaway and found this amazing gem of a house, located in Inzell.  Here is the link:
https://www.homeaway.com/vacation-rental/p504634
First of all, the views were stunning from every window. The house was modern, well kept, had a list of rules in German, and was lovingly built by a family that lives in Hong Kong and uses this as a summer home. This has to be one of my favorite homes that we've stayed in, and it's about 25 minutes from Salzburg, an hour from Munich and 20 minutes from Chiemsee Lake & Eagle's Nest. It was the best location for most of what we wanted to see. It also had four bedrooms-technically 3 but Nathan was able to sleep in the spare room that had a low and wide couch, we put a sheet over it and a pillow and he slept great.
The only real downside, Munich was an hour away going in the direction back to our house. But our house was a 5 hour drive, so we didn't want to see such a big city en route to going home, so the only option was a 2 hour driving day at some point.
On our drive to Inzell, we decided to break up the long drive and stop in Munich to see the BMW museum, something we had never seen. Nathan loves all things cars, so this was fun for him as well. I didn't need to read anything, Nathan and I could just run through the museum and see the history of the BMW by looking at some pretty outstanding automobiles. Our friends could keep their own pace and everyone left happy (and wanting to buy BMWs). Also, we got to pretend to ride the motorcycle Tom Cruise rode in Mission Impossible, so that was fun. I would highly recommend this museum for families. Also, it was easy to access and there is a huge parking garage beneath it if you drive there.
Our first full day, we decided to go to Salzburg. You may recall in the Summer of 2015 that a lot of refugees were heading into Austria and Germany. At one point, Austria decided to close its borders and we had heard rumors of hours of waiting on the highway to get in or out. We were concerned about the checkpoints because we really didn't want to waste the day waiting. Turned out the rumors were only half true, if you drove on the autobahn you were waiting hours, but if you drove in and out of Austria on the side streets, there was not even a check point to be seen. We made it from our house to Salzburg in about 25 minutes.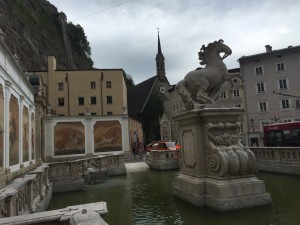 Slow moving group that we are, we actually decided to have a sit down lunch first. Two memories came from this meal, and neither had to do with the taste of the food or the ambience.
My suddenly picky eater decided that he did not want any "green things" on his noodles. His noodles were covered in parsley and butter. I literally spent the whole meal sliding my finger down each buttery noodle to remove the offensive green things but My son's delicate palette.
The Disapproving Frau Meme was invented here after we posted this photo and our friend Colin made a Meme of her face!
The last time we were in Salzburg, the central square (Domplatz) was under major construction, back in 2008, so it was nice to see the square and fountain in all its glory.
The Salzburg Cathedral:
We walked around the historical center and saw the Petersfriedhof Cemetery. This is the oldest cemetery in Salzburg and wonderfully ornate. The wrought iron gates and bright flowers bring this strangely dark yet beautiful house of death to life. It is located almost in a cliff, at the foot of the Hohensalzburg Castle. This cemetery is also where scenes from Sound of Music were filmed, so any fan of the movie, this is a must-see.
It began to rain at this point and we had one umbrella for five of us, so we hung out inside the Church for awhile before heading out to find a dry spot.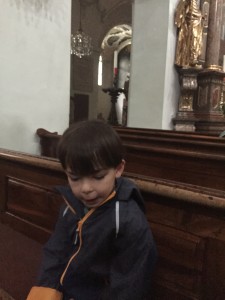 We couldn't really find one, so we ended up at a bakery with an outdoor table that was covered, mostly. The food wasn't very good and we were wet and ready to move on!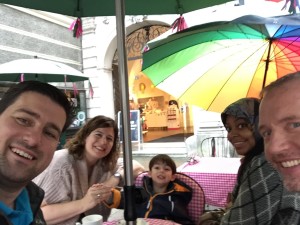 Of course we had to walk through Mozartplatz to find where Mozart was born (back in 2008 we spent time in the museum located where he was born). We also walked down the famous Getreidegasse Street, known for all it's shopping. Each shop has an ornate sign outside-inlcuding the McDonald's and Starbucks!
Finally, after taking a Starbucks break to warm our feet, we headed over to the Makart Bridge. This bridge separates Old Salzburg from new, providing stunning views of the river and the Hohensalzburg Fortress. At this point, the weather was bringing us all down, so we decided to call it a day and head back to our warm, dry house (after a quick meal).
Additionally, it was Rosh Hashana and we happened to have apples and honey on hand, so we said a prayer and wished everyone a Happy and Sweet New Year. L'Chaim!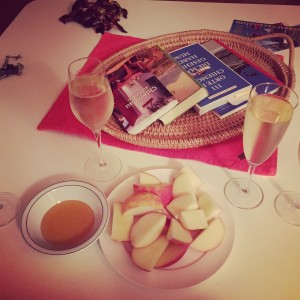 Nathan turned five the next day, so he was pretty excited for the day. We wanted to make it a special day for him, and we scheduled his birthday party with his friends for when we arrived home. Last year, we had a death in the family happen around Nathan's birthday, so we did not celebrate and this year we wanted to make up for that. Also, it was the first year he was really anticipating his birthday and of course, presents! So here come the transformers….
Our lazy morning with lots of gorgeous pictures:
We didn't want any heavy touring and I didn't want to spend my son's birthday at Hitler's house, so we decided a trip to Chiemsee Lake and a castle tour would be a good fit! We headed to Chiemsee and found a great outdoor lunch spot where I strangely had really good curry and Dan had good goulash.
In order to get to Chiemsee Castle, you need to take a boat. It's about a ten minute ride to the island, and when you depart it's important to note the return times! If you miss the last boat….you will be sleeping on that island! And sadly, the castle is not an option.
We took a horse ride over to the castle, hoping to catch the next English speaking tour-which we did! We were worried about a guided tour (the only way to see the castle), with Nathan, but he was actually super interested. He listened to everything the guide said and even had a question at the end!
So, technically the castle is called Royal Palace of Herrenchiemsee (New Palace). It's modeled after Versailles (it even has a Hall of Mirrors), but King Ludwig died while he was still building it, so it was never completed. No photos were allowed on the tour, but here is a link to see pictures of the inside.
http://www.herrenchiemsee.de/englisch/n_palace/index.htm
There is also a modern art museum located in the unfinished part of the museum. We missed the horse and carriage ride back, so we walked back and missed a boat by one minute, so we waited 20 minutes for the last boat of the day-cutting it close!!
Dinner near Inzell was strange, every night we seemed to have trouble finding a place that wasn't full. It was the middle of the week and this sleepy little town required reservations. After our third place, we finally found a spot for Nathan's birthday dinner (we skipped the "American" themed place that had a giant confederate flag hanging as decor. Seriously, would anyone theme a German restaurant with a giant Nazi flag?! Anyway, we ended up at this quiet little place with a huge menu.
Nathan's chicken nuggets and fries were loaded with sparklers and kinder eggs for his birthday and after dinner, Nathan hung out at the bar with the old timers. He was a little ham, showing off his mad german language skills to the locals. (He also did a birthday shot of lemonade-which he thought was too sour!)
For me, this trip was all about seeing Eagle's Nest and Berchtesgaden. I have heard that the views were stunning and it was on my bucket list of things to see while living here. The dichotomy of all this beauty given to someone who was responsible for so much death and destruction is difficult to wrap your brain around.
Eagle's Nest was given as a gift to Hitler for his 50th birthday, by the Nazi party. It was supposed to show his power, sitting high atop a mountain. It was also supposed to hide all the horrors that lay beneath it by putting it in such an idyllic and beautiful location.  Hitler didn't like heights actually, so he rarely visited this place. I first learned about it after watching Band of Brothers, where the 101st Airborne come in at the end of the war and captured it, and discovered all the alcohol  and riches hidden in there.
Driving to the top of Eagle's Nest is prohibited, and only buses provided by the company that runs the place can drive you up there. After parking below and eating at the restaurant located at the bottom of the hill, we made our way up.
Sidenote: Nathan dropped one of his new transformers into the toilet here, and since it was a brand new birthday toy-guess who got to fetch it out!? A mother's work is never done. Poor Blades had to be put in a pot of boiling water later that night after sitting in my purse wrapped in toilet paper all day.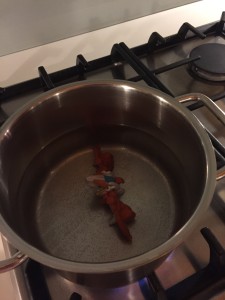 Anyway, that started off the afternoon on a fun note, and so we headed up to Eagle's Nest on this bus, and I am so grateful we had a driver. This road was super narrow and extremely high up. I was a little nervous and glad when we made it to the top.
Once you get there, pay attention to bus return times! I believe they were only once an hour until 4PM. You don't actually need that much time up there, but it is quite a sight. You take a brass elevator up to the top and then you can hike around the place and get various stunning views. The only room left as it was is the restaurant with a fireplace. No one was eating inside, but we went in to take some photos.
Otherwise, you really wouldn't know you were in Hitler's "house." Walking around outside, the views are breathtaking. The day was filled with blue skies and mountains as far as the eye could see. Such beauty made it hard to remember that this place was built for such hatred. I'm glad we were there on Rosh Hashanah, because it feels like a victory any time I can shout out my Judaism from literally, the hill tops of Germany.
Additionally, there are bunkers you can tour before heading up to Eagle's Nest, located below the restaurant. These bunkers were built as an Air Raid shelter for members of the Third Reich and as the Headquarters and possibly the last hiding spot for the higher ups in power.
We drove into Berchesgaden and checked out another small town on a lake with loads of touristy tchotkes, and yes I bought a the toilette sign!
Dinner that night was at the restaurant a block from the house in Inzell, and it has stunning views and a playground-we ate (basically German mac and cheese) while Nathan played.
Our final day, we drove to Munich, sort of putting off the long drive until the last day! Munich is a great city, and this is my second visit, but I still haven't seen anything beyond the Marienplatz and the HaufbrauHaus! We literally ate at a giant outdoor beer hall-which was delicious, and then walked into town.
We climbed the Marienplatz for some great windy views and then headed to the HaufbrauHaus for beer and pretzels. We wandered a little of Munich, but honestly we were drifting with no destination. We were too late for any museums, and too early to wait around for dinner since we ate lunch late and had beer and pretzels. So with no detsination in mind, we spent more time at the Hofbrauhaus and then we shopped at the Dallmayr chocolate and coffee shop for treats! We also stopped for pizza on the way home and ate it back at the house.
I would love to spend more time in Munich, I think the city has a lot more to offer than the Hofbrauhaus, so I intend to check it out at some point. But next time, I might take the train there. Driving from Munich to our house should be four hours. Should be four hours. We made it home in 9 hours. NINE.
By the time we left the house in Inzell and made it to Munich, it was an hour. However, Oktoberfest was beginning that day and the traffic through Munich took a long time. By the time we made it from Munich to Nurenberg, it was rush hour! So we got stuck in rush hour for a good hour. Once we made it out of that, we thought we were in the clear. But an accident on the A3 got us stuck on the road, not moving, for 2 full hours. We sat there in Stau for 2 hours. We were going stir crazy!! We had a good laugh about it later, and thankfully Nathan did not melt down at any time-although the adults were well past melting. It was an amusing ending to our trip. Unfortunately, Nathan's birthday party was scheduled for the next day and we got home at 9PM instead of 4PM, making it a long late night for everyone.
This is us on hour 7: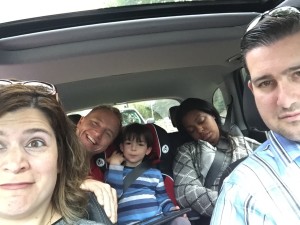 But we are all troopers, and we had four adults to clean and shop and cook and decorate to prepare for 15 five year olds! Oh and we also decided to have a BBQ with the adults once the party was over, so we had ten adults come over after that. It was an aggressive schedule-but our family came through! Our friends really helped to make it a birthday to remember for Nathan! A great ending to a great week!!!