Searching for My Scottish Highlander
My title is a little misleading because I was really on a quest to get a photo with a Highland Cow (have you seen those shaggy dos?), but I am also reading the Highlander series…so the handsome Jamie Fraser was also on my mind when we chose the Highlands as our spring vacation.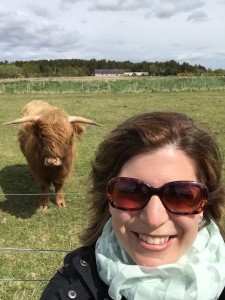 May is an excellent time to go to Scotland, it's warm-ish, the dreaded midges haven't begun to breed and bite yet and the summer crowds haven't quite reached peak levels.
Our spring trip to Scotland was a real Family Traveler event, joining our core three was Uncle Rick and Grandpa Roy for a week in Scotland followed by a few days in our old stomping grounds: London.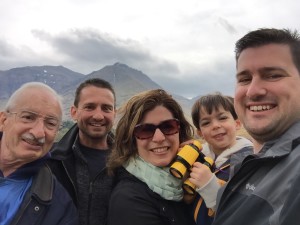 I joke about finding a Scottish Highlander to sweep me off my feet (sorry Dan), but honestly, reading the Outlander series by Diana Gabaldon, has given me a lot of insight to living in the Highlands before the fall of Culloden and how the Highlanders way of life was really destroyed. My favorite way to learn about a region I am traveling to is to read an historical fiction book. The characters come alive when I visit these places and I get a better understanding of what the real people endured by reading about a fake family.
(Also, not to jump ahead but Scotland has a lot of Harry Potter sites, so this trip was filled with a book lovers dreams). When we planned our trip, we decided to skip Edinburgh, because we had already spent a weekend there back in 2009. We wanted to go straight to the heart of the Highlands.
We started our trip by driving from Edinburgh to Oban, stopping at Stirling Castle and the Bannockburn Heritage Center along the way. You may have heard of Stirling, because one of William Wallace's epic battles was fought here in 1297 (Braveheart). Additionally, Robert the Bruce won the Battle of Bannockburn here in 1314, which was Scotland's most important military victory against England, taking back their castle. The castle was also the primary residence for the Stuart Monarchy and is the location where Mary Queen of Scots was crowned Queen.
The castle itself is stunning with epic views (you can see William Wallace Monument across some beautiful rolling green hills). The castle has a wonderful children's exhibit where kids can play instruments, place colorful objects on a map of Scotland and dress up in Renaissance clothing. We spent a lot of time in this area so the other adults could see the rest of the Castle, taking turns playing with Nathan.
The Castle also has a gorgeous Great Hall, showing a dining Hall from the 1500's and a royal chapel-one of the first Protestant chapels built in Scotland. The Royal Apartments were my favorite because the ceilings and walls were covered with giant oak medallions. The faces on the medallions are European royalty (these are copies) but the originals are in the Gallery next door to the apartments. The detail was quite outstanding.
There is also a Regimental Museum highlighting the entire history of the Scottish military (yes they really wore kilts in battle!! And no they did not wear underpants beneath them)!
There is also a kitchen that shows what life was like in the 15th Century. The courtyard offers stunning views and the whole castle is definitely worth a visit, we spent a few hours there and really enjoyed ourselves. (We also had a great lunch in their cafe).
Our second stop was the Bannockburn Heritage Center, a new museum that captures the essence of the Battle of Bannockburn. Before entering, they warn you that it could be upsetting to children, so we took a quick tour and I determined that Nathan would be ok. It's basically a giant video game surrounding you. You are standing in the middle, and on either side is a giant screen of the English or the Scottish (video game soldiers, not real people), and they show them shooting arrows and recreating the battle, minus the blood. You can also walk up to an interactive screen and use your arms and legs to move around characters and they tell you their history. The final part of the museum is an interesting Q&A session and I wasn't quite sure how Nathan would participate. It was actually quite hilarious. We sat around an interactive map while a guide lectured us on the Battle of Bannockburn, afterwards she asked if anyone had questions and Nathan always does. He was actively participating and it was adorable. (Also noted: don't ask the guides how much of Braveheart was true and whether Robert the Bruce really betrayed William Wallace-they get offended that you would dear to think a Hollywood Blockbuster had any grain of truth to it). But it's what got me interested in the history of it all and it's what motivates tourism, so I don't apologize for asking questions!
Our final stop on the way to Oban was Inverary or Loch Fyne. A small beautiful town, set on a lake. We noticed a gorgeous castle/home on the way in to town and discovered it's been used in Downton Abbey! Inverary Castle was closed but it was used in the 2012 Christmas episode of Downton Abbey, when they traveled to Duneagle Castle. The Castle is as stunning in person as it is on TV. We had dinner in the small town, took some photos and headed to our hotel in Oban.
We spent two nights in Oban at the Barrimore Hotel, http://www.barriemore-hotel.co.uk/. We had a two bedroom apartment with a living area, which was great for our crew. We had a single bed next to our bed for Nathan to sleep on and the second bedroom had two single beds, with a living area to retreat to once we put Nathan to sleep. The hotel was modern and clean and felt fresh and came with a lovely hearty breakfast.
That first night, we put Grandpa and Nathan to bed and headed out to a local pub to check out the Oban night life. Not much was happening, but we had whiskey and beer and it was 98% men in the bar, so it felt cultural and local.
Oban was really a gateway town for us to get to the little islands around Scotland. Our next day was ambitious, as we chose to do a long tour vis bus and ferry to the Island of Mull and Iona. We took a 45 minute ferry from Oban to Mull, hopped off the ferry and jumped on a bus that was waiting for a 90 minute bus ride around Mull. The bus tour ended (to which I could not understand a single thing the Scottish tour guide was saying) and we hopped on another ferry (ten minutes) to the Isle of Iona. We then spent 2.5 hours on the Isle of Iona and then reversed the entire thing to get home.
The bus ride though Mull was filled with craggy mountains, beautiful lakes and endless beautiful scenery.It was a really sunny day, so the hills looked almost yellow/brownish to me against the blu skies. It felt like the population was zero, as we saw almost no people and no houses, prompting the new term of the trip for Nathan-we were "in the middle of nowhere" (this happened a lot in Scotland). He is still obsessed with pointing out the middle of nowhere to this day.
By the time we got to Iona, we were starving, so actually we spent the majority of our time on this little island eating lunch. It was a great lunch, with stunning views of the water. This is a car-free island, and very small and idyllic.  After lunch we headed to the Iona Abbey (where we randomly saw Dennis Kucinich and his wife). The Abbey is incredibly beautiful and while it was originally built in the 13th century, most of it was actually rebuilt in the 20th century. The views from the Abbey are stunning as well. With a ferry to catch, we didn't have time to really see much more, as it was the last ferry of the day, so we raced back to the ferry and headed back to Oban. The day was 100% about the scenery, and I know I felt lucky to be able to soak it all in and just enjoy it.
The next morning, we were heading to the Isle of Skye, where we would spend three nights in home we rented from www.homeaway.com. On the way to Skye, we stopped in Glencoe and Ft. Williams, before taking a ferry to Skye.
Before we took our scenic drive through Glencoe, we stopped at the Glencoe Visitor's center, where Nathan picked up a pair of kids binoculars. This really helped engage him in the sightseeing, since the majority of the day would be spent driving, I wanted to limit the ipad car time so he could enjoy what we were doing. It worked out great-he loved looking at the mountains and taking selfies with us!
After we left the visitors center, we set out to drive the scenic A-82, stopping for a lot of photo ops, for some pretty epic selfies. I believe many scenes from the Outlander series were filmed here, and I can see why-the Glencoe Valley is filled with craggy mountains and stunning views. The pictures speak for themselves.
After Glencoe, we stopped at Ft. William, which was definitely an uninspiring place. Maybe I was expecting more because in Outlander, Ft. Williams plays a major role in the first book. Maybe it's because we had just come from some beautiful scenery and a high street in the rain with a couple of boring stores was just bad timing, or maybe Ft. Williams isn't that interesting. Either way, this T-shirt was the funniest thing in Ft. Williams (should have bought it)…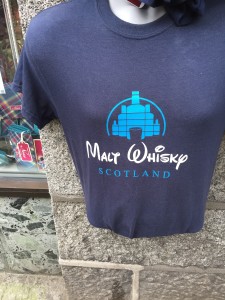 We had one more magical stop to make before heading to the ferry: the Harry Potter steam train. Ok, so we saw the steam train go by us as we were heading to the Glenfinnan Viaduct (which is the scenery they use to show Harry and the gang heading to Hogwarts). So we didn't see the actual steam train in the perfect spot, but it was still gorgeous-even in the pouring rain! Actually, the visitors center we stopped at to see the viaduct was the exact location where Bonnie Prince Charlie crossed over to Scotland to begin his quest for the Kingdom-and there is a monument there in his honor.
We headed to the ferry and made our way through the single lane roads of the Isle of Skye just before it got too dark out to find the house we rented. The house was spectacular. I loved this house. It's a three bedroom, fully modern house with floor heating and stunning views of the Isle all around you. I would go back to this house in a heartbeat. It had all the amenities-giant modern bath tubs, american sized fridge, washer and dryer, flat screen TV, comfy couches, comfy beds-all in all, my favorite place we have ever stayed.
Here is what I can say about our first day on the Isle of Skye: we drove around what felt like the entire island, taking photos of amazing views, taking selfies of amazing views and trying to find the cows and sheep. Actually, we found a lot of sheep, more sheep than people. We also saw waterfalls, jagged rocks, wind that would knock you over and dramatic hilltops. This was the drive around the Trotternish Peninsula.
We followed Rick Steves driving tour and took us the better part of the day. We ended the day at the Skye Museum of Island Life. Seven huts recreated life on the Isle of Skye, the whole museum took 20 minutes but was an interesting insight into isle life. Behind the museum is a graveyard in which you will find the grave of Flora McDonald. She rescued the beloved Bonnie Prince Charlie when he was defeated at Culloden. She whisked him to safety and dressed him up as a maid to sneak him off to the Isle of Skye.
The next day we visited Dunvegan Castle, the residence of the McLeod Family. This castle has a more lived in feel to it, and it was interesting to visit. I especially liked the North room because of all the artifacts on display. There are several relics of Bonnie Prince Charlie's, including a lock of his hair.
Nathan was definitely bored by this castle, which meant we had anxiety. We chased him through the castle and eventually gave in and took him outside so he could run through the castle gardens. Also, that day for lunch I had vegetarian haggis (is that cheating?) it was really delicious.
The next day, on our way out of town and towards Inverness, we stopped at Eilean Donan Castle. This castle has been in many films (Highlander, James Bond movies and the castle in Brave is based on this one. From the outside it was my favorite. Set on the edge of the water, it looked like it could just float away at any moment.
Nathan enjoyed this castle because the employees showed him the spooky ghosts hiding in the closets-which led to him running around and opening up any closets he could find.
I am going to save Inverness and Culloden for the next post because there is so much history to both, it becomes more less about the scenery and more about the loss experienced at Culloden and how Highland life was changed forever in 1746. Also, I finally find my highland cows…stay tuned!