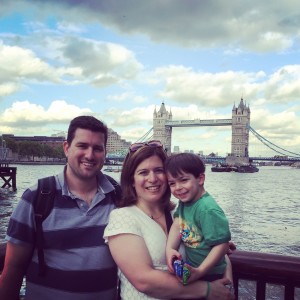 In April of 2009 I watched London slowly disappear from my view as I headed back to America to start a family. My three years in London was filled with conflicting joy and sadness. We traveled all over Europe, but it was my first time living so far from my parents. I quit my job for the short term excitement of seeing the world, but left my career in the dust by choosing this path. I was young and fertile, but had no children, now I am older and wiser and struggling to conceive for a second time. I was a newlywed, eager for the adventures of married life. Now I am a mother in a solid marriage but without all of the novelty of being a newlywed. Life is much different for me than it was in August of 2006 when I embarked upon our first overseas adventure. Life is different since I last set my eyes upon London in April of 2009 and said goodbye to the carefree life before parenthood.
Traveling back to London filled me with anticipation. I wanted to show Nathan where we lived, have a crepe from the Hampstead creperie, shop on Oxford Street, see a West End musical, visit a museum, ride the Tube and see our extended family with new cousins for Nathan to meet.
Of course, life with a four year old changes everything. After sitting on a train from Edinburgh for four hours, preceded by 3 hours in the rental car to Edinburgh, Nathan was extremely eager to burn off some energy. Unfortunately for us and the hordes of people in the Tube station, that meant running full speed ahead of us during rush hour with tubes racing by us. Nathan's life must have passed before my eyes no less than 75 times in a span of 40 minutes. Four adults yelling at Nathan to slow down and stop running just made matters worse. It wasn't until he injured his hand, sticking it somewhere he clearly should not have been, that he calmed down and we could move around like civilized people. The British phrase Keep Calm and Carry On just kept repeating itself through my brain until we made it the two tube stops to Green Park and walked to our hotel. Life in London with a child would be very different, indeed.
For the first few nights we were staying at the Sheraton Park Lane, across the street from the Green Park Tube station. This hotel has fantastic service, but as they are in the midst of remodeling their very old fashioned rooms, I would recommend waiting until the renovations are complete. We had a lot of construction noise next to our room and above it, and the rooms are fairly outdated.  But they did go above and beyond to make us feel welcome and straighten out the confusion after we had the wrong room size for the number of people we were traveling with. It's also very centrally located, with easy access to any of the tourists spots in London.
The first morning we headed over to Buckingham Palace, because it's a five minute walk through Green Park and then you are just right there! We missed the changing of the guards, but it's still fun to see the palace. We actually then spent the entire day visiting our cousins in their beautiful house in the countryside, followed by an evening at the pub while Grandpa stayed with Nathan in the room.
The next day we spent at the British Transportation Museum. If you ever need a couple of hours to kill with a kid and you want to see some very fascinating history, I highly recommend this museum. We have done a lot in London, having lived here, so we wanted to try something kid-friendly that we had not seen yet.
This museum fit the bill perfectly. It was filled with old tubes and buses that kids could climb in and had lots of amazing transport posters from the past (I really want a Hampstead poster!!!). It also had a children's section, Nathan dressed up as a Tube Conductor and a Tube Construction worker and ran the whole system like a boss. It was fun and educational at the same time!
After that we decided to walk around London and see all the sights we have seen but have sorely missed. We checked out the new Shard building, saw the London Eye, Big Ben and Parliament, walked along the Thames and had dinner at an Indian restaurant. We had the stroller but Nathan was barely interested, so walking took a long time, as he chose to take his toys and walk them along the Thames. Patience is everything and not having an agenda makes life so much easier sometimes. It's far easier to not be a tourist, even when you are.
The next day, we said goodbye to uncle Ricker and Grandpa, as they headed to their cruise through the Norwegian Fjords and we switched hotels to the Millennium Baileys in Kensington. We originally booked their smallest room that would fit 3 people. I have to say, just because you can squeeze 3 people in a room, doesn't mean that you should! The staff at this hotel were fantastic. They showed us a larger room and we upgraded for 90 pounds. It was totally worth the money.
first room…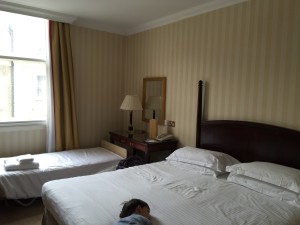 Second room…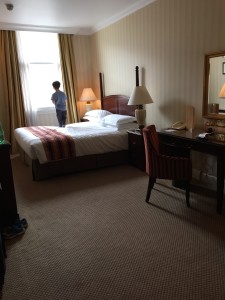 This hotel was also undergoing renovations, and we had a room that had not been updated yet. However, I liked this hotel better, as the main foyer had a grand staircase and the lobby just made me feel like I was staying in a 19th century mansion. The room wasn't too outdated actually, so I imagine the new rooms will be fabulous. We were staying, literally across the road from the South Kensington Tube station, so getting around was super easy. We were located in a great area, once again with easy access to anywhere in London. I would actually highly recommend this hotel. It also had a great hot breakfast included.
After we dropped off our bags, we decided today would be our nostalgic tour day. We headed straight to Hampstead. Stepping off the Tube, it felt oddly familiar yet different. I spent everyday commuting from this tube station to Bank street for my job at Standard Bank for over a year. It almost felt like time travel, except now Nathan was there. We headed directly to the crepe stand. Do not pass go. Do not collect $200. Get a crepe. This crepe stand is infamous, and better than any crepe I have had in Paris (or anywhere for that matter). The owners are french, and I am fairly certain it's the slab of butter they put on the before they cook the crepe that makes it better than any other crepe I have ever had. It's amazing.
After our crepe and walk to our old flat on Bracknell Gardens, we headed to Hampstead Heath. There was a big fair going on for the Bank Holiday weekend and we figured it would have rides, food and people. Well, it had rides anyway. It was like the saddest fair ever. There were rides, but hardly any people. The guys running the rides looked like ex-convicts. And the rides looked like they probably wouldn't pass any OSHA standards anytime soon.
So we let Nathan play on the giant slide for awhile and then tried to hurry him out and take him to a playground as a distraction. That worked for while, until we decided to leave to grab dinner. He was so upset he literally walked head on into a lamp post. We noticed about 2 hours later on the tube that it had turned into a giant egg on the side of his face. Poor kid, so clumsy.
We ended up eating in Hampstead at one of our old favorites-Giraffe. The food is always so fresh and delicious!! It didn't disappoint.
The next day we headed over to the new Princess Diana Memorial playground to meet our cousins again. This playground was built since we left, so we didn't even know it existed. It's in Kensington, near the palace. There is actually limited space to play, so there was a line to get in but it moved rather quickly. The park has a giant pirate ship with sand underneath and that kept the kids busy for awhile. It's a beautiful park and a great memorial for the Princess.
We ended up eating a great mediterranean place later that afternoon and then we walked over to the the Natural History museum (which was so crowded we stayed for exactly ten minutes!).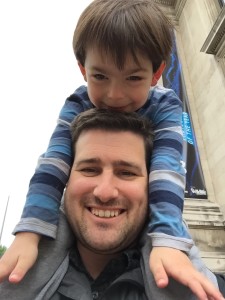 Since we were in Kensington and on a nostalgic tour, we ran over to Mockingbird's, for the best red velvet cupcakes. (Yes I realize that most of what I miss in London is food, and it's ironic but food actually is good in England!!). Literally, the only other thing we did that day was eat again. We were on a relaxing tour, so eating was really our only goal-and entertaining Nathan. We ate at a pub and had some amazing fish and chips that night!
Our last day, we wanted to indulge a little, so we decided that high tea at Kensington Palace would be fun. We thought Nathan might be into it (he was not), but he ended up sitting in his stroller with his face buried in his ipad, so Dan and I had a proper date! It was a lovely day, and the Orangerie at Kensington is so nice to have high tea and cakes.
We followed it up with a walk towards Holland Park because I had remembered a great playground from years ago that I went to with a friend-and we saw peacocks! So I was on a mission to find the peacocks again. I found them, but somehow didn't snap a photo. Either way, the birds were next to a giant playground so we spent time there while Nathan burned off a lot of energy!
Our final meal in London was Indian food. In case you didn't know, Indian food is a national dish in the UK. I absolutely fell in love with indian food while living in the UK and I haven't found any nearly as good anywhere else! So we ate well and headed back to the room (actually I spent some time searching for a Pret a Manger so I could garba couple more frosted banana breads before we left-another favorite!).
This trip was so good for my soul. I felt like I reconnected with my old self, and seeing where we had been helps guide us to where we want to be. I loved our life in the UK, but being in Germany with Nathan is a gift I would not trade. We have made friends that I know will last a lifetime, and they have invited us into their world and culture and you can't put a price on that. Nathan experiences his culture everyday, to him, it's just life. When he speaks in german, he has no American accent. If we stayed here, I can only imagine how different and amazing life would be for him. And we would not have had the bravery to move to Germany had it not been for living in the UK. We knew we could do it. We knew we would love it, even through the loneliness of missing family. We knew it would be worth it. We knew the experiences would be once in a lifetime. Seeing London, made me realize how incredibly lucky I have been over the last 10 years to have seen, traveled, and lived so much.