The Hilltowns Are Alive with the Sound of BullFighting
The white washed hilltowns of Andalucìa are filled with culture, amazing tapas, stunning churches, old world charm and of course, the gorges and cliffs. The gorges that the cities sit upon and terrify and amaze all at once.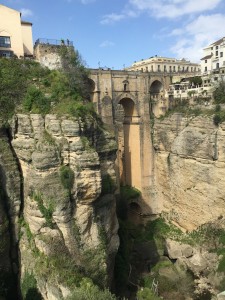 Our first stop after Grenada was Ronda, where we stayed for one night at the funkiest hotel (see review  here). We arrived around lunch, so of course the first thing we did was eat! We went to a casual tapas favorite called Cafe & Bar Faustino. It was excellent and super cheap! We ordered a ton of tapas and split them and of course, sangria. The sangria in this region is actually a red wine and lemonade (lemon soda)-it's refreshing and light-perfect for lunch!
After lunch we headed to the bullfighting ring, the Real Maestranza de Caballerìa de Ronda. Ronda is the birthplace of modern bullfighting and this is the oldest bullring in all of Spain. In Ronda, bullfighting is considered a cultural experience, not a sport, and they worship their bull fighters like Americans worship rockstars. They still have bull fights here, but not while we were in town. While I find the history of bullfighting fascinating, I find the act of bullfighting barbaric and sad for the bulls, so it is not a cultural experience I would partake in, even if it was an option.
This bull ring also has a museum with an audioguide. Unfortunately, there isn't an audio guide for kids, so Nathan basically ran wild around the giant arena while Dan and I (attempted) to listen. The museum has a horse and guns exhibit, showcasing the upper class culture of dueling and bullfighting. According to Rick Steves, the Andalucians see bullfighting as a celebration of  both a noble heritage and of the Andalusian horse culture (tell that to the bulls). There is also a shrine and exhibit to the most famous bullfighting family (the Romero family) and the history of the costumes bullfighters adorn during their fights. The arena itself is majestic, built in 1785 with Tuscan columns and fancy artwork and 5,000 seats.
After the bullfighting ring, we set out to see the gorges. The pictures do not do these views justice. First, we headed behind the bullring to a small park that had absolutely the most majestic views. Ronda really is a city on top of a hill, and you really wonder how it has sat here for centuries and not just fallen off!
We headed over to the New Bridge (Puente Nuevo) to stare death in the face (ok maybe not death) but to at least stare at a engineering marvel! The first bridge was built in 1735 but fell after six years (not such a marvel after all!), so the second bridge was built between 1751-1793 (they took their time and got it right!). We walked around and got different angles and views of this bridge, and the next morning before we left we walked over to a view point near our hotel to get a different angle. These views aren't for the faint of heart, but it's very safe, as I was terrified my kid would want to jump in the gorge or fall right off-there was no possibility of that happening. Every cliff has a strong high fence, so don't worry if you have small kids!
We took a stroll through the town and ended up at the Church of Santa Marìa la Mayor. Nathan had no interest in touring anything, so we took turns going in the church and played hide and seek in the park located next to the church.
This 15th century church was so intricate and dazzling in its decor that I felt like I had walked into a palace holding the Crown jewels. Everything was ornate and rich, from the red fabric walls to the gold halos on Jesus and Mary.
The only thing left to do in Ronda after sightseeing-more tapas! We headed to a modern tapas bar where everyone in the place had a Rick Steves book and spoke english (I think his secrets are out!). Tragatapas, a minimalist modern place serving trendy tapas-not traditional, and delicious. I liked the modern take on tapas, which were mostly fried food up until this point. We had little tacos, mini burritos, mini wraps and of course fried cheese and olives-and more of that delicious wine spritzer!
We only spent one night in this town but I could have spent days staring into the gorge and enjoying those stunning views and amazing tapas. If I had had more time and not been with my child, I would have hiked the gorge, but I know how clumsy my kid is and chose to not to risk his life for an awesome selfie!
More pics of Ronda:
On our way to our next town, Arcos de la Frontera, we made two stops. First, the tiny town of Zahara de la Sierra. This town is all about the view from the top of the fortress. We hiked to the top (and I will admit I was scared because there were no barriers on this hike) to keep Nathan on the path. But we all survived and at the top we had a stunning view of the most surreal blue lake sleeping between mountains and cliffs.
This town was considered the gateway to Grenada during Moorish times and the last stronghold barring Isabelle and Ferdinand from conquering Grenada (until they did conquer Zahara in 1482). We literally only hiked the hill, took some pictures and headed out of town-but a great stop for some fantastic views!
Our lunch stop was in the small town of Grazalema. As you approach the town, you can see it nestled between the Andalucian mountains in all its glory. These towns are all called "whitewashed" because the buildings are all white. Grazalema is stunning with white buildings that give this town serious charm.
We stopped for lunch at a tapas bar that could only be described as a local haunt. Lacking charm, it looked like it was straight out of a 1970's kitchen, filled with old-timers watching the local soccer game and drinking beer in the middle of the day. The food was just ok, as it was mostly fried food but Nathan made some little buddies who were very interested in his iPad.
We took a quick stroll around town as clouds threatened but never opened up the skies. The main square is attached to an old unassuming church that stares over the town, protecting it.
Arriving in Arcos de la Frontera, we checked into our hotel in the new town and relaxed until dinner. The old town is where all the charm of this city lays, so we headed uphill and had dinner outside at an adorable place run by a sweet little old man. We had meatballs, sangria, crab salad and fried cheese-and it was all delicious with a great atmosphere!
This town is like a giant labryinth and kind of hard to navigate with a car, I would recommend parking and walking around, as we did. We set out after breakfast to follow Rick Steves walk through the town, our only real mission of the day.
Our first stop was the Church of Santa Maria, a church built atop a Mosque, as everything was taken from the Moors after the Reconquista. We would head into this church later in the day because we noticed from the stunning viewpoint across the way at the Plaza del Cabildo, a guy holding some birds.
Nathan became very interested, so we all took turns holding owls and giant birds (Nathan was at first terrified and then giggling). It was a lot of fun and free-we just tipped the guy a couple euros and took some photos and continued on.
This viewpoint is actually both stunning and frightening! There is a railing, which is great, but in the 1990s, the lounge of the hotel sitting next to us just fell off this cliff. It literally just dropped off the cliff. Luckily, no one was in it at the time, but knowing this information did not make me want to stay on this cliff for any longer than necessary! Its 300 feet above the river and supposedly, its the suicide point for the men in town (women on the other side)?!
We headed into the church after that, another intricate and sparkling church. The chapels are filled with gold and a couple of dead people dressed up with skeletons just hanging out (creepy!) but I guess when you are a martyr, your body gets to chill in the church for eternity. (St. Felix whose body "miraculously" never rots has been in this church since 1764, sent here from Rome to recognize this church).
We made our way round town, zigzagging our way through the maze of this city with a stroller that Nathan was out of as much as in (yeah we are getting close to being done with taking the stroller and we know it-and are devastated by it!)
The end of town provided the best views, and truly encapsulates the essence of this town-a hilltop town with gorgeous views! I stopped in a shop where plates were hand painted (literally I watched as Grandpa painted plates) and bought myself a gorgeous plate with a painting of Arcos that sadly did not make the trip home in one piece.
Not one to shy away from a cultural and uncomfortable experience, I also knocked on a convent door and waited patiently for the nun's to sell me cookies from their Lazy Susan. I bought local specialties, including a dozen muffins.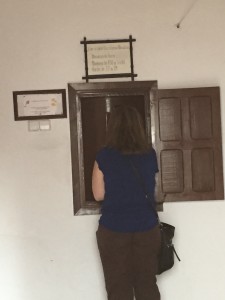 Our lunch spot was actually pretty amazing, Bar La Carcel (or The Prison), had great tapas. I have pictures of all the food, and can't recall a name of any of it-but my taste buds remember loving it! We also had some rice milk alcoholic beverage that was sweet and strong.
We gave Nathan a break from touring and found a local playground that he ran around in, and made friends in two seconds (this kid is NOT shy).
The rest of the evening was relaxing, taking a break from tapas we hit a Moroccan place for dinner. Being close to Africa in southern Spain, Moroccan food was outstanding. We had sweet spices and stewed fruits simmering in juicy tenderloin and couscous, raisins and carrots-all fresh and delicious!
This wrapped up our hilltown experience in Spain. We loved the culture, charm and food in every place we visited!! Back to the big city-my next blog will cover our three days in Sevilla.
Thanks for joining us!!