Umbrian Ladies of the Night
Well, that got your attention, didn't it?
The last thing I expected to see while driving along through the stunning hillsides: hookers.
But I am definitely getting ahead of myself.
Last summer we spent a luxurious week at one farm in Tuscany. In February, we spent a week on the other side of the hill towns in Umbria-mixed in with a work trip for Dan and three very different hotels, this trip was definitely more rustic but filled with both beautiful and strange sights.
This trip started with Nathan and I flying separately from Dan-and we had the added bonus of a three hour layover in Zurich followed by flying on a small plane (not my favorite). But for a 45 minute flight, SwissAir gave Nathan a stuffed toy and a bag of coloring books-I've never seen that on an American airline! Also, it's Switzerland-so chocolate, of course. Who wants pretzels? Not this gal. I'll take a bar of swiss chocolate every time. I love flying SwissAir. Nathan even made some friends at the airport….
Renting a car in Europe is tricky because neither one of us know how to drive stick shift. Automatic cars are rare and when you rent one, they usually bring one in specifically for you-so if it doesn't work out, there are no other options. We rented the cheapest car possible-a fiat 500. We had one large suitcase, one stroller, two small bags and one small suitcase. Things were looking grim for all three of us fitting in for ten days. The rental place at the Florence airport had 6 different rental companies. I asked every single one if they had a larger automatic car-not a single one had one. We were going to have to make it work. Nathan spent ten days with a stroller almost against his ear as we lucked out that the seat went down and we piled everything up in the backseat. Dan has a tetris brain and was able to do some serious McGyver-esque packing of that car. It was kind of epic.
So our first hotel was listed as an agriturismo in a medieval castle. We thought this would be amazing. The pictures made it look stunning. It was deep into the hills of Umbria-almost an hour from the two places we were set to visit (Orvieto & Civita) but it looked fabulous. We kept thinking about how wonderful our agriturismo was in Tuscany and we were hoping for a similar experience.
Well, the castle was a tad more rustic than appeared but that was ok. The kitchen could use an update and the furniture could use some freshening up but the views were worth it. Although we arrived after dark so we wouldn't know that until morning. The family that runs the place was having a medical crisis with one of their adult sons and we didn't meet the wife until we were leaving-she had been back and forth to a Roman hospital to visit her son. I can't say how different our experience would have been but we didn't have any interaction with the family, understandably. But there was also no one to substitute for their absence, except the lady who cleans the rooms who spoke no english but gushed over Nathan.
For me, the hotels are part of the overall experience and not just a place to rest your head. When I look back at my favorite holidays and vacations-there hasn't been a single one where the hotel itself didn't play a starring role. I give this hotel leeway for having a medical emergency and it was slow season, but I personally, probably would not stay here again. It wasn't bad, but my standards for agriturismos are extremely high-I want an experience and not just a place to rest my head.
Here is a link to the hotel if anyone is curious:
http://www.fattoriaaquilone.it/mappa-agriturismo-umbria.php
*Side note-we did have an interesting experience one morning when a truck pulled up to sell bread and snacks out of laundry baskets to the locals. All older women showed up to buy from the food truck. We bought a few items but in the end, I didn't enjoy the food.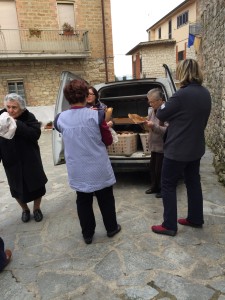 Additionally, the hotel had an on-site chapel we were able to explore. It was pretty amazing.
Some views from the hotel:
Orvieto
The hour long drive to Orvieto from the hotel was filled with a gorgeous lake, lots of hills and hookers. We noticed the first lady of the night just standing there on the side of the road, near nothing, with no car and thought it was odd. We noticed the second two ladies in cars pulled off the side of the road at a viewing spot. We figured out they were hookers when we saw the same three ladies on the way home and then on the way back the next day to Civita. That's no coincidence. There are definitely hookers on the hillsides.
But this was not the highlight of our day. Orvieto is a magical place on a hilltop with a stunning cathedral and seriously good food. We started our tour with lunch because it's Italy and we have priorities here: wine and pasta.
We ate at Trattoria del Moro Aronne-we got the last table for lunch (even in slow season I would recommend reserving!). We chose this place because our guidebook said it had nidi-described as "fresh pasta enveloping warm, gooey pecorino cheese sweetened with honey."  I am pretty certain it's the best thing I've ever eaten. It tasted like the best blintzes on the planet. They were that good. I think I had wine and I am fairly certain I had an appetizer with pumpkin that was outstanding, and some panna cotta and creme brulee, but the nidi was it.
After rolling out of our seats, we did a walking tour of the town that started at the Duomo.
This particular Duomo was built in 1290. The story behind why this cathedral was built is kind of fascinating. In 1263 a skeptical priest was on a pilgrimage to Rome. He didn't believe that the bread in communion could be transformed into the body of Christ. During Mass the bread bled and ran down his arm onto a piece of cloth. The bloody cloth was brought to Orvieto where the Pope was visiting. The Pope believed it a miracle and declared a new holiday,Corpus Christi, and determined that the cathedral needed to be built in Orvieto to display the relic. I don't know where the relic is now, but the frame that held it is still in the Chapel of the Corporal.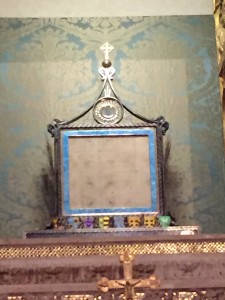 The Duomo really has it all-frescoes, reliquaries, marble columns and a stunning high altar. This is one of the more stunning cathedrals I have visited in Europe.
We then took a nice stroll around town, making our way down to the bottom and hiking back up-no easy feat with a stroller and a bum foot-but the views were worth it. We stopped for some gelato on our stroll back to the car (because, Italy), and headed back towards the hotel.
Dinner that night was in the small town near the hotel and we ate at a funky little place called "Be Happy." Pee Wee Herman was on the menu and the wall. And our reserved table had our name!
The folks that worked there were incredibly nice and the food was decent (I had a very rich truffle pici and Dan had pigeon). Pigeon. Or maybe it was dove? Either way, you couldn't pay me to try it. It looked like a dead pigeon on a plate. Which, technically speaking, it was, but who wants to see it that way? Some meals make me want to become a vegetarian.
Another side note:
The hotel had asked us what time we wanted breakfast and Dan said 8AM-which meant HE was waking up each morning to answer the door. We didn't know that the breakfast brought to our room was literally three warm croissants on a plate. Not really worth waking up at 8AM…..
Civita di Bagnoregio
Day two begain with warm croissants and big plans to see Civita. I will be honest, we get inspiration to see certain places from many things: books I read, movies we see, guidebooks, history books and,….reality TV. The Amazing Race went to Civita one season and it left an impression. We couldn't remember the name of the place but we remembered the town literally built on a sheer cliff with a giant bridge leading to it. It was not hard to google.
Last summer we wanted to see it but it was just a little too far from Tuscany-almost two hours. This time it was only an hour from our hotel. We took almost the same route as we did to Orvieto (hi hookers!), and in retrospect we should have chosen a hotel closer to Orvieto (maybe even in Orvieto) to save time.
We first drove to a great viewing spot to take pictures of Civita. We weren't sure either one of us had the nerve to actually cross the bridge when we saw it from a distance. But closer up it was much wider than we thought.
There is not much to Civita. It's a tiny town with almost no residents. I asked the cook at our lunch spot and if I remember correctly she said nine people live in Civita. NINE.
The bridge had these amazing 360 degree views and Nathan and I were loving it (Dan just fled up the bridge into the town as fast as possible). He isn't a fan of bridges. In fact, this bridge was built in 1966 after WWII bombing destroyed the last one.
Apparently, Civita has a history that dates back to Etruscan times. It had a population of 4,000 people until an earthquake in 1695. Fearing their homes would fall off the cliff, everyone moved to the town next door, Bagnoregio. We started our tour of the town in the Piazza while deciding on where to eat lunch. In the off-season, Civita is absolutely a ghost town. There were hardly any people here. But lots of cats running through the piazza, which Nathan loved.
So we wanted bruschetta and picked a cave-like place that had a really cool atmosphere. We were the only diners and they literally only had bruschetta. So toasted bread wasn't really going to cut it for a full lunch after our three croissants for breakfast. We quickly got our bill and bailed on the freezing cave we were in. Nathan was a little confused when we headed into the second restaurant of the day.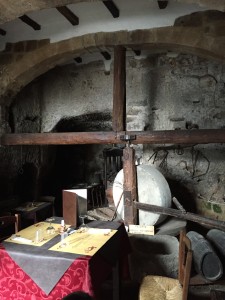 We had quite the experience here. I got pici and more bruschetta, Nathan had a big bowl of spaghetti and I can't remember Dan's food. It was all delicious. But the funniest part was the cook. The cook and waitress didn't have much to do as we were once again, the only diners. So the cook came out and started playing with Nathan by trying to offer him her idea of a treat (a packet of jelly, a packet of nutella, a little yogurt). Nathan was having fun with it and we were laughing. She gave him postcards, a mug of milk and took him outside to play with him. Dan and I felt like we had a babysitter for lunch. It was pretty awesome. Nathan fell in love and hugged her and definitely didn't want to leave.
After lunch we checked out Maria's garden. Maria is too frail to live in Civita anymore so she is in Bagnoregio now. According to Rick Steves, she and her husband used to cross the bridge 40 times a day with a donkey carrying goods. She is the last native Civita resident still living. I'm not sure who tends to her garden but it has stunning views at the end of town with cliffside views.
More of Civita:
We went back to the hotel that night and hooked up our ipad to the little TV so we could watch the Oscars: priorities people, priorities.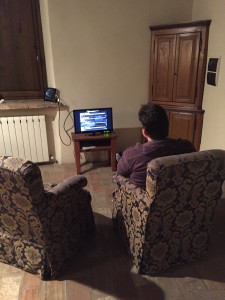 Cortona
We packed up and left our agriturismo to begin the work portion of our trip. But on our way back into Tuscany, we stopped in Cortona. This town was made famous with the movie "Under the Tuscan Sun." The escalator up to the top of town provided quite possibly the best view I have ever had on an escalator.
The center of Cortona is actually much smaller than I expected so we decided to eat lunch and then do a quick tour of town before heading to our next hotel.
If you have seen the movie, you know it's about a divorced woman who buys a villa a restores it after jumping off a tour bus mid-tour. In real life, the author and her husband (yep she is still married), buy a run down villa, restore it and she writes a book about the whole process. Also, the villa is located on the side of town called "Bamasole" which means "craving sun." I guess her home is usually under the Tuscan shade. We didn't go see the house, as hiking down the hill and back up didn't sound terribly appealing with Nathan. As a parent of a four year old I always say, know your limits.
Lunch was at Ristorante La Loggetta and it was another amazing meal. The appetizer plate could have filled me up but I shared it with Dan and had cannelloni filled with beef along with it. After lunch we did a quick tour of town, including a stop at the Santa Margherita Basilica and then headed to the hotel.
My final thoughts on Cortona: gorgeous hillside town with buildings built on top of each other providing loads of shade to help with the summer heat. (I still don't understand why Arizona never figured this one out).
Next blog: How Nathan and I survived a two days in the hotel with no water or heat. Fun times!!! And our final leg of the trip-Assisi.