Plumbing & Electricity Not Included
We found this pretty amazing hotel in Montvarchi, that had three bedrooms, a kitchen and a living room and was super cheap during the off-season. We needed a place where there was enough space for Nathan and I to spend two days without a car and keep ourselves occupied while Dan was working.
We were feeling pretty good about our choice until the lady at the check-in desk said "On your second day, the power will be cut from 9AM-3PM due to some work being done at the farm across the street and there isn't anything we can do about it." Oh. Crap. I needed to occupy Nathan all day and it was too cold for the outdoor swimming pool and we were miles from anything.
So on the first day I occupied our time with laundry and TV, knowing the next day I would have to get super creative. I am not ashamed to admit that Nathan and I had the laziest of days that included an all-day cartoon marathon in our pajamas.  (I was secretly hoping I would learn Italian) However, I knew that wasn't going to work the next day.
On day two, Nathan wanted cartoons again. We were up before 9 so I put them on and told him the TV was going to be done soon. At about 9:05 the power went out. So we decided to head down to the breakfast room at the hotel. Breakfast at this hotel was probably the worst I have ever had at any European place. It was all wrapped cookies and pre-packaged croissants. Absolutely nothing fresh, and all the stuff from the day before was still there. There was no telling how long those pre-packaged cookies had been there. Also, the breakfast room was pitch black. The manager lit candles for us but Nathan grew impatient with breakfast so we went back to the room after about 10 minutes.
So I decided that showering would kill some time. Turns out when the power goes out, so does the plumbing. I didn't know that until I tried to shower, use the toilet, wash my hands, brush my teeth…you get the point. I had NO WATER. ALL DAY. So I was in the middle of nowhere, not walking distance to anything, with no working toilet and a bored 4 year old. Sounds like a fun day ahead of me!!
In all honesty, this hotel was the best one we stayed at all week in terms of the room. Everything felt new and was in great condition-and it was huge and so cheap and the owners were really lovely. So if it hadn't been for the power outage this would have been my favorite place. I would stay there again (and in fact, Dan will be the next time he goes there for work!).
Check it out!
The owners of the hotel own a restaurant in town and we checked it out one night-it was delicious!
We left Montvarchi (which has nothing but a Prada outlet store in it) and headed back to Umbria to finish our weekend off with Assisi! I was very excited to see Assisi, after reading some historical fiction books years ago about it (Anne Rice I think), I have always wanted to see this place. We were staying at a Rick Steves recommended agriturismo ten minutes from Assisi and it was described as overlooking Assisi from the hill tops.
This was not an exaggeration. We drove up this hill-and then we drove higher and higher….until we reached a very tranquil scene. All of Umbria laid out as far as the eye could see, including Assisi in the distance. Two lazy old dogs greeted us upon our arrival and we were shown our room. This place was bought and renovated in the last few years and the owners made it very rustic. We had the largest room for only 90 euros a night. It was two room, a bedroom and a living space which they had creatively added a kitchen into basically a large closet that you could close. The view of Umbria from the room was the icing on top of this cake. It was amazing.
The wallpaper in the bedroom was red and covered in stags, which made it feel like we were staying in the forest instead of being surrounded by olive trees in Italy, but otherwise it was fantastic. The bed and pull out couch were very Italian (i.e. hard as rocks) but we loved the place in spite of this.
The hotel is also a restaurant, so both nights we made reservations to have dinner there and we were not disappointed. The food was incredibly fresh. We literally watched the cook bring the meat over to the fireplace and cook it there. It felt like I had just stepped into a 17th century novel.
I remember one night we ordered gnocchi as an appetizer and they were HUGE. I always thought gnocchi were little, but these delicious soft and sweet gems melted in my mouth. I always had some kind of beef that was so soft it fell off the bone-it tasted a lot like brisket. Both dinners were a highlight. They also had homemade nutella. Let me repeat: homemade nutella! Made with olive oil and hazelnut, it was an outstanding breakfast treat.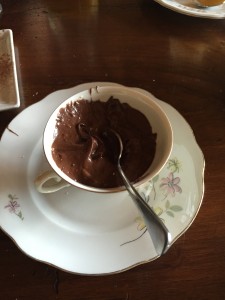 When we arrived at the hotel, the owners weren't there and the woman who greeted us spoke no english. I tried asking her when breakfast would be served the next morning and she thought I was asking for food now. I used the Spanish word "ahora" which means now and i meant hora which means hour, my Spanish is better than my Italian and even though the languages are close-I still used the wrong Spanish word. Needless to say, she busted out homemade cakes, nutella, coffee and orange juice at noon. A good misunderstanding, indeed!
The hotel is Le Mandrie di San Paolo and you can find it here: www.agriturismomandriesanpaolo.it
I would definitely stay here again. This place was a charming gem with great hospitality and food!
Assisi
Assisi is famous for it's Saint. (St. Francis of Assisi), whose teachings basically created what we know as the Franciscans.  Ironically, St. Francis was all about losing all materialistic things and all about living a simple kind of life. Now there is an entire town whose tourist industry relies on seeing the gorgeous cathedral built in his honor and buying tacky plastic Franciscans and other tchotkes. Additionally, down the road is his original church, which is a small simple steeple, which they built a huge gorgeous cathedral over. (You can see the steeple and the cathedral). You weren't supposed to take pictures inside so shhhh…don't tell).
We headed into town the first day to check out the Basilica of St. Francis. We decided this would be one of those tours we did separately so could focus on the audio guide and really see the basilica without any Nathan distractions. Dan went first while Nathan and I found lunch. (Nathan was content to sit in his stroller while I drank wine and ate sandwiches at this standing only meat market). I bought cannolis too which were delicious.
We swapped and of course, Nathan was eager to move around so Dan got a restless Nathan. They played in the stunning gardens of the basilica, while I had my turn. No pictures were allowed insude the church and I followed the rules this time!
So, St. Francis grew up in a home of great privilege. The story goes that he had a vision in 1206, stripped naked before the townspeople and revoked his family and all material things and declared loyalty to God. He became a cult-like figure with a new order of monks of which the Pope eventually approved.
The basilica is stunning and sits atop the hillside of Assisi. Its was buried atop the grave of St. Francis. In fact, St. Francis and 4 of his friends are all buried and memorialized in the basement of the church behind metal grills.
The lower and upper basilica are completely different. The lower basilica is Romanesque and has a ceiling of stars. The upper basilica has huge frescoes covering the walls that describe St. Francis' entire life. in 1997, a 5.5 earthquake hit Assisi and destroyed these frescoes, which were meticulously put back together. One of the aftershocks killed two monks and two art scholars who were inside inspecting the damage.
The basilica was quite amazing and I will leave you with these photos of the outisde:
The next day we took the Rick Steves walking tour of Assisi. We saw the Roman Amphitheater in which a neighborhood of houses surround it. We saw stunning Umbrian views, aqueducts with fresh water source, and a Church named after Assisi's actual patron saint: Saint Rufino (not Francis?!?).
Lunch was another special experience. We were starving and just grabbed the first pizza place that was open. It didn't look like anything special and in fact, the food was just ok. But Nathan was treated like a rockstar. The waitress fell in love and brought him to the pizza oven so he could make his own little miniature pizza. Of course, Nathan loved this and it was the highlight of his day.
We continued our tour after lunch and headed to the Basilica of St. Clare, this was St. Francis' dearest friend and follower. Her remains are kept here, this church was built in 1265 for her and has absolutely stunning views of Umbria.
We headed to the Roman church or Temple of Minerva, a first century temple sitting casually in a square amongst restaurants and lunching tourists. Almost like it's no big deal. The inside is 17th century baroque and very small but amazing. It kind of is a big deal.
We walked the twisty turny streets after this and ended at the basilica where we grabbed some gelato and headed back to the hotel. Assisi, small as it is, is both gorgeous and quaint-and in February not filled with too many tourists. We were lucky to have two gorgeous days without a cloud in sight to enjoy this historical town. This was the highlight of the trip for me.
The next morning we took the two hour drive to Florence to head back to Germany. Sadly, I had to fly to Zurich again with another 3 hour layover while Dan was home in under two hours where our friend from the US was waiting to greet him!
Next up: Taking a Holiday in Spain!