Opala! Tuscany Beyond the Sun….
So I usually do a hotel report before a trip report, however, our week in Tuscany was spent at an agriturismo that was 100% part of our entire Tuscan experience–it basically is responsible for making our trip amazing.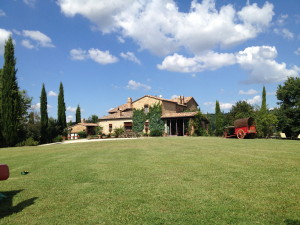 The agriturismo is located near Pienza-in the heart of Tuscany, and it's called Cretaiole. When we were planning our Tuscan getaway we knew that location would be important because Tuscany is large and there is definitely more than a week's worth of things to do. It's difficult to balance the desire to be in tourist mode versus living La Dolce Vita and have a relaxing vacation. Our vacations in Europe tend to lean more towards hardcore touring (as hardcore as you can be with a toddler) and I was personally looking forward to relaxing a bit.
We knew we wanted to be able to spread out and not be stuck in a small one room hotel, sitting in the dark by 9 because our kid was sleeping, so we turned to Rick Steves to guide us for the perfect agriturismo. He highly recommends Cretaiole and I can now completely agree. The owners, Isabella and Carlo, a husband and wife team run the business while Carlo's father Luciano is the heart and soul of the place. He doesn't speak a lick of English-but he communicates his love for his home by sharing and giving (and dancing with the ladies!) all that he has-you can tell its a labor of love for him. Daily operations and tours are run by Carlotta-a wealth of knowledge and history about the region-who was incredibly loving towards Nathan-and enriched our stay with her passion for all things Tuscan.
Cretaiole is really a shared experience amongst the guests. Most stays are for one week, checking in and out on Saturdays-they sometimes allow shorter visits, but for the full experience a one week stay is definitely a must. Upon arrival, Carlotta greeted us and showed us to our amazing apartment. We paid extra for the Dolce Vita package which included an amazing food basket of fresh fruits and vegetables picked right from their garden, meats cured, pecorino cheese and olive oil all straight from their farm.
As other families started checking in, we noticed another little boy that was the same age as Nathan and the two became fast friends and actually it turned out to be the blessing of the week. These two kept each other company at every event and couldn't wait to play with one another each day. After a week, there were tears when they had to be parted.
On Sunday morning, after you've had time to relax and read up on all the activities you could potentially do, Isabella invites everyone to an orientation for the week. Nathan was able to play on their huge playground while we decided our itinerary for week. They provide you with a host of activities that you can choose from-some included in the package and some are extra-they do not pressure you at all. One bonus-Isabella offers you her nanny to babysit for you if you want an adult night out!! Living away from family, Dan and I haven't had a date in Germany yet-so we quickly agreed to pay extra for two nights of a babysitter-Mara was worth her weight in gold as Nathan adored her and Dan and I had a much needed adult night!
Deciding on activities was difficult for us because Dan and I are indecisive people to begin with-add in a host of fun activities and determining what's best with Nathan–let's just say it took us all week to finally brave Siena (big city) and hoping Nathan wouldn't have a meltdown (he didn't).
We chose a couple of dinners and most of the included activities with the package but overall, there were many things (that cost extra) that just were not feasible with Nathan. (Daily wine tastings, a tour of an artist's home,bike tours, guided tours of Florence or Siena, biscotti cooking class etc.) Isabella also provides an incredibly detailed book that she made which includes various drives throughout the region, maximizing time and seeing the highlights of Tuscany. We did two of these drives-which I will go into detail about later.
Another bonus of Cretaiole is Luciano hosting a nightly event after hours with grappa and wine, from their farm. After putting Nathan to bed-we were able to join the other adults in a room just around the corner-in the front of the house-and get to know Luciano and the other guests. This is when Luciano put on the music and danced with all the ladies-a real Ladies Man!
The week was filled with amazing experiences, including a pasta making night hosted by Isabella, swimming in local hot springs, and a "Dinner in the Sky" at a nearby restaurant that had 360 degree views of Tuscany. There were so many wonderful events that I'm going to highlight them below with photos and short description-but I could write a novel on how much I loved Tuscany!!!
 Sunday
After Orientation we headed over to the family farm-this is where they live and make most of their products-about a 5 minute drive from the agriturismo. They took us on a short tour of the animals, the fields, the wine-making rooms and then gave us a sample of all their cheese, meats and wine and cookies. Nathan and his buddy spent the whole time playing while we drank and stuffed ourselves silly. It was a great way to start the vacation-a theme of the week for me: drinking lots of wine, eating amazing food, and seeing amazing sights.
We relaxed back at the agriturismo and let the kids run around for most of the afternoon until the three of us headed to dinner in Pienza-our first hill town. Pienza is amazing. All the hill towns are small and easy to get through quickly (minus a kid probably faster) and all have beautiful sights to see. Pienza has a gorgeous church, beautiful architecture and views from the town walls that will blow your mind. Dinner that night and the night before were both in Pienza-both amazing for different reasons. Saturday night we had crepes and bean soup and bruschetta in this tiny little place whee Grandma was definitely cooking in the kitchen. Sunday night we ate in another great place-where they served pig face (eat your heart out Girl and the Goat) and amazing vegetable lasagna. Sunday was definitely a relaxing vacation day.
Dinner Saturday night:
Sunday night in Pienza:
Monday 
Our hosts own property in Pienza that has an Etruscan Tomb and chapel dating back thousands of years on it. As part of the package, they offer a tour with Carlotta. We took Nathan and it was amazing. The property had a farm on it and the farmer basically used the tombs as a place to keep his supplies and didn't really understand what he had. Luciano and Carlo bought it up in the 90's and have since cleaned it up and allow anyone access to it-the older women like to use the chapel to pray as there is an amazing Madonna and Child carved into the wall.
Carlotta gave us a tour of the property in addition to another church and a history of Tuscany. I was worried Nathan would be fussy or bored but Carlotta included him and literally took him by the hand to show him everything. He loved playing an active role and Dan and I got an exciting  living  history lesson on Tuscany.
After our tour, we decided to go see another hill town-Montipulciano-and have lunch at a place that serves you a GIANT florentine steak. Every one is crowded into long tables and the owner brings over the raw steak to show you your cut and then brings it back 14 minutes later (7 minutes per side!). It was unreal and huge.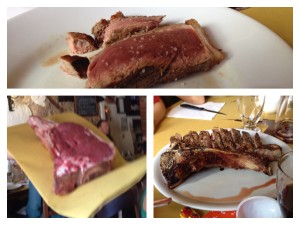 What Nathan took away from the town: repeating the town's name in an italian accent for the rest of the week. We wandered the town-let Nathan decide our next move-by giving him our guidebook: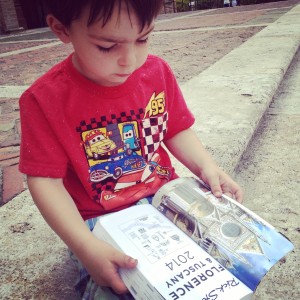 and stopped in for a free wine tasting and bought some wine on our way out of town. Dan even took a selfie with the owner who spotted our Rick Steves book and showed us he was in it!
That night we paid extra for a meal with the group that we knew the other family with their child would be at, so we figured the kids could entertain each other. All I can say about this meal-it was delicious but very long and the kids were very very boisterous for the majority of this over three hour dinner. Luckily most of the people dining left and we had the whole place-because the kids were running in circles at one point. By hour 3 we gave them ipads to quiet them down! They traded ipads to play each other's apps-only today's kids, right?
Tuesday
We decided to take on one of Isabella's drives today. We realized we were kind of far from most of Rick Steves recommended hill towns (an hour or so) and didn't want to trek all that way for one or two towns when we could see hill towns just as beautiful nearby. We didn't realize the amount of time the drive would take and now I can't even remember every name of each town-but there were about ten. Nathan gave up after two and at each town we had to find a playground and take turns touring the towns while he played. It took a little longer but it was worth it-Nathan needed an activity that didn't include sitting in a stroller quietly while we took in the beauty of the towns. Also, we got a really late start (due to our indecision) and most towns were in the middle of siesta-so each town was like a ghost town. Here are some pictures of the towns we saw:
Castelmuzio:
Trequanda:
And various other towns:
The last place we visited was this amazing Abbey (closed by the time we got there but impressive on the outside).
The drive took so long that by the time we were heading home (and skipped the last town), it was past 7PM and we all needed dinner. Nathan was asleep in the car and the thought of sitting at a restaurant with him was daunting! So my lovely husband took all the fresh ingredients we had at the apartment plus a few things we picked up at the grocery store and made an amazing dinner. Luciano saw us as we were coming back and gave us cucumbers, basil and lettuce straight from the garden for our dinner.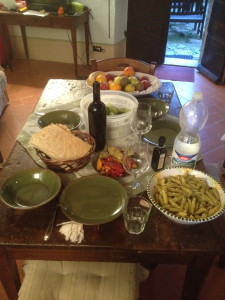 Wednesday
Thermal Spa day! We decided after the long drive the day before-we wanted a relaxing playful day for Nathan. Isabella's handy guide provided multiple options for thermal spas-we took the free one that you hike through the forest to get to. It was amazing. Nathan loved it. Dan risked life and limb to get a $2 bucket that fell into a muddy ravine-and was Nathan's hero for the day. We packed a picnic and headed for muddy waters in beautiful rugged scenery.
When we got back to the hotel, an olive oil tasting class was being hosted by Carlo and Carlotta. Dan attended this, as Nathan was demanding my attention. I know he learned a great deal on how to pick a good olive oil and all about the process.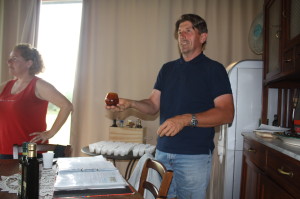 That night was babysitter night!!!! We had decided to go to the wine pairing dinner that was offered as one of the excursions with three other people from the hotel. The company was great, the food was amazing, the wine was even better. We had a great lesson on Tuscan wine but sommelier, Daria, throughout our meal.  We also had to die for ravioli and panna cotta. When we came home, Nathan was fast asleep-it was amazing!
Thursday
We wanted to tour the hill town of Montalcino-where the amazing Brunello wine is made. The town has a castle, amazing views and serious wine tasting locations. We loved the town but for a small town, it took us all day to see it. Our sit down lunch took too long, Nathan was crabby, I did a wine tasting that took a long time and by the time we were done Nathan was spent and it was pouring rain.
Another Abbey on the way back to the hotel:
Not our favorite day-until we got back to the hotel for pici making!
Pici is the pasta of the region and Isabella hosts a pici making class-and at the end a huge dinner is served on property. Nathan and his buddy ran around on property while Dan and I drank wine and made pasta-Nathan came in at the end to help and he had a blast. All the guests from the hotel were there with us and it was a community event (they have 6 apartments and two other properties with guests). Some people brought dishes they made while we enjoyed our homemade pasta and Carlo grilled up meats and Luciano poured the wine. A very fun evening on the farm!
Friday
We were really gun shy about taking Nathan to anymore hilltowns- because as much as we loved them-he was bored and begging for a playground in each one. And if he wasn't begging for a playground he was begging to g back to the farm to play with his friend. But in the end, we decided we should go to Siena because it's the biggest town in the region, rivaling Florence for its Duomo and we really wanted to see it. So we crossed our fingers and dove in!
Surprisingly, Nathan did really well (we may or may not have used bribery of new toys to get him to cooperate). We were both able to tour the Duomo (which is by far the most beautiful church I've ever seem-sorry Florence), and we took turns touring the little museum as well. Nathan enjoyed running around the big square as well. Basically, our plan was to hit the big three- Duomo, museum and main Square and call it a success if we managed it all! The lesson we learned from the day before-no big lunch and no long wine tasting-just see the sights and leave! We grabbed lunch from a bakery and Nathan and I ate while Dan toured the museum (after I did) so that worked out perfectly. Here it was, the very last day and we finally figured out how to tour Tuscany with Nathan!
That night Mara babysat again while we went to the last supper-Dinner in the Sky. Dinner was at a small hotel/restaurant in the beautiful small hill town of CastelMuzio. The location was on top of the building, where literally no more than 12 people could fit. The waiter had to pass food down because it was a tight space but worth it with amazing 360 degree views of Tuscany. Our dinner was fantastic and we were amongst our new friends that were all guests of Cretaiole. It was a fabulous way to end a fantastic trip filled with great food, wine, people and scenery. When we got back, Luciano was there waiting to have one last night of dancing and grappa before we said our farewells and he started the process again the next day with all new people.
The most amazing part of Cretaiole, the family makes you feel like you are having a unique experience. You never get the feeling that they did this same pasta making class the week before-or that they will do it again next week. It all feels so special. We had an amazing time in Tuscany and I know this post is lengthy but I can not express enough just how much I loved Tuscany and Cretaiole.
A few more pictures of the hotel: