Dan and I had tulips on the brain and we knew wanted to see them this Spring. We were determined to see Holland in all its Springtime glory-but we didn't know where to stay.
We didn't use our usual Travel guru, Rick Steves, to pick a hotel because we wanted a long weekend on a farm. We wanted to be outside of Amsterdam but close to all the sights we wanted to see. We found out about a website that has a list of all these beautiful farm hotels in what the Dutch call "The Green Heart" of Holland.
http://www.groenehartlogies.nl/en
So, we started looking at the various websites and ended up choosing a gem! Vredelust Logies run by Toby and Adrian van Eijk is the most pristine and immaculate place I've stayed. It was amazing.
They took a barn and repurposed it into four apartments. Each apartment has a back patio with natural bushes separating each place for privacy. The apartment itself is completely modern and everything looks brand new. If it wasn't for the Guestbook dating back to 2010 with people heaping praise, I would have guessed we were the first people to ever stay here-it was that new. There was no wear and tear on this place. (Nathan changed all that by spilling orange juice on the comforter for my Mother's Day breakfast in bed) but we offered to replace it and they generously declined.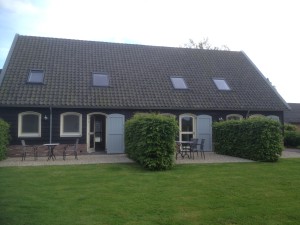 The use of space in this place was fantastic-one bedroom upstairs with enough space to add a single bed for Nathan in the corner. We were able to shut the door and put him to bed while we sat downstairs. The kitchen had everything you needed-fridge, stove, coffee, sugar and cream, a tea kettle and all the pots and pans you would need.
This is a working farm, so Nathan got to pet the cows and watch the sheep grazing. He really enjoyed this, although there wasn't much else for him to do on this particular farm-we have stayed at places with more-but we loved it all the same.
The neighborhood the farm resides in is a cluster of farms all looking immaculate-it's a quaint neighborhood-close to the highway but you would never know it. Even the agricultural fragrance was minimal!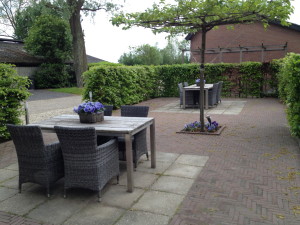 This hotel was about 30 minutes from Amsterdam and pretty centrally located for all the sights we wanted to see outside of Amsterdam. I would definitely stay here again. I can't praise it enough. It was possibly one of my favorite places to stay. Additionally, the price was incredible. We only paid 80 Euros a night for this huge apartment. Actually, the only negative I can think of-if you wanted breakfast it was an additional 10 Euros per day per person-Nathan only 5 Euros, but 25 Euros a day for breakfast seemed steep when most places include it. So we skipped breakfast and went to the grocery store and stocked the kitchen.
I would absolutely recommend this place to couples & families for a farm stay that isn't even remotely rustic but is outside the city.
Nest up: Springtime in Holland!