Dan started feeling sick four days before we left for Holland, and almost two weeks later he is still not fully recovered. In retrospect, canceling the trip may have been better since he got a secondary infection probably from lack of sleep and hours of standing in the rain-but we made a deposit on the hotel we couldn't get back and he thought it was just a cold and he would be better quickly.
We made the four drive Wednesday morning and decided to go straight to the Keukenhof (the park with all the tulips) before checking into our hotel, since check in wasn't until 4PM. But first, we stopped at a McDonald's in a town called "Best" and they had this…..
So that happened. Going to Keukenhof first was a great choice that we wouldn't know until the trip was over because it was literally the only time in four days when it wasn't raining. We were able to enjoy the outstanding park with the gorgeous tulips with the only bit of sunshine we would have for the whole trip.
Keukenhof is only open for two months out of the year when the tulips are blooming. Depending on the winter, will depend on when the tulips will be at their peak. Due to the super warm winter, we missed the peak by about two weeks. I'm pretty sure the best time would have been Easter week while we were in Croatia. But we were still able to see hundreds of gorgeous tulips. They clip the ones that have died-so there were many open green areas that you could tell had tulips at one point!
The park had a playground and an animal petting zoo (closed when we got there) but Nathan was able to look at the animals and go down the slides so he was a happy camper. I got to take pictures of tulips and take in the beauty.
After checking in to our hotel we needed to find dinner-so our Host sent us to Bruekelen-the closest town. A very nice little town in pristine condition and expensive eateries. We chose a place based on the fact that it was packed with people while most places were empty. The food was outstanding and I had a Heineken that tasted better than any American Heineken I've ever had. I literally downed it.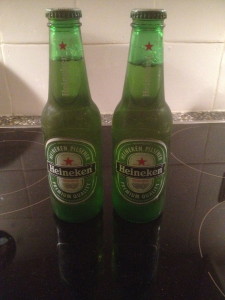 The next day was rain and more rain. We decided to head to the little town of Delft, known for its porcelain and home of Vermeer. When we arrived, a thriving market was happening in the town square. People were enjoying their fries and fish standing around but with Dan sick-we didn't want to hover in the rain eating good market food. So we found an amazing lunch spot called Kleyweg's Stads Koffyhuis. We shared a sandwich that had warm melted cheeses and ham (in the land of cheese-so it was amazing) and an apple pancake. And of course, hot chocolate to warm the heart. This place was adorable-and had toys to occupy Nathan.
After lunch the rain started to come down a little harder, so we took our walking tour of the city-stopping in the market for treats (syrup waffles!) and Nathan quickly fell asleep in the stroller (a rarity these days). We saw the New Church which was struck by lightning in 1536 (Save the Clock Tower!), which started a fire that destroyed half the town. Its Golden age was the 17th Century with over 200 local breweries being exported out. Also in the Market Square is the Town Hall which was rebuilt in 1620 after the fire.
The Waag, a medieval trading center was the weighing and customs house but is now a really cool, dark ominous restaurant. Of course, it's Holland so we also saw beautiful canals all over town! Finally, we walked by the Old Church, which is leaning like the Tower of Pisa due to being built on unstable ground.
We walked around and decided we should go indoors somewhere since Nathan was asleep and we were getting drenched. That plan failed because Nathan woke up when we moved him to the car and then the Delft Factory had no parking and Dan was sick-so we headed back to the Farm to relax out of the rain. Dinner that night in Breukelen was a Thai restaurant that felt like a museum-with fancy artwork on the walls, and huge centerpieces on large concrete tables. The food was delicious but again, super pricey.
The next day we had a really late start because Dan hadn't slept well due to his cold-and Nathan slept until 9:30! A rare treat!! We had originally planned to spend the day at the Arnhem Open Air Museum but it was an hour away and closed at 5-getting a late start meant ditching our plans and coming up with something new-and Arnhem would have to wait another day. We also wanted to do the Historic Triangle-but that is a boat and steam train that starts at 9AM, so we ended up skipping that entirely in order to see Arnhem the next day.
So, we decided to check out three towns about forty minutes from us in the Waterland region-Edam, Volendam and the Island of Marken.
Edam-the town of Cheese. It's a touristy little town that is super cute and quaint. Lots of canals and walkways and pristine little gabled houses. And cheese. Lunch in Edam was in a little bar that had soup and sandwiches.
I made the poor decision to let Nathan share my pea soup (a Dutch specialty) because he really wanted it–and I thought I would test his food allergy, on a vacation. Let's just say, I'm not winning any Parenting Awards his week. His allergies don't cause him to stop breathing-but they cause him stomach upset, which we would experience later that day. Turns out, Nathan is actually still allergic to peas.
The strangest thing about that restaurant was next to the bathroom, a picture hanging on the wall of the World Trade Centers-as they were burning. No plaque or anything, just a picture of the burning buildings. Why would that be a picture you would hang on your wall?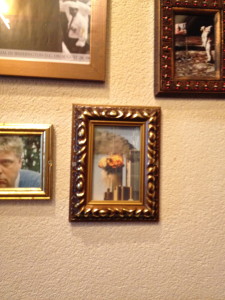 After lunch we strolled through the town, bought some cheese and watched as the sky turned pitch black for a raging storm. We ran to the car to head to the waterfront town of Volendam. This place is a tourist mecca. It's exactly what you would think a seafront village would be filled with tourists. Lots of kitschy shops and a million places to take "professional photographs in Dutch costumes." (I'm still mad we didn't do that haha)
We strolled the town and found the beach where Nathan threw rocks and we watched from a bench. The Island of Marken you can see from Volendam and there is a boat you can take to get there. We happen to walk about 5 minutes before the boat was leaving, so instead of driving to the Island, we decided to go on an adventure! The boat was slow and windy (good for me, bad for sick Dan).
Thirty minutes later we arrived and checked out the town. We wandered around this time warp known as Holland's most famous fishing village. Apparently, this used to be the place for whaling and fishing until silting the Zuiderzee happened and there was no more saltwater fishing here. In 1957, a long causeway was built to the Island-and tourists came to see what it was all about. It's quaint and adorable and we wanted an early dinner on the Island so once we left we could just go back to the Farm and relax.
We found a place on the edge of town that had nothing on its menu (sorry, no, we don't have that-a common phrase for the owner I think). We ate as another raging storm came in-knocking things over with torrential rain and high winds. We were worried our boat wouldn't come back for us but the storm blew over in about 40 minutes.
As we headed back on the boat, Nathan caught the eye of the Captain and he invited Nathan in to "drive the boat." This was such a thrill for Nathan and we sat in with the Captain for most of the ride!
As we walked back to the car, the pea soup from lunch came back to haunt us and I mad my second poor decision of the day: change Nathan on Dan's car seat-passenger side. I didn't realize the disaster that was waiting in his pants until it was too late and pea soup poop was all over Dan's new Mini. A million wipes couldn't get the poop out of the tiny holes embedded in the seat to provide bounce or air when you sit-so I am still hopeful a good steam clean at a car wash will fix this.
We headed home after that disaster, exhausted and I might I add..pooped?
The next morning, Dan was going on three nights of little sleep due to an increase in his coughing and congestion. But we headed to Arnhem, the Open Air Museum-in the pouring rain.
When we arrived, we decided to do the Disney-esque Carousel of Progress like ride. A time warp into Holland's hisory as you turn in your seats and watch dioramas and grainy videos go by (all in Dutch so hard to follow). Afterwards, we headed out to see the rest. This museum has a reproduction of the Island of Marken-so that was funny to see the day after we were on the island.
It also has windmills, farmhouses, old timing trains and laundry facilities, blacksmiths, schoolhouses and churches. Every type of building from the past with people dressed up from the time period. We also had an amazing snack-profitoljes (mini pancakes covered in butter and powdered sugar).
As we were walking around, the rain continued to get worse and worse and we made our way to the Pancake House for lunch (in the park) and then finished off the park with the creepy old hospital with wax figures that were so life like it was scary. And my favorite: replicas of houses through the ages-although one house wanted to show the plague so they had a replica of a dead baby in a casket which I found highly disturbing.
A train goes around the park, so to end our day we took the train around back to the front for a fun ride (and to get out of the rain). We headed back to the Farm after that before stopping to grab dinner to bring back with us. We wanted something quick and Dan needed rest so I ran into an Indonesian place to get take out. Imagine Panda Express-but all the food that's out isn't hot, so they microwave it and hand it to you. Yeah, it wasn't a good meal. Thank god for snacks in the room.
The next morning was Mother's Day and poor Dan was more sick now than when the trip started. Nathan and Dan brought me breakfast in bed and Nathan made me a lovely drawing and then we packed up and left for Germany. I know that Dan mostly had a nice time, but I am sure being sick made each day a little more difficult for him. Overall, I love Holland and I loved our farm-I just wish Dan had been able to enjoy it as much as Nathan and I did.
Our next stop: America!! Back to the states to see our families.