Lovely Ljubljana, Cozy Caves & ZZZZZ Zagreb
Stopping for just one night en route to Zagreb, we loved our quick jaunt to Slovenia's capital–lovely Ljubljana.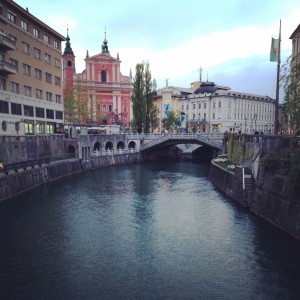 As Rick Steves notes, Ljubljana is a mix of cultures over time-and Vienna, Venice and Prague have the strongest influences. Rick Steves calls this city the "next, next Prague" (after Krakow). There are a ton of shops, a University, and loads of chic little cafes. It's crawling with young, hip people on bicycles with a river running through its pedestrian core.
After finding our hotel and checking in (no easy feat since it was in the pedestrian zone and we had a car), we were famished and wanted lunch before we took a walk around the pedestrian friendly center of the city.
We ate at Pri Vitezu, that had outdoor seating on the river, but the inside looked like an old wine cellar, so we chose ambience over people watching. They have a price fix lunch that includes soup, main and a dessert for nine euros and it didn't disappoint. Nathan gobbled up my tomato soup and a bowl of pasta while Dan and I got a delicious zuchini stuffed with cheese and beef. Dessert was a fluffy chocolate mousse.
Stuffed and ready to see the town, we headed out for some touring. And then we realized we had Nathan with us, who had no interest in stopping to see interesting sights and read a little history about it. We discovered city touring might be the most difficult with Nathan.
So after lots of coaxing, we gave him space to run around in four different spots while we tried to race through the history of each location. Coaxing Nathan back into the stroller to move to the next stop proved to be….difficult to say the least.
A quick run down of what we saw in 24 hours:
Preseren Square-heart of the city, surrounded by the Triple Bridge and Cobbler's Bridge
US Embassy-a cute building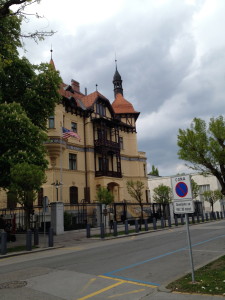 Serbian Orthodox Church-A stunning church built in 1936 after the Serbians and Slovenes joined politically. Since 1991, the Serbian population has been growing in Ljubljana. Nathan truly loved being in this church, so much so that he screamed bloody murder as we dragged him out! Sorry fellow worshipers….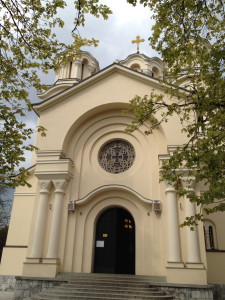 Congress Square-Huge pedestrian square that the University sits in
Ljubljana Castle-Castle on a hilltop that we took a funicular up to. 12th Century castle, that fell apart in the 17th Century and was rebuilt in the 1940's. We climbed the top of the tower and took some amazing pictures of the the City. We also took a quick trip through the little museum with a history of Slovenia that had  lots of kid friendly touch screen activities. Nathan played medieval Donkey Kong while we checked out this ancient relic: (oh yeah, it's a telephone)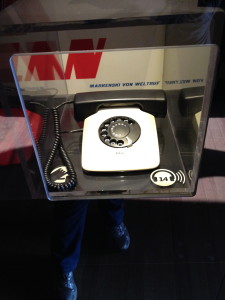 Riverside Market-We had lunch here the day we left town and it was so wonderful. I had the best pizza filled phyllo dough goodness while Dan had fried chicken from a food truck he said was outstanding. We also spent time looking at various stalls and buying little trinkets. A vibrant market filled with old time vendors who still believe in the goodness of fresh local produce.
Dragon Bridge-at the end of the Market is this intricate bridge.
Tivoli Park-We had so much fun in the gorgeous park. We watched a dog jump around in a fountain while his owner desperately tried to coax him out, Nathan threw rocks and chased flowers and pet puppies and Dan and I relaxed on a bench. We followed it up with taking Nathan to a playground within the park. Nathan had a blast until we forced him to leave and he had a massive meltdown. Traveling with toddlers is fun!
Cathedral-an Italian Baroque church that Nathan also didn't want to vacate once we were finished.
Twin Office Towers-about as ugly and communist as they sound.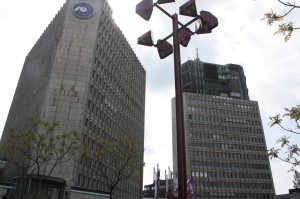 Slovenian Parliament Building-a gorgeous entryway in an otherwise low non-descript building
The beautiful cobble stoned streets of Ljubljana
Most of Ljubljana was built by Joze Plecnik. I think of him as the Frank Lloyd Wright of Ljubljana. He was born in Ljubljana and in the 1920's after making his mark in Prague, he was hired to redesign his hometown. He was an urban city planner ahead of his time and made this city simple, livable and gorgeous. Sadly, his home was closed for renovations so we could not tour it on our trip.
Since we were only in town for 24 hours and we already forced Nathan to a sit down lunch, dinner that night was quick and wonderful. We discovered these phyllodough masterpieces all throughout Slovenia and Croatia and I could eat one daily. The pizza one from the market was the best, but for dinner I had a cheese filled one and Dan had a meat filled one. Both were greasy, doughy goodness. We treated Nathan to some gelato and then strolled back to the hotel after a full day of touring and fussing. Nathan easily conked out while we sat in the interior courtyard and enjoyed our wine.
The next day we saw the rest of what I described above before heading towards Zagreb. But first, we were making a stop in the Caves. There are many caves in Slovenia. with amazing Stalagmites to check out. We chose Postojna because it had a train that takes you deep within the cave with a 90 minute guided tour to follow. It was the most "kid friendly"  caves around town. It's also the biggest tourist trap. Sometimes, when you travel with a kid, your best bet is the big tourist traps. They are easy to navigate but sometimes more expensive. Tourist traps: you pay for convenience to see the sights. On the way to the Caves we stopped at this Castle in a cliff:
Nathan was extremely excited about the train (we did NOT tell him until we knew it was happening-after the Julian Alps we learned our lesson). The train had nothing to keep Nathan from falling out except my arm clutching him for dear  life. As I held on, we traveled two miles deep into the cave seeing Stalagmites and interesting formations (and a random room with a giant Phantom of the Opera-esque chandelier).
Once the train stopped, there were loading signs for your language. We heded towards "English" and I told Nathan he had to listen to our guide, whom I referred to as a Teacher. To which the Guide responded brusquely "I am no teacher. I am only Guide." Ok, buddy, relax! Just trying to get the kid to pay attention to you and follow your rules. He also looked at Nathan very seriously and said "You know there are dragons in this cave and they eat children."  What the…dude, you clearly do not have a kid.
Luckily I have a funny kid and I looked at him and laughed and Nathan said "Nahhhhh!! There are no dragons!" He knew better. Then we started walking on up through the cave, which had these drop offs I wasn't expecting. Some had bars put up but most didn't, so I was kind of terrified Nathan was going to plummet. Have I mentioned how clumsy he is?
At one point, I tried grabbing him and he threw a big fit, while 20 people stared at us and the "Guide" continued talking. We moved on, nathan calmed down and we spent the next 90 minutes going up and down the gentle slopes of this amazing cave-which used to be the ocean. Geology is amazing sometimes.
We took the train back out of the cave and headed to Zagreb…but not before we tried Slovenia's national drink leftover from Communist time: Cockta. I have nothing else to say on that.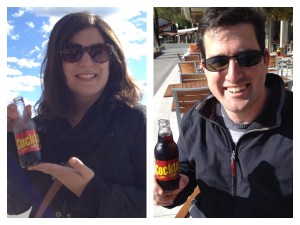 Zagreb is about 3 hours from the caves so we were there by dinner time. After checking in and racing to the phone store so I could get a Croatian SIM card for Dan and I, and grabbing some more phyllo dough treats for a quick dinner, we settled into our business hotel and Dan got ready for his work day in the morning.
The next morning as Dan headed to work, Nathan and I needed a day to do nothing. My goal was to do laundry and since we were in Croatia's Capital, I figured a laundromat would be easy. Apparently, everyone in Zagreb has a washer and dryer because there were NO laundromats within walking distance. I found out I could take the train, but lugging a suitcase full of dirty clothes and Nathan in or out of the stroller didn't sound like a relaxing day, so we skipped it and hoped we would find something in another town.
Nathan needed a day where we were not dragging him from tourist place to place. So we stayed in the room watching TV and playing until lunchtime. Our hotel was in the Main Square so we headed out to a bakery for lunch and the Cookie Factory for dessert and scoped out a little of the city. This is a city with no tourists and not a ton of sights. It's main square has light rail trains running through it and it's not a bad town, but not my favorite either.
Dinner that night was at a lovely white tablecloth place recommended by three different people. I had an excellent meal, as did Dan. Nathan was rested and well behaved!
The next day, Nathan and I explored a little more while Dan worked-time for a Croatian haircut for Nathan! He desperately needed one and his German haircuts have been failures, so I found a cute little place where two girls were so happy to take care of Nathan. Nathan on the other hand, was not prepared. He had a lovely freak out and a time out where I used every bribery tool in my book before he finally agreed (I promised him a new toy car, which I later for for fifty cents). So that was a fun cultural experience-for the hairdressers.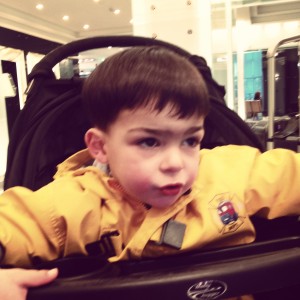 At the end of the day, when Dan was done working,  we headed up to see the Medieval town of Gradec. We took a funicular up and enjoyed the views of Zagreb from afar. This town was fortified in the 13th Century after the Taters ransacked the rest of Europe. This quaint medieval area even has gas-powered lamps lit by a city employee every night.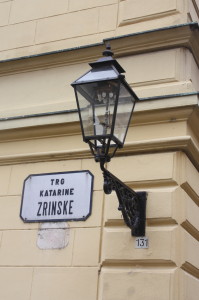 Here is the Church of St. Mark and a fascinating chapel inside the town's last remaining Stone Gate, along with the rest of the Medieval town of Gradec:
That was it for Zagreb, and we headed out in our stinky clothes, towards Plitvice National Park where we would spend the next 24 hours-but that's for the next blog! Thanks for joining me!