Five Hotels in 11 Nights: A Hotel Review
This trip was filled with five hotels, as we covered a large area in two countries over 11 days.
We always struggle with the decision on apartment vs. hotel and sometimes we just find a hotel with a balcony and that's enough for us to get Nathan to bed where we don't have to sit in the dark at 9PM and stare at the ceiling.
This trip we had two hotels that weren't ideal with a toddler, but they were necessary and they worked out mostly fine. So here is my review on the five hotels we stayed at and why they worked as a Family Traveler or why they did not! Enjoy!
Lake Bled, Slovenia
Mayer Penzion
www.mayer-sp.si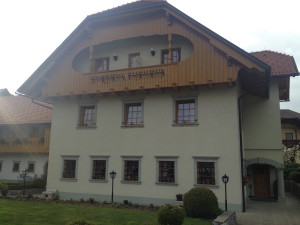 We debated this one for a long time. We wanted to see all of the Julian Alps and thought we should stay more central and take day trips around the region, but we couldn't decide what exactly was central. If we stayed in one place for four days and day tripped to Ljubjlana and Lake Bled and various parts of the Alps, we would be spending each day in the car for a minimum of two hours. In the end, hotel switches just made more sense-instead of backtracking. In fact, our last day in Lake Bled, we spent 8 hours driving around and hiking through the Julian Alps and at the end of the day we had to drive 2 hours BACK to Lake Bled on a treacherous mountain road and we were kicking ourselves for not spending that night in the Alps in Kobarid (a small quaint town).
Mayer Penzion is a lovely, charming B&B run by a super nice family. Its location is ideal and one of the nicest looking B&Bs and hotels in Lake Bled. Lake Bled is idyllic but the hotels and the town of Bled are actually quite ugly. This B&B is located in Bled, but on a hill overlooking the Lake and we had a Castle View which was wonderful. The room was fairly spacious for Europe with a balcony that we could sit on while Nathan fell asleep.
The room was decorated in what I consider Alpine adorable. It was all light wood and clean and it felt good to be in there. Nathan was able to sleep in a European pack and play-which means it's twice as big as an American one and has an actual mattress and they provide a pillow and blanket. I love European pack and plays.
Breakfast in this hotel was the highlight for me. One of the owners made us fresh scrambled eggs every day and she had freshly baked pastries, fruit kebabs, a cappucino machine and various homemade fruit smoothies, breads and yogurts. It was such a nice spread and varied every day. She also laid out fresh apples in the lobby-which were lifesavers on our hiking day when we couldn't find anywhere to eat. Overall, I would highly recommend this B&B if you plan on staying in Lake Bled. It's also reasonably priced (Spring being much cheaper than summer we only paid about 75 Euros a night).
The B&B also had a little TV room that Nathan found was great for coloring and getting away from his parents. There was another little girl there as well, and they were able to run around together-language barriers mean nothing to my kid these days!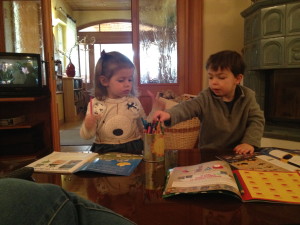 We were able to walk to the Lake and all the eateries in town in about five minutes and they have a little parking lot for about a dozen or so cars. They also have a restaurant for dinner in the hotel. We ate there on the first night and found it fairly decent-but a little over priced. Of course, most things in Lake Bled are over priced because its a tourist mecca.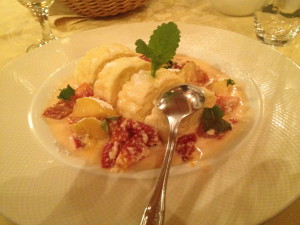 This B&B is good for anyone-families, honeymooners retirees, singles, etc. HIghly recommended by the Family Traveler!
Ljubljana, Slovenia
Allegro Hotel- www.allegrohotel.si
Ljubljana is only 45 minutes from Lake Bled but we were heading towards Zagred for Dan's work, so we decided backtracking was pointless and we would spend one night in Ljubljana before heading to Zagreb.
Since we would only be in town for one night, it was vital we stayed in the town center, walking distance to everything. We wanted to get the most out of our short time there. We chose Hotel Allegro because it was described as a Boutique Hotel, and it didn't disappoint!
Our room had one queen bed and a couch that turned into a bed-like a giant thick futon for Nathan (again far more comfortable than a pull out couch or futon in American hotels). We requested a room with a balcony instead of a room with a view of the pedestrian zone due to the Nathan factor. The balcony was actually a lovely little courtyard in front of the room facing the rest of the hotel. We were happily surprised by the space and privacy of this "balcony." I mean, anyone could see us, but no one was out and it felt unique. The room itself was in a need of some minor updates-the carpet was really worn down and the towels were like sandpaper. Also, Dan and I differed on our opinion on the decor of the room. I liked the gaudy gold and he thought it was too much. It was busy but made I thought it made it look romantic.
The location was pretty perfect in the middle of the pedestrian zone-however as we were driving in our own car, we did have trouble finding it at first. The hotel didn't provide the best explanation of where to park at check in before they gave us our reserved parking spot. The reserved parking spot which cost 10 Euros a night was on a street and we had to parallel park in a tiny spot with our big Santa Fe. We made it work, but we did struggle. Other than that the location was perfect. But you will pay for location in the pedestrian zone. With parking, our hotel was about 130 Euros for the night. I recommend the splurge because of the location.  Breakfast was included and it was basic-hot food always a plus with eggs and sausages along with toast and pastries. The hotel staff were all incredibly pleasant and I would stay here again.
Zagreb, Croatia
Hotel Dubrovnik- www.hotel-dubrovnik.hr
**Oops, I forgot to take pictures of this hotel***
This was the first of two hotels where Dan and I had no escape at bedtime. We spent two nights here for Dan's work and it was a lovely business hotel located in the pedestrian zone of Zagreb (again hard to find when in the car and looking to park for check in!). The hotel has a private parking lot (also not explained very well until you arrive). The hotel itself is lovely and huge. The rooms were updated and modern-and our smallest of the trip. We had a large queen bed and a european pack and play. The colors of the room were rich and warm and modern. I loved the location. Outside of the small city center looked like a city I wouldn't want to visit, so staying within the pedestrian zone (which is huge), made me feel safe and easily accessible with Nathan (I was only for two days making this last point extremely important). Overall, it was a very nice hotel but I always prefer having private space so we can put Nathan to bed-but we really didn't have many options. The breakfast spread was pretty good as well-including odd items like roasted peppers and chicken-for breakfast!? If staying in Zagreb I would recommend it for couples and business travelers mostly, but it will do in a pinch for families. There is absolutely nothing wrong with this hotel-and the staff were super helpful to me.
Plitvice Lakes National Park, Croatia
Hotel Plitvice- www.np-plitvicka-jezera.hr
Oh boy, what to say about this hotel. I worried the most about this hotel. The National Park is in the middle of nowhere and for convenience sake, it is much easier to stay in this government run hotel than anywhere else. When we looked online at the photos of the three hotels, this looked the best (even though the older smaller one had a balcony). I was actually pleasantly surprised by the room itself, but that's about it.
I was expecting a really run down old hotel, but actually it's quite clean and all the furniture is in pristine condition. Nathan had another giant futon couch to sleep on (which he thought was "too big.") The decor was 1960's, which I thought was funny but I actually kind of liked it-in a weird way. The room was also huge-the bed wasn't that comfortable but it wasn't bad. We had a nice view of the National Park-which couldn't be beat-with huge windows. We only stayed for one night and we thought it would be totally fine-this part exceeded our expectations.
However, since we were out in the middle of nowhere, food was an issue…so we booked half board at the hotel, meaning dinner was now included. This may have been one of the worst dinners I have ever experienced in Europe. Nathan's soup was probably the best thing we had. The spaghetti was plain, the vegetables definitely came from a can, the chicken kebabs were as dry as sawdust, the french fries were plain and dry (how do you mess up french fries?!), but the dessert was the worst part-Dan ordered the "stewed apricots" which was actually a bowl of canned pineapple. I ordered chocolate torte which was a dry piece of cardboard with old whip cream. I can't emphasize enough how bad this dinner was. Breakfast was equally as bad. Luckily there were bananas-a good bet to eat when everything else looks scary. This hotel was anecessary to have easy access to the outstanding sights and the hotel itself was fine-just don't expect good food. You have to stay at one of these hotels if you want to experience Plitvice.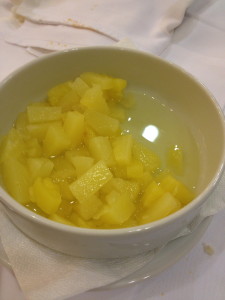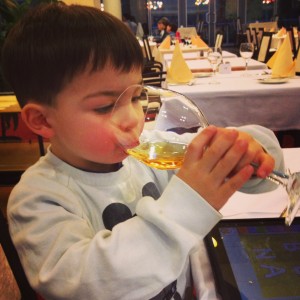 We were very happy to leave this hotel and head to the place we had been waiting for….the hotel we had been looking forward to the most….
Rovinj, Croatia
Trevisol Apartments- www.lvi.hr
When you go on this website there are five apartments to choose from-I chose the newest one with the most modern furnishings-but I really picked it because I saw this on the website: (This is the picture I took)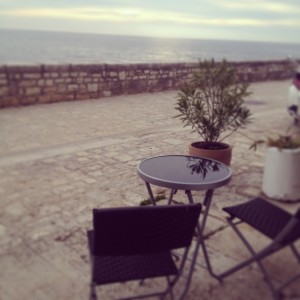 I wanted that view more than anything. This apartment was on the Sea, along the pedestrian zone (another interesting adventure to get here). This time, the manager met us at the entrance to the pedestrian zone and we followed him in our car through the cobblestoned streets to the apartment so we wouldn't have to drag our suitcases. We were able to park in front for an hour and unload and then he took us to a private lot that was included as part of the hotel.
This apartment did not disappoint. It was modern, new and stunning. It had one bedroom with no door, so when we went downstairs while Nathan slept, it lit up the bedroom-so we moved outside to those seaside seats. The first morning we could hear people upstairs but the next two days they weren't there so it was silent and peaceful. Nathan slept in a European pack and play in our room and we had a bed that literally looked at the Adriatic. It felt like being on a cruise ship, because you couldn't see the ground outside from the bed. It was amazing.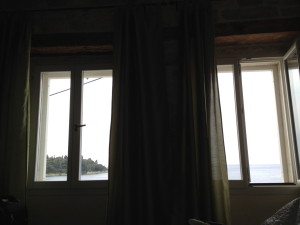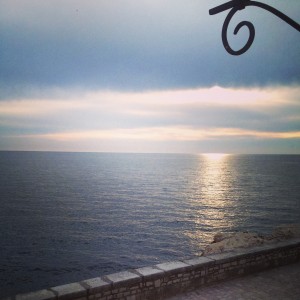 It was in the heart of the city as well. We had food from the local grocery store and bakeries for breakfast (no easy feat on Easter weekend), but as much as I miss an included breakfast, we were ready for Nathan to watch TV in his pajamas while we had coffee at the kitchen table. It was just easier. Good for the end of the trip-we had the most space and we could relax. I highly recommend this place-or any of the apartments all located in the pedestrian zone of Rovinj.
The manager was super nice and friendly and in low season we got this huge apartment for 75 Euros a night! A steal!!!! I can't express enough how much I liked this place. There wasn't a bath for Nathan but there was a heavenly rain shower for me-which Nathan found a little scary but funny too.
Five hotels and 11 nights of a wonderful trip! Next up: My Lake Bled trip report!