The Dolomites, Death Mountain & Nathan's 3rd Birthday!
Dan had a work trip near Milan around Nathan's birthday and as we had originally planned Disneyland Paris, we knew it would be silly to make a 7-hour drive from Italy when there are so many beautiful places nearby.   So we quickly scrapped our plans and started looking at maps. And looking. And looking. Dan and I aren't the best decision makers. There are a plethora of locations-all equal in beauty between Wiesbaden and Milan and we couldn't decide. Ultimately, the decision was made for us by lack of hotel availability and cost of last minute booking.   At one point, we were going to Verona and Lugano. And then Bolzano & Appenzell. And then Berner-Oberland and St. Moritz. There were too many choices! (What a problem to have, right?!) The ultimate first-world problems….   Well, ultimately, we decided the Dolomites were the most important aspect of the trip and we really wanted to see those.
We finally found an Agriturismo about an hour from our original destination choice but we were not disappointed!   The 7-hour drive to the Dolomites took about 9 hours with stops and it was a long day but Nathan was a rock star. He is a super star traveler these days in the car and can keep himself occupied with naps, milk, singing Disney theme park attractions songs at the top of his lungs and of course, the iPad. Anyone want to hear "It's A Small World" again?! Again!? And again.,….No, it didn't drive me crazy AT ALL. Not. At. All.
We arrived at the Farm about two hours before dinner so we relaxed and Nathan jumped on the trampoline-a good post-long drive exercise for anyone! That night was dinner and bed basically! (Read the hotel review for more on the fabulous dinner).   Our goal was to see and hike in the Dolomites.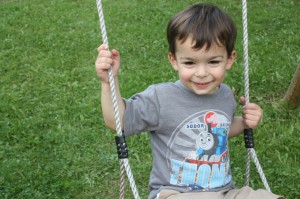 The next morning after breakfast we took an absolutely beautiful scenic route to the town of Castelrotto. We drove along hairpin turns, weaving around buses and cyclers (how do they cycle up and down those mountains!?). The views were gorgeous and we made some photo stops along the way:
After about an hour, Nathan fell asleep five minutes before we arrived in Castelrotto. The plan was to grab lunch there and then head to Alps Di Suisi for hiking. Nathan had other plans.   In what would be his only meltdown of our entire trip (not bad!) it was a fun one. The trigger: just falling asleep and being tired and cranky from a nap cut short.   He started with whining in the stroller through the town to downright SCREAMING about wanting to go inside the town's church to see the church bells (his favorite thing to visit is churches and church bells). When is became obvious this was a nuclear meltdown of epic proportions that had no end in sight we decided to end the visit and go back to the car. My last attempt at redirection was buying a gelato-but he didn't want it so I ate it.
It wasn't that we wouldn't take him inside the church, we looked at it and took pictures and then we wanted lunch and we didn't want to give in to his demands of "go back! Turn around! Go that way!" because, well, we don't want to raise a kid that thinks he can boss us around all the time. So we ended up with lots of people staring and giving us sympathetic smiles. It was a very quiet town and I'm sure everyone could hear us.
Castelrotto:
Back at the parking garage….Nathan refused to get back in his carseat so I let him sit in the back of the SUV until he calmed down. We were in that garage for a looooong time. I finally got him to a calmer place and we headed to the Alps Di Suisi. Castelrotto was a great town! Highly recommend…oh wait..I don't actually know.   In the ten-minute drive to the cable car that would take us up to the mountains, Nathan finally calmed down and we all snacked in potato chips since now none of us had lunch.
The sight of the cable cars was the perfect redirection and his attention was fully focused on how high we were about to fly (as was mine but for different reasons!). The cable car to the top of the mountain was a lot higher and longer than I had thought and at certain points I was a little nervous-but we made it and Nathan was loving every minute of it.
When we made it to the top we realized we hadn't really thought about where to hike! Following a shortened version of a Rick Steves hike-we made our way to a ski lift (large openings by your legs where I felt Nathan could easily fall out of) but he sat quietly as I quietly gripped his shoulders for dear life. He didn't move and we safely made it up yet another mountain.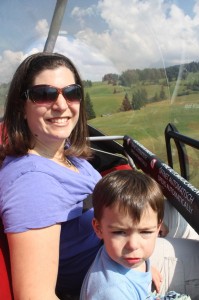 At the end of this ski lift was a playground and some llamas, and more importantly, food. Nathan played while we ordered some sausages and cheese. This was the most beautiful backdrop for a playground-ever!
Unfortunately, we were running short on time at this point because we had an hour or so drive back and had to be back for dinner. So instead of hiking up higher, we decided to skip the ski lift and hike back down to the cable cars. It wasn't exactly how we wanted to see the Dolomites, but with Nathan there is only so much actual "hiking" you can do. He moves at two paces: snail and crazy. When he is snacking or drinking he barely moves otherwise he is all over the place. So we knew it would take about 45 minutes to get back down and we could see beautiful views along the way. It was a good move and we all had fun. Here are some pictures of the hike down:
Making our way back to the car we stupidly decided that we should go back to the hotel another way. The views were gorgeous but we thought maybe we could get some better views another way. Google maps showed three routes: the original way, the highway and the way of death and destruction. Can you guess the route we chose?   Since google maps doesn't really tell you that you are about to drive on a one-way two-way mountain ridge for 90 minutes, we had no idea what we were in for! Making our way towards the Dolomites, we thought we would follow the highway all the way back and we were becoming disappointed and thought the drive back might be boring.   We were so very very wrong.  I was wishing and praying for boredom.
We turned into the mountain and headed up this two-way road that clearly only had enough room for one car-and we were driving an SUV. Any car coming towards us would be head-on and there were minimal pull offs to let any car pass. We weren't sure how long this scary road would go for, but about 15 minutes in we realized from the map that this road led all the way back to our hotel and we were in it for the long haul. 90 minutes on the scariest road ever. At one point, another car headed towards us and we had to reverse on a mountain ridge. Let me repeat: reverse on a mountain ridge. THE EDGE OF A MOUNTAIN! I have never gripped a seat so hard for so long. (um, the whole drive)   Just thinking about it gives me stress. Every time we would go down the mountain and thought we were out of the woods, the road would creep back up and we would get higher and higher. We were going through the heart of the Dolomites. The views were outstanding but hardly worth it. I couldn't take a picture. I couldn't take my hands off the seat!   Nathan was sleeping for the majority of this drive and I desperately wanted to be in his sleep-induced oblivion. Poor Dan had to be the driver and we went back and forth between laughing hysterically and almost crying. It's how we deal with scary situations I guess!   We drank two bottles of wine that night. Yup. Not much more to say about that.
The next day, we didn't feel like venturing far from the Farm (surprise!), we had scary drive hangover. So our hosts told us about a 20 minute drive where we could find a cable car to another beautiful mountain ridge with hiking.   The drive was easy but the ski lift up the mountain looked a little scary. It was another one with the big spaces between the bar and your legs that looked like Nathan could just fall out of, so we closed the cover and I gripped Nathan's arms again. He was happy as a clam.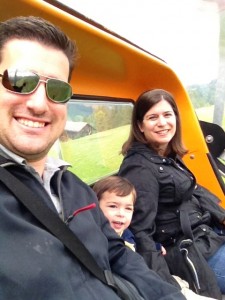 When we made it the mid-point (we paid for the second lift to take us really high) we recognized that we were too chicken to go any further. The second lift looked even less secure (is that possible?!) for Nathan and there were three playgrounds, hiking and food at this drop off.
Nathan quickly found a bounce house and swing and made himself at home. But since he is a toddler, he also couldn't sit still for too long. He wandered over to a long slide, that in retrospect was too narrow, and high for Nathan. But he was excited so I took him up the ladder while Dan waited at the bottom. When I climbed the ladder I thought it looked a little deep and long for him—but before I could jump on there with him-he went by himself.   I could see Dan snapping away—and then I saw what no mother wants to see…Dan's face changed from a smile to an "oh shit" in 3.2 seconds. I couldn't see Nathan but I could hear the crying. I ran down that hill pretty fast. He had fallen off the slide from pretty high up and Dan had actually snapped a photo of the moment it happened.   I'm glad I didn't see it because Dan described it as Nathan tumbling off the side onto his head and rolling. It could have been much much worse than a bloody lip. No one came to see if he was ok but plenty of people were around. We were pretty shaken and Nathan was hysterical.
Later that night we had a few moments of panic when we thought he had a concussion and I overreacted to his deep sleeping (I thought he wasn't breathing). But he was totally fine and over it quickly. (Although he still talks about it "I fell off the slide")
We went to lunch after that so we could relax and Nathan ate French fries and played on his iPad-I would have let him do just about anything at that point.   After lunch we tried hiking but Nathan started limping and wanted to be carried. We could only hike up and down so far this way, so we found a waterfall and some pretty views and then headed back to the ski lift.  More pics from the hike:
Going down a ski lift seemed scarier since you are pointed down and it stopped suddenly twice! When a ski lift stops suddenly, it does this crazy swinging for what feels like an hour (but is probably 3 seconds!). And you don't know why it stopped-you only know you are high up and this isn't a Disney ride with cast members. There is one guy at the bottom. Turns out it stopped for some cyclers to get their bikes off the lift-but we didn't know that for the 3 minutes we were stopped. Dan and I were really very much done for the day. We headed back to the farm so Nathan could jump on the trampoline and get chased by the donkey. And so we could have more wine. Dan and I are not outdoorsy types. This is now blatantly obvious.
We were sad to say goodbye to our Farm the next morning. Here are a couple more pictures of the Farm:
The next morning we woke up and slowly made our way to Novara, (the town near Milan for Dan's work). We stopped on the way out of the Dolomites to buy apple juice from this wonderful farm and we stopped in Bolzano for lunch.   Bolzano is a lovely bigger city located in the mountains and is much more Italian feeling than the Dolomites. The south Tirol (where we were) is much more German-Austrian centric. All the signs are in German and Italian and the people speak a third language that is a combination of the two. Our host at the farm wore a drndl and you really felt more like you were in Switzerland or Germany than Italy. It's very different than what most people think of when they think of Italy.   Bolzano is still in the Dolomites but felt slightly more Italian to me-maybe because we had pasta and gelato for lunch and chased pigeons around a fountain! It was a nice town to stop and see for an hour.
We finally made our way to Novara and I don't have a ton to report about our five days there. Dan was working and I was entertaining Nathan. There was a huge playground called Bambino Park where Nathan acted like a real tough guy, marking his territory. I was highly embarrassed by Nathan's out of the blue behavior of hitting and pushing all the kids. One father had a "talk" with me after Nathan smashed a car on his daughter's forehead. Nathan was having a timeout when the dad came over to "talk." He pushed one kid a day I think. I was so much happier to show up at the playground to find no one there for Nathan to torture.
Nathan and I both got haircuts while in Italy as well and ate lots of pizza, gelato and Italian cookies. I could eat like that every day. The food was amazing. I had nothing bad.
Nathan and I entertained ourselves at the playground and the pedestrian zone as well as lots of relaxing in the room to Italian Disney Junior. Mickey Mouse is called Topolino and Goofy's name is Pippo. I bought these shirts there because I loved the different names! (In Germany, Mickey and Goofy keep their names).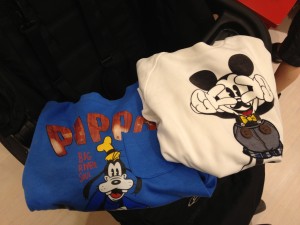 Nathan even learned how to do the Paseo (evening stroll):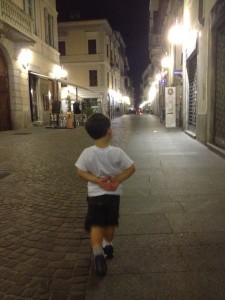 And it rained: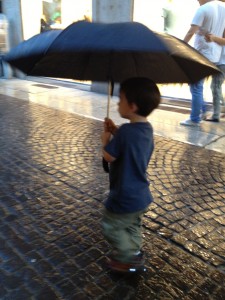 And Daddy rested: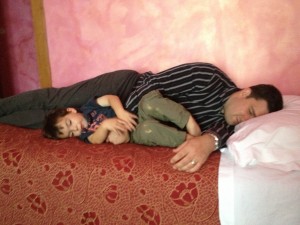 And they had Disney stuff:
After leaving Novara, we were ready to have Daddy back with us and celebrate Nathan's birthday! We headed to Switzerland to stay near Gruyere-the land of cheese!   The drive took us to a tunnel that cost us 25 francs just to have the pleasure of driving it!!!! Prior to entering the tunnel we were very high up-on a wider road-nothing like Death Mountain from the other day-with some pretty spectacular views.
But I was happy to be in the tunnel for awhile because you have no idea how close to a cliff you are.
Our hotel was five minutes from Gruyere, so we went there the first night for dinner and had amazing fondue and raclette. We had no idea how to eat the raclette…but it literally melted before your eyes and you scraped it off and dipped bread, potatoes and pickles in it!
The town of Gruyere is beautiful and touristy for a reason. We didn't spend too much time there-we just took in the views and then headed back to the room to go to bed. Some pictures of Gruyere: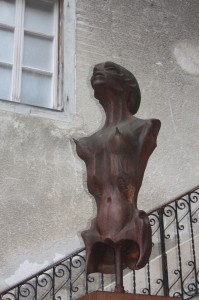 The next day was Nathan's third birthday!   We decided a trip to the chocolate factory and cheese factory was in order for the big day! Nathan was very excited and the chocolate factory didn't disappoint him. The walk through of the factory felt more Disney and less Willy Wonka (where is my golden goose!?) and Nathan wanted to go through the "ride" again as soon as it was over. They take you through various scenes of the history of chocolate-it starts off very Tiki Room like and ends like Spaceship Earth. (for the scenes anyway-no moving vehicles) At the end, in my very favorite room on the planet-is all the chocolate you can eat. You can stay in that room and sample chocolate all day long. Nathan didn't want any of it! (Definitely not my kid!) but I kind of made myself sick trying every single type. And then of course, we bought some.
Nathan had a nap and then we headed to the cheese factory which wasn't nearly as fun. You get a sample of cheese (but even if it was all the cheese you could eat-it's not chocolate!), and then you walk through one little section and listen to Cherry the Cow tell you about her life. It's not a interactive for kids Nathan's age. It's just an audio guide and reading-whereas the chocolate factory was an experience.   We watched a guy slowly and painfully do something with the giant pot of cheese but Nathan quickly became bored so we ended up in the gift shop (of course!). We ended up buying cheese, meat and crackers and made it our lunch and headed back to the room for awhile before dinner.
Nathan's birthday dinner was back in Gruyere in a room with a gorgeous view and a million flies. They must have had the windows open during the day and then shut them with all the flies trapped. They were everywhere. I couldn't stand it. But the food was decent and the view was awesome.   They didn't have cake but they had Mickey Mouse clubhouse ice cream and they brought us a candle to light-but not to go in anything. So I held one candle and we sang to Nathan and he loved it.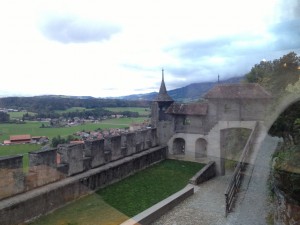 We wandered around Gruyere one more time before heading back to the hotel for our last night.
We saw this awesome motorcyle: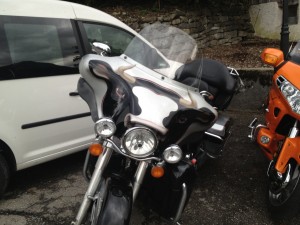 And a new friend: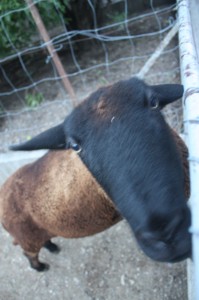 Opening Presents:
The next day we drove five hours home in an uneventful drive through no mountains. It was perfect.   Our next trip: America!