The Agriturismo, The City Hotel & The Boutique Hotel: A Review
Our trip through the Dolomites and Switzerland took us to three very different hotels this week. Have fun reading my review of all three hotels below!
The Dolomites
Ciasa Pradl
Rick Steves recommended the area of Castelrotto and Bolzano to be close to some beautiful hiking. However, we booked this trip pretty close to the dates we were leaving and we couldn't find a single room. So we expanded our search to include Agriturismos.
An Agristurismo is an Italian farm. Starting in the 1950's, farming in Italy became less and less profitable and less people were farming. But in 1985 a new law was written to define farms as vacation destinations and a new form of tourism was born! These farms are very family oriented and most serve dinner from their local produce and products.
We chose one we found on www.agriturismo.it and the farm was called Ciasa Pradl. (www.pradl.it) We chose it based on reviews and their website-a complete leap of faith as we had never stayed on one of these farms before. It was a delightful surprise!! I highly recommend a stay at an agriturismo—and if you are visiting the Dolomites with a car come and find this place!
We stayed for three nights, but they didn't have a balcony room the first night so they gave us the cheaper rate for all three nights and we were able to move to a bigger and better room with a balcony and view for the last two nights.
The lands and the house are beautiful! Upon arrival, we were greeted by Bernie the St. Bernard and Lokey the Donkey (who had a tendency to try and eat your shoes). The first human to greet us was Giovanni, an extremely nice guy who showed us to our first room. His parents run the farm-his mother cooks all the meals and mother and son are really host and hostess of the farm while the father works the farm. Giovanni knows his wines and speaks perfect English (which was a help to us since most of the tourists there were Italian). Everyone was very friendly and helpful.
Our first room made good use of a small space. The room was in typical alps fashion-all light wooden furniture and floors. Everything looked clean and sparkling.
Our second room was much larger with a bed in the center of the room and a balcony with gorgeous views. The balcony made life wonderful at bedtime as we were able to put Nathan to bed and sit out there with a bottle of wine and relax. The only tiny negative for us, our room was next to the playroom so all the kids/families were in there playing boardgames and tended to be loud while trying to put Nathan to sleep. However, both nights the families were gone by 10PM and Nathan slept through it anyway.
The farm is so fantastic for families-I can't recommend it enough. This particular farm had a trampoline, slide, swings, soccer field and a kids tractor. Nathan never tired of that trampoline and it was a hit with the other four kids as well. Nathan also really liked being able to pet the goats and see roosters and play with Bernie. He was less excited when Lokey chased him! (But he still talks about how the donkey tried to eat daddy's shoes, so as long as the donkey was torturing someone else-he liked it).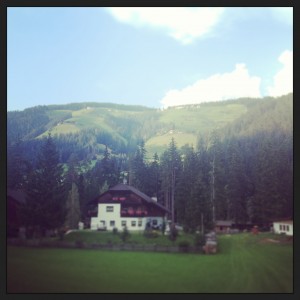 Dinners at the farm were amazing, breakfast was just ok. We paid for dinners to be included and it was totally worth the extra money-we didn't have to find a place to eat and the food was mostly outstanding! (Sunday night was Giovanni's night off and we noted that the food that night was pretty plain). We're not sure if he is the reason or if that was just a coincidence! Dinner was served at 7:15PM and they would ring a bell to call everyone to dinner at once. They have about 7 hotel rooms I believe, and they were filled that weekend but the dinner room never felt loud or crowded. Nathan sat through dinner (with the help of his ipad and his cars) and we never felt like dinner took too long-for Europe it was downright fast!
The meals varied-with a pasta dish first followed by a meat dish and then dessert. The first night was by far my favorite with a spinach and ricotta ravioli followed by a pork shank-glazed in something spectacular with fried potatoes and a donut filled with jam for dessert. Nathan is allergic to pork so he just ate the pasta and they brought out fresh mozzarella for him as well.
The second night we had gnocchi with spinach and ham (Nathan's came out plain) and a beef and fried potatoes meal with a lovely rich sauce over the beef. Dessert was a jelly cake-yum!!
The third night was disappointing with plain boiled potatoes and a beef with no sauce. The pasta dish was risotto and I can't complain about that-it was very good and very filling-so I didn't each much of the main course anyway. The dessert was peach pie though and that was delicious.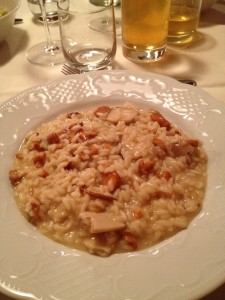 Breakfast was not as exciting as dinner, with minimal meats and cheese, bread I didn't like and very fresh yogurt that I covered in honey (to hide the lumps!!). They had some fruit and you could hard boil an egg as well. Actually the best part of breakfast was the fresh apple juice. It was so delicious that we took a side trip on the way home to buy two giant boxes from the local farm that makes it!!! It was the best apple juice!
The Farm also had a sauna but we didn't test it out. They provide big thick robes at a price for you to use if you use the sauna.
This farm didn't have a view of the Dolomites but the view was gorgeous so I couldn't complain. It was 20 minutes from good hiking and an hour from where Rick Steves recommends. You definitely need a car to stay here. I highly recommend it here-especially if you have kids!! The Family Traveler's perfect hotel!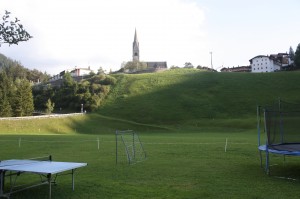 Novara, Italy
Hotel Europa
There isn't too much to say about Hotel Europa. We stayed here for Dan's work so we didn't have much of a choice, but I found the hotel quite delightful! We stayed five nights and while it was a completely different experience than the Farm, it was still a nice hotel close to the center of the city.
Novara is near Milan and it's a small city with a great pedestrian walking zone. This hotel is located within five minutes of this pedestrian zone. Our room felt very Italian with its pink faux marble painted walls and black faux marble floors. It had a very modern TV with a SkyTV box-which was fantastic because it came with Disney Junior in Italian AND English! (very helpful after 3 days of trying to entertain your kid all day).
Our room was located on the street side and we found the windows to be very soundproof! The hotel also has air conditioning, but it only made one part of the room cool so it was just ok. Opening the window was too loud at night and Novara has a healthy number of mosquitos so the room could feel stuffy at times-the weather was still fairly warm.
Breakfast was fantastic if you like pastries in the morning! (Who doesn't?!) I had Italian cookies, jelly tart, and lemon pound cake every morning (I made up for all the sweets by having kiwi and red grapefruit juice-that's healthy right!?). Nathan stuck to pound cake, bananas and applesauce. (What kid would refuse pound cake for breakfast?!)
The two ladies who ran the front desk were always friendly and helpful and spoke English. The hotel had free wifi as well (it dropped out a lot but was better than the Farm!). We were able to Skype our parents twice so the internet was fast enough for that. If you find yourself in Novara, I would recommend this hotel.
Gruyere, Switzerland
Hotel Broc'aulit
 This hotel is actually located in the town of Broc, about a five minute drive from Gruyere. It is French Switzerland and the name of the hotel is a play on the word Broccoli (I asked). However, there is not a broccoli theme to the hotel-(come on, just put one picture up!).
Switzerland is very expensive and Gruyere is no exception. A very touristy little town, there were no rooms available at the last minute (2 weeks before). We weren't quite sure where to go after Novara but we knew we wanted to spend Nathan's birthday in Switzerland, somewhere. (We had to cancel Disneyland Paris due to Dan's work trip) but we still wanted to make Nathan's birthday weekend fun-even is Mickey wasn't involved. We looked at St. Moritz, Appenzell, Berner-Oberland and a few more. We were ready to pull our hair out as all hotels were either booked or outrageously expensive.
We finally found a compromise in Broc. The hotel is listed on Trip Advisor as the #1 hotel in Broc and it didn't disappoint. It was still pretty expensive (it's Switzerland after all) but not as bad as Gruyere. The hotel is located on a busy street, but we were able to get a room on the view side (sadly no balconies were available). We had a fabulous view of green pastures and Grueyere Castle in the distance. The mountains were covered in beautiful clouds and blue skies. It was a stunning view. The hotel entrance was incredibly French. Decorated in the feminine French décor with a piano that Nathan discovered on our way out! (He found the noise very exciting).
The hallway to the room was the opposite of French décor with a super modern white staircase lit up in blue florescent lights. It was definitely different! I felt like I was walking through a black light club. The room itself was more Swiss alps with French flair. It was all white with light wooden floors. We didn't have a bath for Nathan-just a shower closet. Another hotel with free wifi which worked great-as we had to FaceTime and Skype everyone for Nathan's birthday.
The best part of this hotel was it's breakfast. There was fantastic jam, fresh croissants, meats, cheeses, mini jelly donuts, chocolates, fresh fruit and nutella.
Views from the room:
This is another hotel where you need a car. If you are coming to see the cheese or chocolate factory or Gruyere, everything is within a five-minute drive. I would definitely recommend this hotel as an alternative to staying in Gruyere-but try to get a balcony room! We loved our room but it would have been that much better with a balcony.
Up next: The Dolomites & Death Mountain-a Trip report