Five Hotels In One Week!! Hotel Review
We had planned on four hotels-which seems excessive for 8 days—but a heatwave through Germany (hello 98 degrees with no AC) caused us to rethink our plan. We were already traveling, so we extended our trip by one day, found a hotel with AC and free wifi and hunkered down in the cool comfort of refrigerated air.
Alas, I get ahead of myself….here is a breakdown of the rest of the week and the hotels we loved and loved to hate.
Aparthotels an der Frauenkirche
Dresden, Germany
These apartments are located in the center square of Dresden and the one we stayed in was roomy, beautiful, modern and had a view of the Frauenkirsche church. We were immediately surprised by the size of this room for the price we spent. There was a dining room, kitchen and huge living area with a bed and couch for less than 100 Euros. We probably could have put Nathan's pack and play in the dining room to give us a little separation but we decided to just keep his crib at the edge of our bed.
The positives: the view of the church, the size, the location, and the price.
The negatives: the proximity to the church, the location and the stuffiness of the room in hot weather.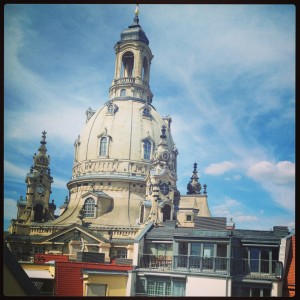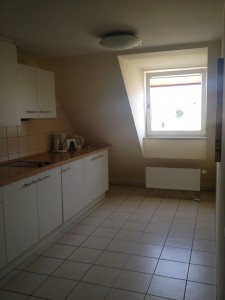 Some of the positives and negatives are the same, I know, and I would still highly recommend this hotel but here is what happened. The church bells go off a lot and being so close to the church, you hear them every hour throughout the night! I slept through most of the late night ones, but the 7AM one woke up me—and any light sleeper may not appreciate this. Additionally, we had to keep the little windows open because it was extremely hot-top floor equals stuffiness in the heart of summer. The windows allowed for lots of noise to enter the room and didn't provide a big breeze. We stayed on a Saturday night in the summer, so naturally a concert was taking place-and it started at 10:00PM, we could clearly hear he crowd cheering and the music. So we were hot and had trouble sleeping BUT this is such a beautiful place with great prices in such a perfect location I would recommend it-but maybe in the fall, winter or spring when you don't necessarily need the windows to be open! Despite our lack of sleep, we really liked this hotel. Also, great for small families-one or two small children could sleep on the couch and pack and play with plenty of space. Bonus: free wifi!
www.homeaway.com
Apartment in Krakow, Poland
We stayed in Krakow for three nights and we had heard that anywhere close to the center of the square or near Kazimierz in the summer would be loud because of all of the late night partying that's happening. If you are there without a family and are there to party-then maybe I would recommend a hotel closer, but for our purposes, this two-bedroom apartment was perfect. We found it online at the website listed above, it doesn't have a name, per se, so it's hard to list that.
We were able to park the car directly in front of the old mansion building the apartment was housed in because it was the weekend, we didn't have to pay the meter. The old mansion building was described as being renovated and while I could not see any renovation happening, it was in desperate need of it. I was a little wary walking in because it seemed a bit dilapidated to me. The apartment itself was newly renovated so it was fairly nice inside and a perfect size for us. Nathan had a room to himself with two single beds, we had a room with a queen and then there was a living space with a couch, TV and kitchen and bathroom. It wasn't huge, but it worked. The "recent renovations" to the apartment could use an update as it was a TV from the early 90's and the couch was a little scary with, what I would call, a dust cover, on it. Also, it didn't come with basics like pots (we needed to cook our periogis in a pan because we couldn't boil them).
A fan was provided in one room and with the huge windows, a nice breeze left us feeling cool in the hot weather. The price was pretty decent but Poland is cheap and I felt the 113 Euro price tag per night could have been marked down compared to other places, but overall, it was still a good deal for all the space we had. It was a good 10-15 minute walk to the square and we still heard some late night partiers, but mostly it was a quiet street. Overall, I would probably stay here again, but with so many options I might look for something cheaper and slightly closer in the future. The owner was extremely nice and gave a ton of information over email, but she lives in London so we met with her property manager. He was very friendly as well and provided us with some advice on SIM cards and food recommendations. Side note: he wanted a 60 Euro deposit that we would get back upon leaving but because he was so busy on our check out day and wouldn't be able to come back, he didn't ask us for the deposit. We also paid in cash upon arrival. I thought the deposit was a little odd and I was happy we didn't have to pay it. We also paid a couple euros for wifi and it worked great the first night and the last two nights it was totally worthless, not really sure what happened!
The Ambassadorski Hotel
Rzesow, Poland
Staying here for the work portion of our trip for two nights, we didn't have much say in the location. I knew I would be spending the most time in this hotel as Dan worked and Nathan and I found ways to entertain ourselves for the day. We spent two nights in this hotel and I really liked it here.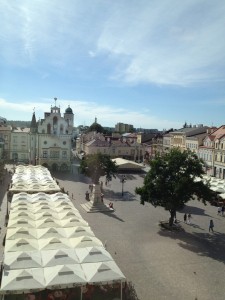 Located in the main square in the town with a beautiful view we had a nice big room on the top floor. The AC and free wifi were amazing and I knew this was the place for Nathan and I to relax after days of touring and running around. The best part of this hotel: the café had a children's play area. So we spent an entire morning in the café, I read my book and Nathan played with all new toys-he was thoroughly entertained! I can't comment on price because I have no idea as this was a work trip for Dan, but I would highly recommend this hotel if you are ever in the area! Also, the staff was super friendly and helpful (gave me directions to a great playground for the afternoon). And with an ice cream shop in the café and an outdoor restaurant in the square, we had all we needed for the two nights we spent at this hotel.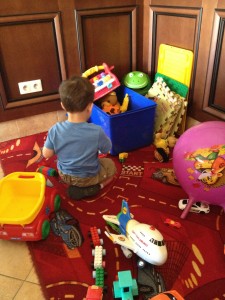 Hotel und Gasthof Dreibeiniger-Hund
Gorlitz, Germany
This was the hotel I both absolutely loved and absolutely hated at the same time. It was a beautiful charming little hotel with tons of history (a 14th century building with a myth surrounding the Three-legged dog-its name in English). The rooms were beautiful and very quaint and german, the staff was lovely and hardly spoke English. They had a restaurant and free breakfast with pretty decent food, a playground was located next to the hotel and we were five minutes from the town center. Also, the price was very good at 89 Euros a night-only 1.50 for wifi per night.
However, we got a room on the top floor with small windows. It wasn't a horribly hot day-it was in the 80's during the day and cool 70's in the evening. The difference AC or big windows makes in a hotel makes all the difference in the world. Dan and I were literally sweating through our sheets and we were taking showers before bed and upon waking in the morning. This room was sweltering. You literally walked down one flight of stairs and you could feel a 15-degree difference. We noticed the huge windows on the lower floors as well, but we were located in the attic in the summer. I can honestly say I have never been more hot and uncomfortable-and I lived in Arizona for 17 years!!!!!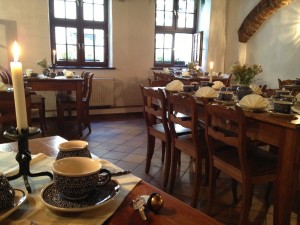 I would only recommend this hotel if you got a room on a lower floor. It's such a wonderful place but we were dying to leave because we were so hot. We also encountered more church bells, but due to some interesting history, these bells rang every hour, every fifteen minutes AND at 53 past every hour. That's a lot of bell ringing at bedtime and in the early morning. Nathan loves church bells-so at night he would wake up while trying to fall asleep and say "Did you hear church bells Momma? Did you?" UGH. The bells ring at 53 past the hour as a reminder from the 16th Century when the workers from the cloth guild rose up against the city council. The rebels met in secret at the church, ending their meetings at midnight to avoid the nightwatchmen. The city council was onto them and tricked them into ringing the bell at 11:53 making them think it was midnight, so they left the church, right into armed guards, ready to arrest them. 14 Men were executed and 25 more were banished from the town. And tourists get to listen to the bells ringing almost constantly as a reminder!
Radisson Blu
Leipzig, Germany
To say we were excited to get to Leipzig is an understatement. We wanted air conditioning and we wanted it bad. We specifically booked a big American hotel with free wifi and AC so we could just be comfortable.
By far the smallest room of the trip, but super modern and enough space for Nathan's pack and play without feeling crowded. The "Queen bed' was actually two singles next to each other, with a big enough space to really not be promoted as a queen. We had a room facing the opera house and modern church with nice cool darkening shades. The most interesting feature of this hotel: the shower. If you aren't staying with your spouse or significant other-be weary!! I'm not sure if all rooms are equipped like this, but you walk in the room and to your left is a giant glass shower. It looks really cool-but one forgotten "Privacy please" sign on your door and the cleaning people are getting the show!! I have to imagine this happens often, because it is just so odd. But it was one of those rain showers so actually it was my favorite shower of the trip!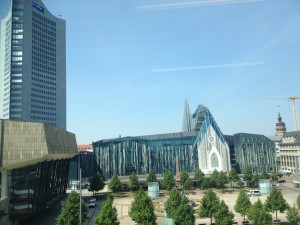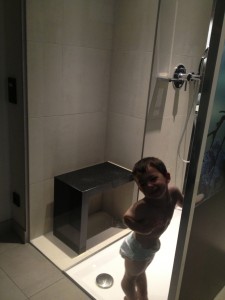 The absolute best part of this hotel was the breakfast, included in our rate (basically 10 euros a person). This spread was unbelievable. They had eggs, crepes, fruit, cereal, sausages, lox, breads, croissants, mimosas, and juices. There was so much food! Our room rate wasn't cheap-about 125 euros-but worth every penny for that AC. It was 98 degrees in Leipzig and while we did get some sightseeing in, we were tired and hot and basically we loved the room with the AC. I did like the actual hotel a well and would recommend it for a stay in Leipzig-it was really close to all the action and shopping and sights. The rooms were very comfortable, the price wasn't too bad and the staff was super friendly.
Stay tuned for my upcoming reviews on our actual trip!