Chateaus, Champagne & Mickey Mouse: Hotel Review
We spent nine days over the 4th of July holiday playing in France-spending the actual holiday at Disneyland Paris and the rest of the week in the Champagne and Chateaux regions of France. Here is my review of the three hotels we stayed in (trip report to follow):
Reims
Grand Hotel Du Nord
We started the trip off with one night in Reims (to break up the 7 hour drive to the Loire Valley from Frankfurt). This hotel is listed as two stars and we found it in Rick Steves book. Its location can't be beat, on the Main Square, but on a hot Saturday evening with the windows open and no AC, we could hear the disco going all night! (Foghorns were an added bonus). The room was in the "quiet section" of the hotel in the back and with the windows shut it was pretty quiet (foghorns could still be heard), but it was too stuffy for closed windows.
The best feature of the room that we didn't know about when we booked was the separate bedroom and living room even though it wasn't a suite. Granted it was just a frosted door separating the two rooms, but it meant Nathan would sleep in a separate place and that is always a bonus when traveling with a toddler. Most nights are spent with the lights out in silence after 9PM trying to get him to fall asleep when we are hotel living, so I was quite happy with this feature.
The room was nicely decorated and had a very modern bathroom and shower-sadly only enough hot water for my shower and poor Dan took a cold one! Overall, the noise didn't bother Nathan and he could sleep just fine but I had a terrible night sleep. Maybe during the week it would have been quieter, but I would probably only recommend this hotel for a one night stay. The prices were pretty reasonable as well. We didn't pay for the breakfast because it wasn't recommended so we ended up getting pastries at a patisserie before we headed out (pain au chocolat-yum!).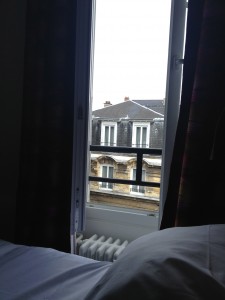 Loire Valley, Amboise:
Chateau de Nazelles Chambres
I cannot emphasize enough how much I absolutely adored this 16th Century hillside manor house that we spent three glorious nights enjoying. Going into the chateaux region of France I have always wanted to stay in a chateaux, but we planned this trip only a few weeks in advance and most places have only a few rooms and were fully booked. We were lucky to get the last room in this quaint B&B and I didn't miss being in a grand chateaux for one second.
Entering the the property through a tunnel, you come upon the stunning grounds, with gorgeous gardens and a fountain surrounding the stone manor house. There is a main building with a common room and two hotel rooms (we stayed in the Viele-Griffin room). The common room is a beautiful room with a billiards table, TV, couch and a play castle that Nathan had a blast taking apart. There are also three cottages which are built into the rockwall.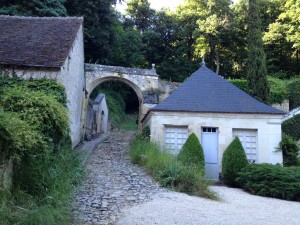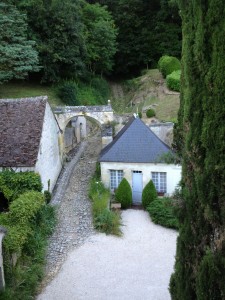 Our massive room came with a queen sized bed, a daybed and they provided a small crib for Nathan. The parquet floors and French décor made us both feel as if we stepped into a French fairytale. There was a massive bathroom with a deep tub and shower that felt luxurious. With two windows at each end of the room, a nice cross breeze was provided and we never felt warm without air conditioning. The only negative part of the room was how light it was, the shades didn't cover all the windows and trying to get Nathan to sleep was difficult when it stays light out until almost 11PM.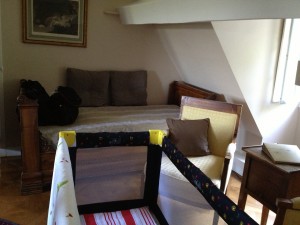 The breakfast provided was quite possibly the best breakfast I've ever had at a hotel-and it was really only bread and jam if you can believe it!! Everything was fresh from the farm-the honey, the fruit, the freshly baked bread and croissants, the jam and even the cheese. But best of all was the apple juice- freshly squeezed and perfectly sweet and tart at the same time. I can't properly describe how good the juice was…sadly Nathan would only eat the fruit loops we brought. (This kid just doesn't understand!)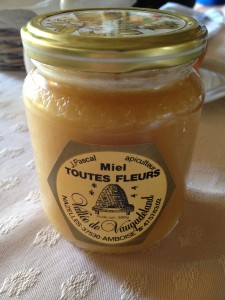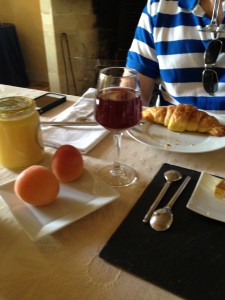 The hotel also had beautiful grounds for a picnic and a pool as well. One day we brought back lunch and enjoyed the gorgeous view of Amboise from our picnic table. Afterwards we took an hour to play in the pool-a bit deep and cold for Nathan but we managed to play on the steps and he didn't care-he had a blast.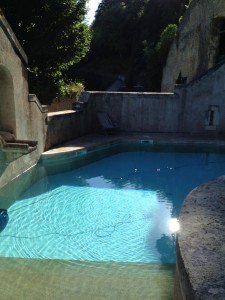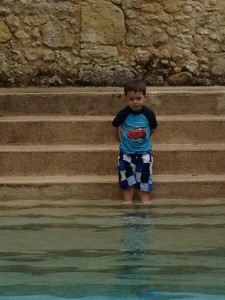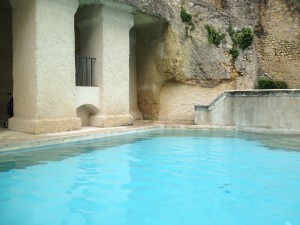 I don't want to leave out the owners-Veronique is the sweetest and friendliest person-and Nathan fell head over heels for her. Nathan was flirting and wanted to hold her hand and just fell in love! It was adorable. She provided him with some toys and books during breakfast and gave us a toy when Nathan was having a meltdown in the parking lot. (more on that in another post). The cost of this B&B was about the same as most others in the region-not too expensive but not cheap either. You are getting your money's worth here though. Overall, I would absolutely stay here again and again-this is probably my favorite B&B I've ever stayed at.
Disneyland Paris
Dream Castle Hotel
Having been to DLP about a half dozen times on our first tour of Europe, we are pretty familiar with the area and the hotels. The Disney hotels are all very expensive and not really worth the cost-especially during the height of the summer season. The Disney hotels are not as nice as Disney World or Disneyland and we found them in need of an update. So we decided to stay off property for a little less money. We used to stay at a Holiday Inn that was circus themed, always decently priced and had nice rooms. They were bought out by Vienna International and we read that the rooms haven't been updated in years. So we decided to try the Dream Castle, also owned by Vienna International, but supposedly a little nicer for only a little more money than the Circus Hotel.
So the theme of the Dream Castle is Kings, knights and castles. It's almost like King Arthur but cartoonish. The main lobby is a great place for kids to play-with arcades and one of those huge baskets filled with balls that kids can play in. They have a couple of cars you can put quarters in and ride as well. It's nice for older kids-but for Nathan it just proved to be another distraction as we tried getting him to the room! He just wanted to play.
It's funny to say after staying at the amazing B&B, but I really liked the way this room was so familiar and Americanized. It was a basic room with air conditioning (bonus!), a nice big queen bed and a bunk bed covered by a royal curtain. The curtain made it look majestic and allowed for Nathan to sleep in the dark without seeing us-and he liked the fort-like nature it provided in his bed. Oh and the fact that we allowed him to sleep in a bed and not a pack and play-he loved that too. The room wasn't fancy, but more like a nice Marriott. The prices in summer however, you would think we were staying at a Four Seasons-and this was cheaper than any Disney Hotel! It ended costing about $230 a night-which is pretty steep but normal for DLP in the summer.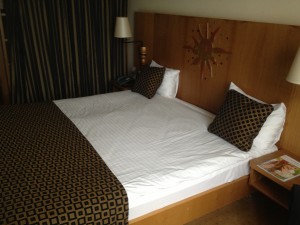 I always recommend going to DLP in September, October or April and May because the weather is great and the hotels are much cheaper. (The downside is the park hours are shorter). But I guess we were just overly anxious to show Nathan DLP as part of our France trip-and we really wanted to be there for the 20th Anniversary to see the new Castle Show-Disney Dreams, so we paid the price!
Our rate included breakfast, but if you can find a rate without breakfast I would HIGHLY recommend skipping this breakfast. What can only be described as the most inedible food I have ever had in my life-and in France, which is a crime! Nathan was having a meltdown which didn't help matters, but I went to grab food for all of us while Dan tried to calm him down. I got the usuals: scrambled eggs, sausage, fruit, chocolate croissants, juice, potatoes and hard boiled eggs. There was literally not one thing that tasted good. The eggs were runny and powdered for sure. The sausage was rubbery, the fruit was sour, the hard boiled egg was flavorless and rubbery. I doused my croissant in nutella and that was the only bonus. The potatoes were ok but the juice was criminally watered down. Europe has amazing fresh juice and this was almost tasteless. We also had to wait in line just to get a seat for this awful buffet. There are a million people in this buffet and it was too crowded and not worth the time. We only went once and never again. Downtown Disney has a Starbucks and an Earl of Sandwich, so there is no reason to partake ever again of this horrible breakfast (and yes I have eaten at many different places at DLP for hotel breakfasts-none have ever been this awful).
Overall, if the rates were lower I would stay here again, the hotel itself was very nice, however, I would never eat that breakfast again. Also, there is a shuttle to DLP (we had a car), and it seemed to come quite often. We took it once and on the way to DLP this hotel is the last stop so you don't have to make any stops, but after leaving DLP, this hotel is the 4th stop-so beware, lots of stops!
Hotels are hard to rate because every person has a different sense of what is right for them, I look at hotels based on my needs of having a child, comfort, size, location and what the internet is like-since sitting in a room for an hour or two in the dark means lots of facebook and twitter after Nathan has fallen asleep. All three hotels had wifi-but the Dream Castle was by far the slowest-and you needed a password at the front desk to get it (which we didn't know until the second night). The other two hotels had free wifi with no issues (faster than our home internet sadly!).
Next up: Trip report for DLP & Loire Valley!