Nurenberg: Beautiful City-Complex History
We wanted our first weekend getaway to be within driving distance since it was happening only two weeks after we moved into our house-in case we needed to cancel. We didn't want to do a lot of research because we knew how busy we would be all the way up until we left. Why go at all you ask? Well, it's Memorial Day weekend and Dan hadn't been on any type of vacation since our quick weekend in January to Disneyland. We thought it was time….
After looking at a map of Europe, we tried to discern what would be the best driving holiday. Nurenberg was only two hours away and we knew it had a lot of history we were interested in, but we didn't feel like it warranted five days. So we followed Nurenberg East and noted the Czech Republic is pretty close. (Somehow our late night minds thought it was two hours away when the location we chose was actually four hours away-but that's another story). We had heard great things about the medieval town of Cesky Krumlov and the surrounding countryside towns and decided to go for it.
After delaying our trip by one night due to our internet installation, we ended up leaving around 11AM on Thursday morning. The original plan had us in Nurenberg Wednesday night to take full advantage of one full day there (Thursday) but we didn't get into to town until 2:30 PM on Thursday afternoon, so all we really managed was the Rick Steves walking tour of the town and dinner. We had amazing spargel soup (white asparagus), which is in season right now-and I highly recommend it.
The walking tour took us to all the beautiful medieval style churches, the town square and the castle.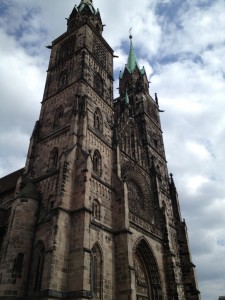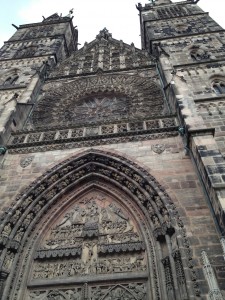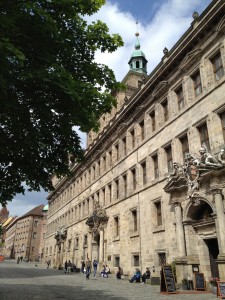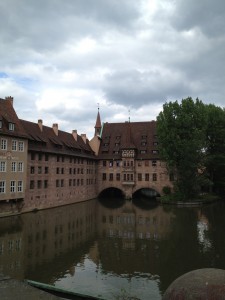 The town square had a fountain that had a "fertility luck ring" that you spin three times in order to have good fortune in getting pregnant-you can probably guess that Dan and I were very interested in spinning those rings 😉
The beautiful medieval church in the town square, called the Frauenkirche, has a sordid history. It was built on the site of a synagogue in the former Jewish Quarter from the 13th Century. During that time, Charles IV decided that land was valuable so he allowed his people to force the Jews out of this area-and 600 Jews were killed in the process.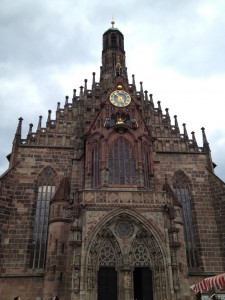 The Imperial Castle, or Kaiserburg, has stunning views of the City and a gorgeous garden that Nathan enjoyed burning off energy from that long car ride.
We wanted to get to bed early so we could visit the Nazi Documentation Center first thing in the morning before our four-hour drive to Trebon. Sleeping in a hotel room with Nathan is an ever-evolving experience. At Disney World, he was young enough that he fell asleep in his stroller and we just transferred him to his crib. At Disneyland, we tire him out so much during the day that he usually falls asleep fast and hard and it doesn't matter what kind of noise we make. However, we hadn't done a full day at Disney, so we were unsure how all of us sharing a room would go.
(Sidenote: I was videotaping Nathan's first ever shower because he was laughing so hard, and I walked away to put the camera down when he told me had to go potty-he is not potty trained and by the time I go back to the shower…well, let's just say I had a surprise waiting for me!!)
Bedtime went like this: pajamas, storytime, in the crib, and lights out. Dan and I sit in a dark room for 40 minutes while he climbs out three times and flops all over the crib until he passes out. Dan and I then proceed to turn on our iphones and read in silence. Repeat this process for the rest of the trip.
The Nazi Documentation Center focuses on how the Holocaust could have ever happened. It shows the evolution of the Nazi movement and how Hitler manipulated the German people through propaganda and terror. We were nervous about taking Nathan through any museum-but especially one with such a heavy topic. We put him in his stroller and I gave him my iphone-he literally spent the entire hour laughing at videos and pictures of himself. It gave us the opportunity to listen to the audioguide-but only the overviews of each room. It's a small museum, but there was a ton of information. With a toddler, you have to choose the best way to see what you want while trying to predict when the human time bomb is going to explode.
After the museum we walked out to the unfinished Congress Hall Rally Grounds-a massive unfinished complex. Congress Hall is like the Colosium in Rome-but only ¼ finished. All the money moved to the war effort and it was never completed. We also took a walk over to Zepellin Field-the site of the Nazi's biggest rallies. There are many infamous photos of Hitler standing here with his giant swastika banners. The stands are now dilapidated and abandoned-and very haunting. I didn't like being there and felt uncomfortable. While it was fascinating to learn about it, it's also a sad reminder of the atrocities that took place in Germany for my people. Understanding how the German people could allow such horrific acts to happen is an important lesson to ensure it never happens again.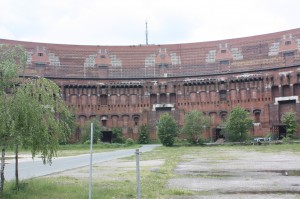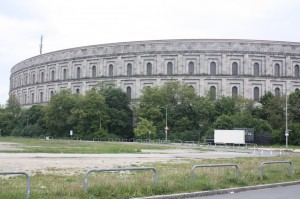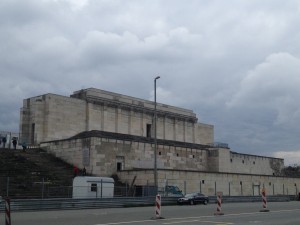 My next blog will cover our time in the Czech Republic-and all the rain we experienced!
Stay tuned!