When researching hotels, it's really important to read all the details and if booking direct with an owner of an apartment to ask follow up questions if you are not sure. Finally, never, ever assume-get everything in writing!
When Dan and I travel, we use Rick Steves guidebooks like our bible-we follow his walking tours, museum tours, stay at his recommended hotels and eat at the places he suggests-we have even been on three Rick Steves tours (Greece, Ireland & Turkey). As two adult travelers without kids, we didn't require a lot of frills-we just wanted a decent place to stay-close to the center of town. Rick Steves provides excellent recommendations-usually on the cheaper side-but mostly owned by genuinely nice and caring people. We have had a pretty good record on our hotel choices over the years.
This would be our first trip traveling with a baby and we decided for two of the hotels we would use Rick Steves, but the final location (Cesky Krumlov), we would try a website we heard about www.homeaway.com and rent an apartment. We figured with a baby it would be nice to have the extra space and a kitchen so not every meal would be at a restaurant. Mostly, we wanted an apartment with a separate bedroom so for at least a couple nights we could stay up later than 9PM. Originally, I found a place and requested four nights. It was a two-bedroom apartment and looked like it was decorated in a French motif. Everything looked beautiful and it had a view of the castle. When I emailed the owner she said she could give us the two-bedroom apartment for 2 nights and then move us downstairs to an apartment in "similar style" for the other two nights. I assumed "similar style" meant another two-bedroom apartment. I did not ask, I just assumed. We also decided instead of moving rooms, we would stay in another town for two nights to be closer to some of the other sights-instead of using Cesky Krumlov as a home base, as originally planned. So we booked two nights in Nuremberg, two nights in Trebon- and two nights in Cesky Krumlov.
We had planned on leaving for Nuremberg after Dan got off work on Wednesday-but then we got an email stating our internet was going to be installed between 4-6PM on that day, and quite frankly, internet is like oxygen to us!!! So we canceled one night in Nuremberg and figured we would leave first thing Thursday morning for the two hour drive. I'll be reviewing the actual trip in another post…for now here are my thoughts on all three hotels.
Nuremberg-Hotel Elch
Billed by Rick Steves as the oldest hotel in town with 500-year old exposed beams, we were not disappointed by both its location and the charm of the restaurant. The location was perfect-nestled on a quiet street that is walking distance to everything in town. We had a nice size room that easily fit Nathan's portable crib and all of our luggage. We did request a larger room, as we noted online the rooms are mostly quite small. There was no tub for Nathan, but he took his first hilarious shower (story to come). I was greeted warmly by the family dog-who didn't bark loud enough for the owner to hear me come in at check in. The owner was extremely friendly-and we laughed about her dog.
However, the hotel definitely had some negative aspects. The walls are paper-thin and we must have been located near a nightclub. We could hear some sort of loud kitchen noises and a lot of people that sounded drunk. I thought the room itself was decorated quaintly-a little dated-but overall not bad. Dan thought it needed a fresh coat of paint and an update. The cost for one night was 89 Euros, which I thought was a tad high for the quality. This hotel seemed more like a 70 Euros a night stop. Finally, the breakfast left much to be desired. After a month at Hotel Oranien in Wiesbaden with a gorgeous spread every morning, I think I have become quite spoiled by what to expect at a European breakfast. This had some bread, stale cereal, horribly dry eggs and typical german meats and cheeses. The bacon and sausage looked to frightening to try and the multi vitamin juice I love so much was a little sour. The ambience in the restaurant was the best part. Overall, I would recommend this place for a quick weekend, but skip breakfast and find some pastries in town.
Trebon-Hotel Bily Konicek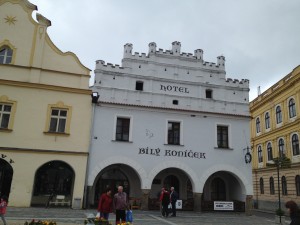 We chose Trebon as our second stop because we read about the stunning lakes and townsquare. We had three towns we wanted to see-Trebon, Telc and Trebic. In retrospect, I think we picked the best of three towns to sleep in, although I'm conflicted on the hotel itself.
This hotel was in the perfect location. It is literally in the town square and is a gorgeous building. Walking in, I was greeted by the friendliest employees. The woman who checked us in spoke little English-and I speak no Czech. So we did a lot of gestures and used what little german I know to communicate. It was comical and gave me a warm feeling about the hotel. While I was at the check in, Dan was experiencing similar hospitality by another employee who was helping him park in a very tight parking spot.
However, that's where the good parts of this hotel end. The room itself wasn't exciting-not bad-just plain. The bed was in Scandinavian style-so very low to the ground. The pillows can only be described as small flat duvets. Imagine sleeping on a duvet for a pillow-probably the worst two nights sleep I have ever had! The towels they supplied were so small that we needed TWO for Nathan! They were more like hand towels. This hotel had no shower, only a bathtub. I don't have an issue with a tub-but we were on the top floor so we had slanted ceilings-which means you couldn't stand in the tub-and it was so narrow I could barely sit in it. We missed the sign in our room that stated we needed to hang that sign on the door if we wanted the room made up or new towels-so much to our dismay, we never got new towels or a made bed.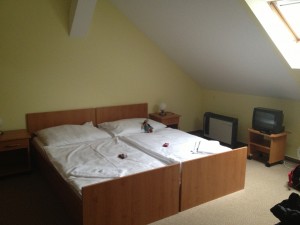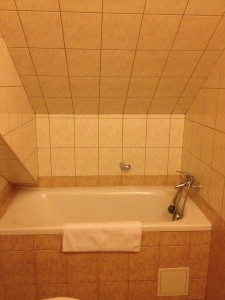 But the worst part of the hotel was the smell. The restaurant on the bottom floor permeates the entire hotel-and not in a good way. The whole place smelled like old grease. After our first morning at breakfast, I was not surprised by the smell. This breakfast was worse than the Nuremberg. To be fair, Rick Steves advises against eating the breakfast at all-but we thought we would give it a try the first morning. There was even less to it than the other hotel. Poor Dan wanted coffee and it was hot water and a can of instant coffee. There was some stale bread, more stale cereal (even Nathan refused the chocolate cocoa puffs) and yogurt. They had some fish spreads that I tried-which actually were decent-but that was about the extent of it. I feel bad giving such a harsh review because the people were so incredibly nice and the location was fantastic and we only paid 60 Euros a night. I desperately wanted to like this place but could hardly find anything likeable. A bad night's sleep is a death knell for me on a review. I can't give a good review if I don't sleep well-a basic need for a hotel. I wouldn't stay here again and I probably wouldn't recommend it, and I hate to say it because they were so nice.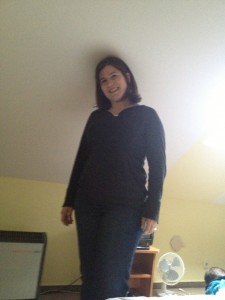 Cesky Krumlov-Moldau Hilton Apartments
I found out upon arrival that "similar style" means a one-room apartment. We weren't given anything close to a two-bedroom apartment. When we arrived, Jana, the woman who watches over the apartments for the owner (another Jana), showed me to the room to which I asked "Where is the rest?"
She was very friendly (in the beginning), and felt bad about the misunderstanding. She showed me upstairs to the two-bedroom and told me I would have it for $50 more. The apartment was huge and I was happy to pay $50 more total for it. However, after she offered it, she looked at the bookings and said "Ohhhh, we have honeymooners coming-which is why you were offered the bottom floor for these tow nights." To which I said "yes but I was told it was the same." Since we already paid 40 Euros in advance that was non-refundable, we really had no choice but to take it. Dan and I were looking forward to the end of the trip, Krumlov is a gorgeous place and we thought we could enjoy wine after Nathan went to bed, instead of sitting awake in the dark in silence while he falls asleep.
Alas, it was not meant to be and we didn't want it to spoil our trip. We quickly accepted it and moved on with our vacation. Now I didn't get a close look at the upstairs apartment-but the one room we stayed in didn't seem nearly as nice. It wasn't horrible, but my expectations were set high. The location of these apartments was outstanding-with a view unmatched. We were literally looking at the castle and on the river. The bottom floor did have access to a terrace that led right to the river (fenced so it was ok for Nathan). Too bad it was 45 and raining, we barely enjoyed it!!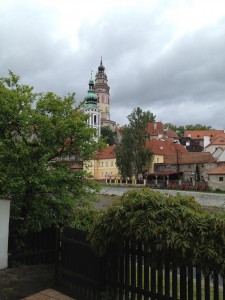 So the bed was in the Scandinavian style-but with regular pillows. I have to say, a good pillow makes a world of difference in how I sleep. Dan didn't sleep well but I did. The room was basic, nothing fancy at all. The negatives were minimal but they did exist. There was only a shower-but with no curtain or door-just an old pink towel folded on the ground to soak up all the water that sprayed out. You could tell you were staying at an apartment and not a hotel based on the fact that the towels looked like someone's old towels. This is my first apartment experience so I am not sure what I am supposed to get-should the towels be newish and fluffy? There were old bars of soap for the sinks that obviously aren't changed out between visitors. There was an open and unfinished box of chocolates,bags of cookies that were closed for reusing, and half used shampoo bottles. My favorite: a little nod to them using Hilton in their name: very used Hilton slippers on the bed.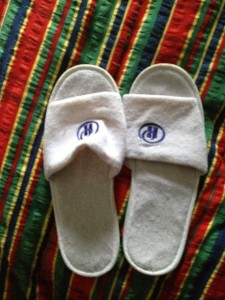 I could overlook most of that by not eating the food or using the slippers (the shower wasn't easy)-but the worst for me: the giant daddy longleg spiders EVERYWHERE. Dan counted five in the bathroom alone-high up in the corners-three of them hanging in the shower. They were creepy!!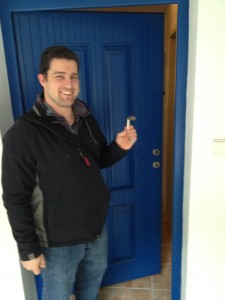 We still had a good enough feeling about the place, until check out. Jana had been so nice-she offered to clean the room after the first room, we just asked her to dump the trash because of the diapers, but she made the bed and hung the towels anyway. She offered us breakfast-but we declined-but she gave us a fresh bottle of milk for Nathan (he's an addict so that was especially appreciated). However, at check out, she said in a very brusque matter "You owe me more for parking." I gave her the 100 Euros I owed her as a balance for the two nights and she was just blunt and her whole attitude changed. I couldn't honestly recall if I was told parking cost extra so I was surprised-but not as surprised as her attitude. She became downright rude. Dan had the Czech money, so they did the money exchange for the parking and she went from super happy demeanor to stoic and silent. And after we paid her we asked if we could leave the bags in the room for an extra 30 minutes while we grabbed lunch and brought the car around. She agreed and when we came back to hand her the keys, she asked me some personal questions and then just turned around and shut the door without a goodbye. It left a very sour taste in my mouth. She was done with us and couldn't' even bother to be friendly with us once she was paid.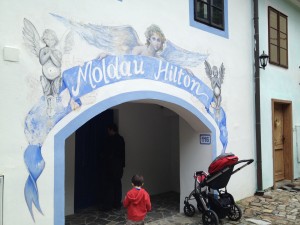 Overall, I would only recommend staying here if you are booked in the two-bedroom apartment, but I didn't get a close look to see if there were just as many spiders! The location is so amazing and the apartments are cheap for the amount of space. If you can't get the apartment-two doors down is another Rick Steves hotel with an equally amazing view and location. So it wasn't horrible, but it wasn't spectacular either. I think the two-bedroom apartment would have changed our experience and thoughts on this place.
Coming up next: Trip Review!!