You've Just Been Laid Off! Time to head to Disneyland…..
As my last day of work quickly (yet slowly) approached, I was looking forward to taking Nathan to Disneyland and meeting up with our fantastic friends, however I was not looking forward to any of the goodbyes. It seemed like everyday I was saying goodbye to someone else! Since the company I worked for was shutting its doors and everyone was being laid off, it felt like the farewells were on steroids. I wasn't just saying goodbye to friends and family-all of my coworkers were saying goodbyes of their own as well. Thank god for FaceTime and Skype…..it really does connect people around the world.
Our departure to Disneyland was sad (saying goodbye to my dear old pup Mazy who is 11 was the worst because, well, in 3 years, she'll already be 14…and, well, I can't even think about it really. My parents watched as we tearfully walked away through security and a nice family helped Nathan and I as I clumsily tried to grab Nathan, bags and the stroller. Thank goodness for the kindness of strangers!
Nathan thought this was all a big grand adventure on a "Big Airplane!" He used his headphones for the first time and watched his iPad for the whole 45 minute flight.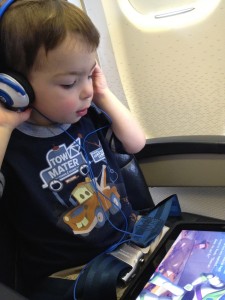 We arrived at LAX and met our friends at the airport-and after a quick meal at In and Out Burger-hello Neopolitan Shake-we hit the parks! We spent the next three days chasing the kids all over Disneyland. The kids had a blast-the adults had alcohol. (Well, ok, who I am kidding-the adults love it just as much as the kids-maybe more). Between It's A Small World and Pirates of the Caribbean, Nathan and I had our fill of the Great American Theme Park before heading off on our European Adventure!
Nathan may have even found his true love…awwww……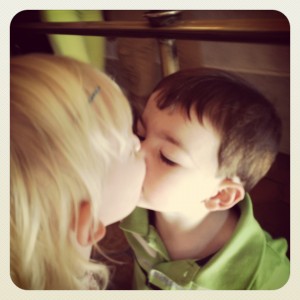 Also, my kid takes gaming seriously.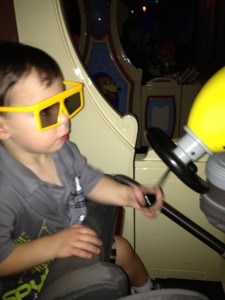 So while I was there, Dan and I celebrated our 8th wedding anniversary! It was bittersweet because it was the first time we were ever apart on our anniversary-however, I was at the Happiest Place on Earth-so I wore a button and celebrated for the both of us!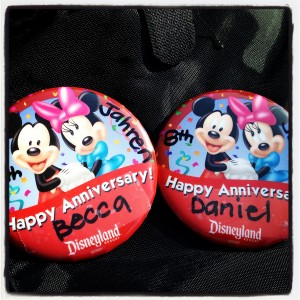 As the three days at Disneyland came to an end, I became both excited to be reunited with my husband after 8 long weeks apart, and nervous at the prospect of uprooting my son's entire life.  I also realized that three months earlier I had agreed, in theory, to take my 2.5 year old on an 11 hour flight. Alone. And that was about to become a reality. What was I thinking???
To Be Continued…..