Where Are All the Changing Tables?
I have lived in Europe before. A lot is familiar, (cobblestone pedestrian walkways, non refillable drinks) but of course things are also very different, after all, this is Germany and I lived in the UK. One thing I never had to think about last time around was anything that had to do with children. So my perspective is a little different this time around. I have been doing some intense people-watching…(I want to learn the fashion and culture-I have noticed a preference for women to wear boots over skinny jeans).
So while I have been people watching I have noticed that Germany is very child friendly. Everywhere you go, there are families with kids and strollers. There are parks everywhere, big pedestrian walkways, loads of toy stores (Spielwarenladen) and the people always approach Nathan with warmth. Children really do open you up to the culture. However, there is one glaring missing piece to this kid friendly country-changing tables in public places. I refuse to believe German children don't need their diapers changed. I have been in countless public restrooms-at restaurants, department stores, pay-bathrooms in the street-and not a single one has had a changing table. Poor Nathan has learned to lay down on the floor on our portable changing mat which is really the size of a mat for an infant. It feels unsanitary, but what choice do I have? If anyone can tell me where the changing tables are or where German babies get their diapers changed-please let me know!!
Besides my one big cultural observation, we have a week of house hunting under our belts. To be fair, Dan has had 9 weeks of house hunting…but it's very difficult to find housing here. We happen to be here during a time period when another military office is closing in Germany and thousands of families are coming to Wiesbaden-so properties are few and far between. We have seen some fabulous houses and some horrible ones-but the ones we have tried to get we always seem to come into trouble with negotiating between the government contract and the german contract. Cross your fingers that we will get there!!!! The  town center of Konigstein where the house with the gorgeous views is located (Picture on left). (Picture on right) This is just one example of the type of house we have been looking at.
A couple more pictures of the picturesque town of Konigstein:
We haven't been solely focused on house hunting, Dan has been showing us around town and taking Nathan to some parks to burn some energy as well. Wiesbaden has a lovely Farmer's Market on Saturdays. We went this past Saturday and bought some strawberries, freshly made pasta and some strudel that unfortunately, the ants in our flat took over!
The first few days we arrived, I somehow managed to have pizza for 3-4 straight meals…we were so tired and barely could function, so the easiest food with Nathan was pizza. But after much anticipation-we finally had some German food! Nathan is allergic to pork, but they make shnitzel and curry wurst with beef and chicken-so I haven't found it as difficult as I thought it would be. When I fed Nathan beef curry wurst he exclaimed-yum hot dogs! So things aren't too foreign for him. A couple of food pictures I'm sure everyone has been waiting for….
From top left-typical German pork and mushroom dish, schnitzel and spaetzle, curry wurst and fries with mayo, (its true-they drown 'em in it-yes I am quoting Pulp Fiction), German Beer, Greek place where I had no idea what I ordered-turned out to be lamb skewers and salad. Nathan LOVED the lamb. He ate an entire skewer!!
We also took some time to stop and play in the parks and with the ducks and smell the flowers….since I got here it started off as freezing and raining and it is now 70 and sunny. Spring is in the air (along with some but not all of my allergies)!!!
And a couple more shots of Wiesbaden in the spring….
Just in case you were wondering how Nathan and I fared through our jet lag-Nathan was a trooper but definitely had his moments! He only woke up once night at 3:45AM and stayed up all day…And one day he fell asleep at 2PM and slept for 15 hours-with 2 hours of awake time from 7-9PM. Its been a wild ride but Nathan keeps saying we live in Germany and he loves looking at houses. He calls every house "my new house." Let's hope one of these houses will become his soon!!! The hotel is nice but it can get cramped with 3 people and ants!
(Jet lagged and napping)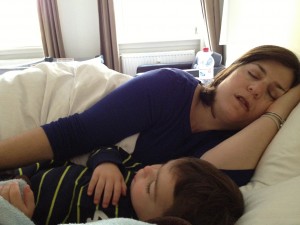 Until next time! Tschuess!!
-Becca