Boxes are getting filled, the house is emptying out, I sit at a desk in my temporary flat in the heart of Wiesbaden, Germany and ponder all the changes happing in our family's lives. We made the decision to return overseas several months ago, but it really doesn't hit you until it's actually happening and you're left questioning your rationale. Is this the best thing for my family? Are we going to get a rich and satisfactory experience out of it? Are we going to seize the time here to explore all Europe has to offer or just get stuck in the day to day routine that working and having a 2.5 year old (Nathan) can force you into? Am I going to regret the decision for deeper more personal reasons? We shall see, the page has turned and the slate is clean, a fresh start for the Braunstein family!
I hope those reading will enjoy following our journey as we move beyond our past overseas living experience and explore living in a country where English is not the first language and rather than just two newlyweds, we have our young son. I'm sure there will be many challenges and things will not always go as we envisioned them, but I do hope we can grow and learn from being here and be a stronger and tighter family as a result. Leaving Nathan and Becca was one of the hardest things I've ever done! Tears were flowing before we even backed out of the driveway and for much of that ride painful ride to the airport! The mixed emotions were like nothing I've ever experienced! They walked me all the way up to the TSA agents and then it was time for one last hug and embrace with some serious tears, that was tough and the next eight weeks are going to be very hard! It took most of the flight from Phoenix to Houston to really calm me down so I could try and look forward to what lay ahead…..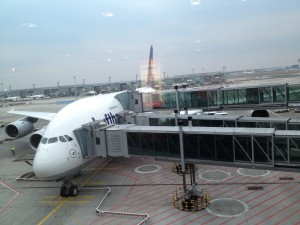 I arrived in Germany after two flights and 13 hours of traveling. I was able to get myself booked on a Lufthansa A380 from Houston to Frankfurt and my first time on the massive A380 did not disappoint. It probably helped that the flight was only about 40% full and I was able to move and score an entire row to myself. It really makes an almost 10 hour flight feel like nothing when you have freedom of space and plenty of entertainment at your finger tips to occupy your time. The staff on the flight was extremely nice and accommodating with just the right amount of attention to make you feel looked after, but still had quiet time to sleep, read or watch TV.  It was very cool to watch the plane taxi and takeoff on the video screen on the seatback in front of me via the cameras installed on the tail and bottom of the plane. After take-off a dinner service was served with a chicken or pasta option for those of us in Economy class. I chose the chicken and the meal was decent enough, nothing special but did the job of filling me up. I then settled in and watched several movies switching back and forth between the on board entertainment system and my iPad which I fully loaded with material to cover the trip and my early days in Germany. I had a couple glasses of wine and some Kahula on ice thinking it might help in getting me to sleep, but I just couldn't fall asleep and before I knew it we were in our last two hours of the flight and an egg breakfast was served. I enjoyed watching the sun come up and the European landscape get bigger and bigger as we made our final decent into Frankfurt.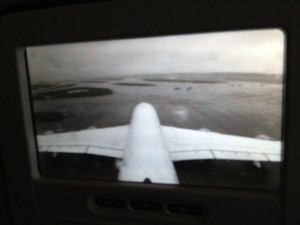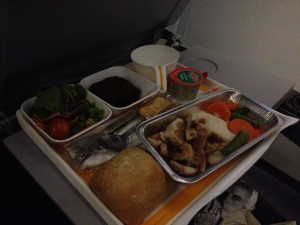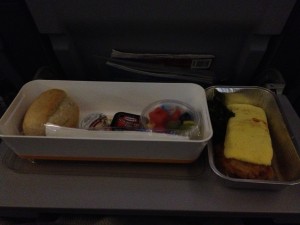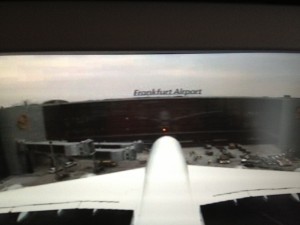 It was just surreal to be back in Europe and this time to be living in the heart of the continent itself was such an unbelievable feeling. I was greeted by one of my work colleagues and proceeded to get some not so fun official duty type stuff out of the way as I soaked in the grey and cold, yet enchanting German landscape. I ended my first full day in Germany by checking into my long term stay accommodations at the Hotel Oranien in downtown Wiesbaden. I was fortunate enough to score a nice city apartment located just across the parking lot of the main hotel building. This place is amazing, I really feel like a local with my own private entrance to a beautiful fully furnished apartment with a large bedroom, bathroom, living room and fully equipped kitchen. The place is decorated in a very modern style with wooden floors and heated tile in the bathroom. I am very comfortable here and plan on staying as long as I can before I have to find a place for the family to live.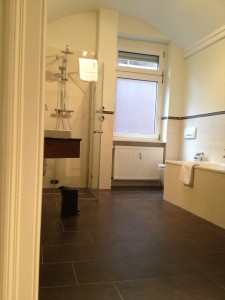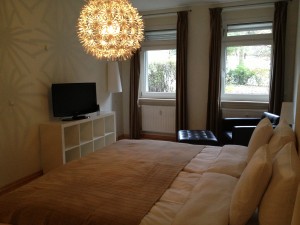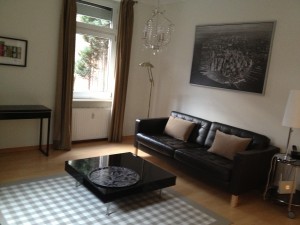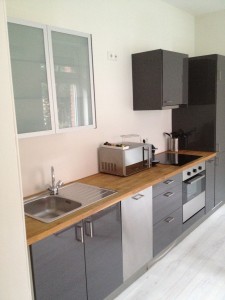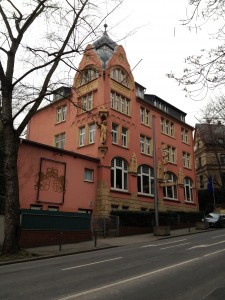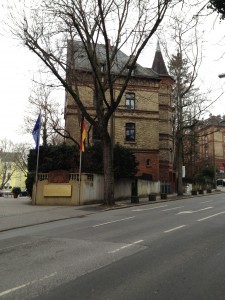 I am in a very short walking distance to the major pedestrian and shopping areas of downtown Wiesbaden and it's also a short walk to a bus stop that will take me fairly close to the office. The area immediately surrounding the hotel is nicknamed "Little Istanbul" with its large Turkish population. Germany has historically had a large Turkish population over the last century as many Turks arrived in Germany as immigrants to get work in various industries that Germans were not interested in doing themselves. They brought with them the very rich cultural and culinary aspects of Turkey and since I've been here I have enjoyed a Doner Kabab wrap from a quick service place and a nice sit down dinner at a very lively and delicious restaurant where I enjoyed a mixed meat plate over rice with some Turkish bread, donut dessert and a tea before I was forced to roll out and return to my hotel, fat and happy!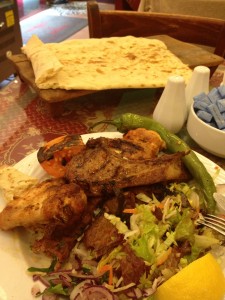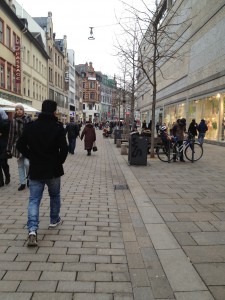 My initial impressions are I'm very excited and energized to be back in Germany, yet being alone and not knowing the language has left me a bit intimidated at times in social situations or provided me with some reservations about putting myself out there. My confidence grows stronger each day and I hope that coupled with a least a bit more language skills will position me to engage in any situation my heart desires, opening up even more experiences. The cold weather has been a shock to the system, but I feel I can get used to it and just dress the part and get out there and do things. Walking through a city grocery store was a very interesting experience as I just started to pick up some things that looked good and proceeded to the check-out counter where the staff move at mach speeds and you have to bag your own groceries while they throw your selections back at you superfast, meanwhile the person behind you gets anxious for their turn at bagging and paying in less than 2.8 seconds. It'll take some getting used to, but I'm sure I'll get the hang of it, eventually!
Well, I plan on getting out and about more now that I have my first weekend in Germany coming up and my jetlag begins to let go of its grip. Please follow along and I will try and blog as often as I can to keep those interested updated on my activities.
Danke! Auf Wiedersehen!